Why Dorli Muhr Bet It All on Blaufränkisch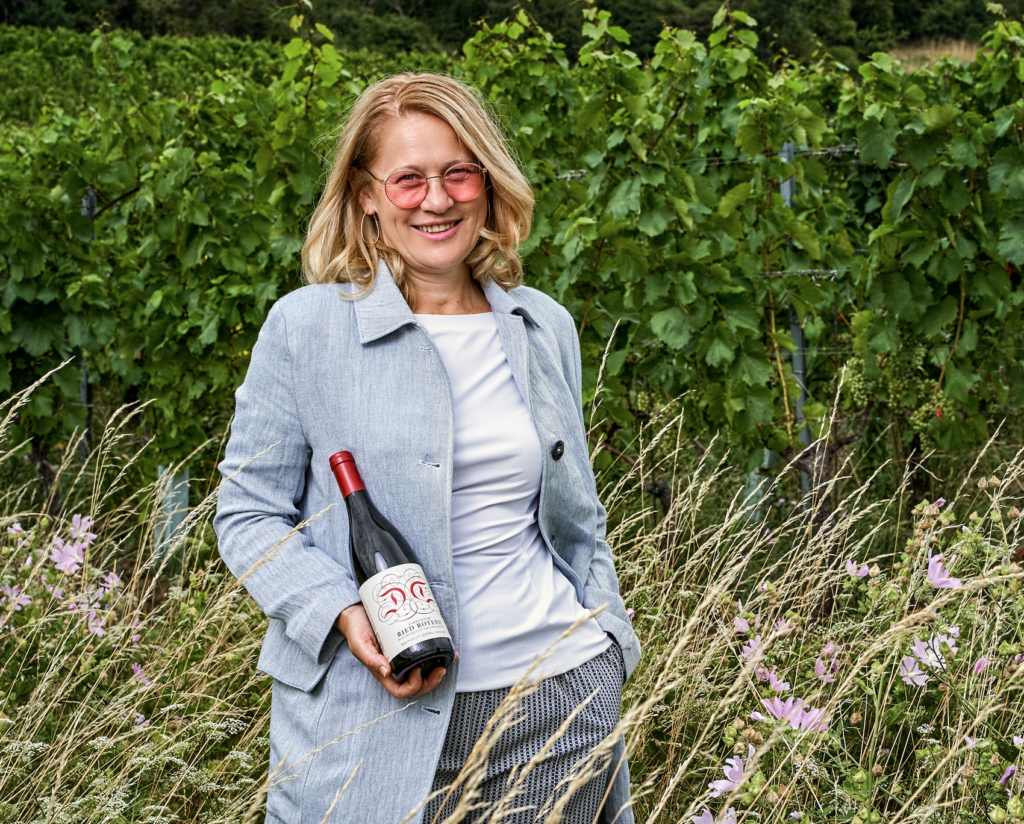 Austrian wine splashed back into the headlines recently when four of its wineries were chosen by a leading U.S. wine publication for inclusion in their "Top 100" worldwide. Notably, three of the four made their names with red wines. What's more — in a first for Austria — one is a woman.
The woman in question, Dorli Muhr, has been a powerful catalyst for the rise of Austrian wine over the past three decades. But gaining international recognition for her own wines, particularly her strikingly finessed Blaufränkisch from a vineyard she was the first to champion, has been a long process. "In wine, everything is slow," she says.
When I caught up with Muhr, she was characteristically in the middle of many things. As the founder and managing director of a leading Austrian PR agency, she is either behind the scenes or driving the action at virtually all of Austria's marquee wine events. In this case, it was a four-day summit she organizes annually for an association of 80 top Austrian producers focused on their single-vineyard wines. Even amid these responsibilities and with her own harvest just a week or so away, she exuded a relaxed engagement that suggested she might just as easily have been conversing over an Einspanner at a Viennese coffee house on an unscheduled afternoon. 
Carnuntum Roots
Muhr grew up about an hour east of Vienna in the village of Prellenkirchen. Her lot was to take over her parents' small family farm. Instead, she took off — first to work as an au pair in France, then to study French and Spanish interpretation in the Austrian capital. She developed cosmopolitan tastes, among them a fascination with fine wine. By 1991, just six years after Austria's painful wine scandal and with many of the country's growers struggling, Muhr launched her agency, thinking she could help.

Business flourished and Muhr's client base expanded, taking her all over Europe. She met, and later married, Dutch-Portuguese wine iconoclast Dirk Nierpoort, and moved to Portugal. Ironically, it was during this time that she felt the pull of her roots in Prellenkirchen, specifically, of a 0.17-hectare parcel in the Spitzerberg that had been part of her childhood. In 1995, she and Nierpoort started the replanting of tiny, fallow Ried Roterd, and let it be known that they were looking to add more sites to their holdings. By 2002, Muhr-van der Niepoort had amassed enough vineyards to start production.
Soon after the couple had a daughter and Muhr was suddenly juggling a lot. When their marriage ended in 2007, Muhr and Niepoort continued the business partnership but in 2019, Muhr bought out Neipoort. Weingut Dorli Muhr had come into its own. Two decades is a long time to build a business, but an impressively short span to build a world-renowned winery. She says her inclusion in the "Top 100" came as "a complete surprise." But to those who know her wines, the recognition felt fitting. Muhr's wines are like perfectly tailored dresses, sewn from fine material for understated elegance, but also to reveal ravishing flairs of detail once the wearer slips them on.
Clearly, these qualities stood out to the Wine & Spirits' tasting panels of editors, sommeliers, and wine directors from top restaurants from across the U.S., who work through blind tastings of more than 9,000 wines each year. Muhr is in excellent company in the ranking, joined by two Burgenland Blaufränkisch specialists, Wachter-Wiesler in Eisenberg and Weingut Moric in Großhöflein, as well as Wachau white wine icon Rudi Pichler. Muhr takes these selections as confirmation of the direction in which Austrian wine is heading. "When I started working in the wine business, Austria was the last country somebody would order wine from," she notes. "I experienced how it worked for a country that has risen from a no-go to a highly acclaimed white wine region."
Now the parallel is with reds. In the past, Muhr explains, each decade would have one, maybe two "really good red wine years," five or six or seven "OK years," and two or three "really bad ones where you would say 'Don't drink the red wines because they're just acid.'" Since 2015, good years have been the rule.
Return to the Spitzerberg

Muhr's deep love of the Pinot Noirs of Burgundy, the Mencias of northern Spain, and other cooler climate reds led her to look for a similar potential in the Spitzerberg. 
This vineyard — despite its pointed name, a rather low-slung, south-facing 48-hectare vineyard on loose, sandy limestone – is where Muhr holds about 11 hectares, 10 of which are now planted to Blaufränkisch. It has long been a special terroir for the native Austrian red, though not exclusively. When Muhr started winemaking in 2002, she didn't know which variety would prove most viable there, so she set up an experimental vineyard — Cabernet Franc, Petit Verdot, Malbec, Tempranillo, Merlot, Syrah, and Blaufränkisch — and observed. "It was all very nice wine," she says. But she wasn't after nice. "The biggest task I ask of a variety is to align with where it comes from, not to express itself." Through research and experience, she realized that the character of the Spitzerberg came through in only two varieties: a visitor from the northern Rhone, Syrah, and the native Blaufränkisch.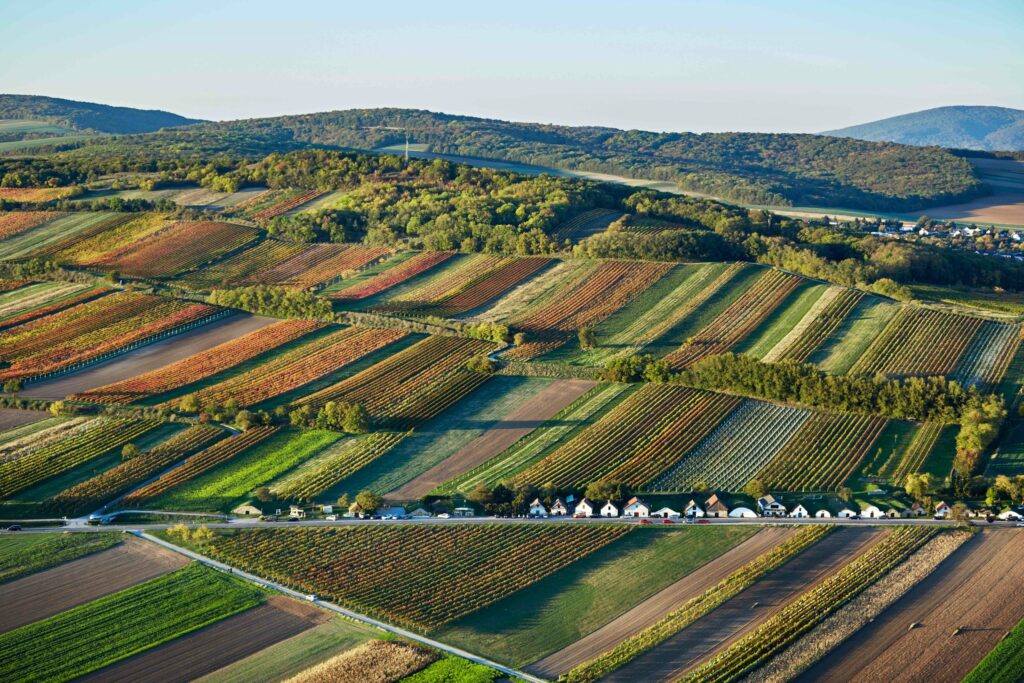 She attributes Austria's emergence as a serious red wine region as much to fresh perspectives like hers as to climate change. "At the moment we are profiting from it," she says. Springs come earlier and are warmer, summers and autumns are outright hot — though nights remain cool — and harvests now start as much as six weeks ahead of traditional pick dates. These shifting conditions work to Blaufränkisch's advantage, tempering the variety's naturally high acidity and tannins, accentuating its freshness and extraordinary range of aromas and flavors, from cherry to black olive, from earth to tobacco to spice. She also credits Blaufränkisch's improvement to greater knowledge and ambition among her fellow producers, along with a keener understanding of what this variety is capable of, all information that takes time to gather and put into practice. 
Betting on Blaufränkisch
Muhr has narrowed her focus accordingly. Ninety percent of her holdings in the Spitzerberg are now Blaufränkisch. She has gradually been grafting over her Spanish and Bordeaux varieties to Blaufränkisch, convinced that Austria's native contender will be able to handle what climate change throws at it for at least the next 50 years (or until "we get climate conditions like in Tunisia.") She has planted some nursery clones (chiefly Triebaumer), but most of her material is selected from material in the Oberer Spitzerberg, one of her oldest parcels, where the vines are marked by enviably loose bunches and small berries.
Erosion has remade the Spitzerberg within Muhr's lifetime. "In the old times, people wouldn't plant any cover crops. They would just keep the soil open because they were afraid the cover crop would steal too much humidity from the plants." Carnuntum gets very little rainfall (between 240 and 400 milliliters), but it tends to come in downpours during the growing season. "It may happen that in May or June, we have three hours of rain that brings us 100 milliliters — a third of the whole year," she says. These deluges sweep soil downslope, leaving the upper parcels bare. Muhr estimates 50 centimeters or more of soil have been washed away in just one generation.
This has changed the character of the upper and lower slopes. "In the lower parcels, the vines have much more leaves and shade and it's all fuller and greener. But of course, a lot of energy goes into this growth. At the higher end of the vineyard, there are much fewer leaves and shade and the plant has to fight to survive." That, of course, pushes the vine to concentrate its efforts on strengthening the next generation: the grapes and the seeds they contain. This change carries through to the profile of the wines, so Muhr harvests the upper and lower portions of every parcel separately.
"So it's not only a parcel selection, but it's also a soil-in-the-parcel selection," she explains. "The lower part goes into my Carnuntum bottling. The higher part only goes to a single wine or to the village. It takes so many years until you have a clear idea of what you're doing, and why, and what's the reason behind it."
To carry out her ideas, Muhr has a small team that includes vineyard manager and cellar master Lukas Brandstatter, who joined the estate in 2014. She sees no contradiction in having a man in this role at a woman-forward winery. "In the first years, I did everything myself," she remembers. "But this was killing me. I did not have enough time to do it all: vinification, cellar, agency, motherhood. I was struggling and the work suffered." She characterizes her collaboration with Brandstatter as "fantastic." They make key decisions — style, blending, vineyard selection — together. "I am responsible for strategic positioning, decisions on the vineyards, et cetera," she says. "Lukas is the executive boss."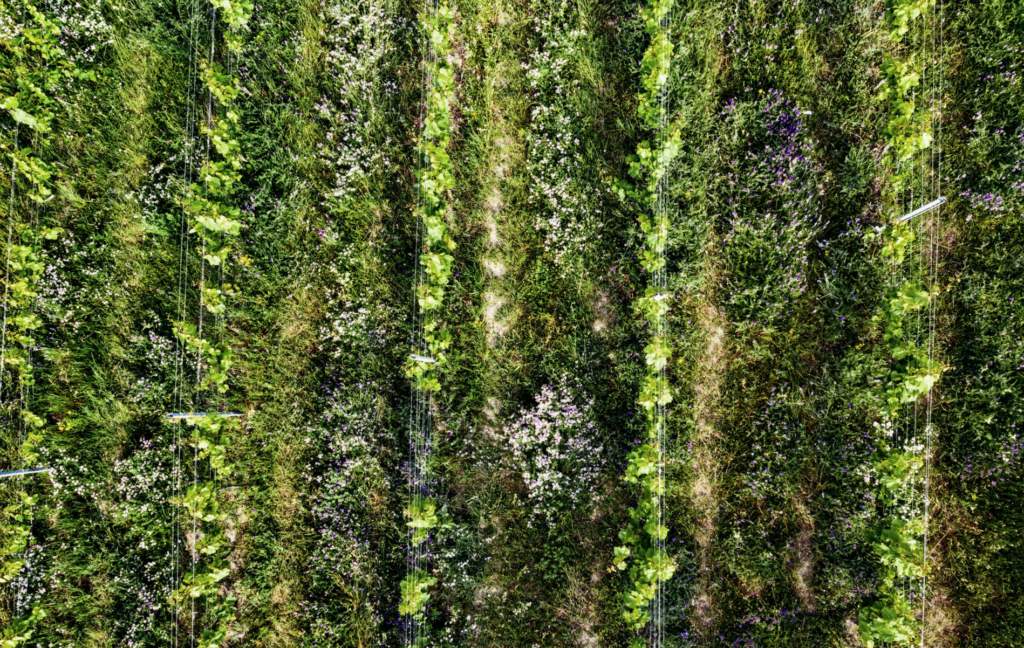 Farming is organic and pruning is "soft," two vineyard practices Muhr considers crucial. Soft pruning, a technique popularized by viticulturist Marco Simonit, minimizes the sorts of big cuts that typically disrupt the transportation of water and nutrients through a vine. Muhr says soft-pruning adherents believe there is a particularly important relationship between the barrier-free transportation of nutrients and the appearance of esca, a vine trunk disease that poses a growing threat to central and northern European vineyards.
In the cellar — a custom-built, eco-conscious structure designed by architect Sabine Laub that went into operation in 2022 — Muhr and Brandstatter have, through trial and error, learned to lean into a combination of foot-stomping, a minimum 25% whole-cluster inclusion, fast, gentle, cool extractions, along with native yeast fermentations in small, open-topped fermenters (for cooler, slower ferments), and gravity, not pumps. Muhr insists on a minimum of 20 months in used oak or acacia casks (not barrique). Ideally, she'd release her top wines ten years after vintage. With her current release of 2016, she feels she is "getting close" to that goal.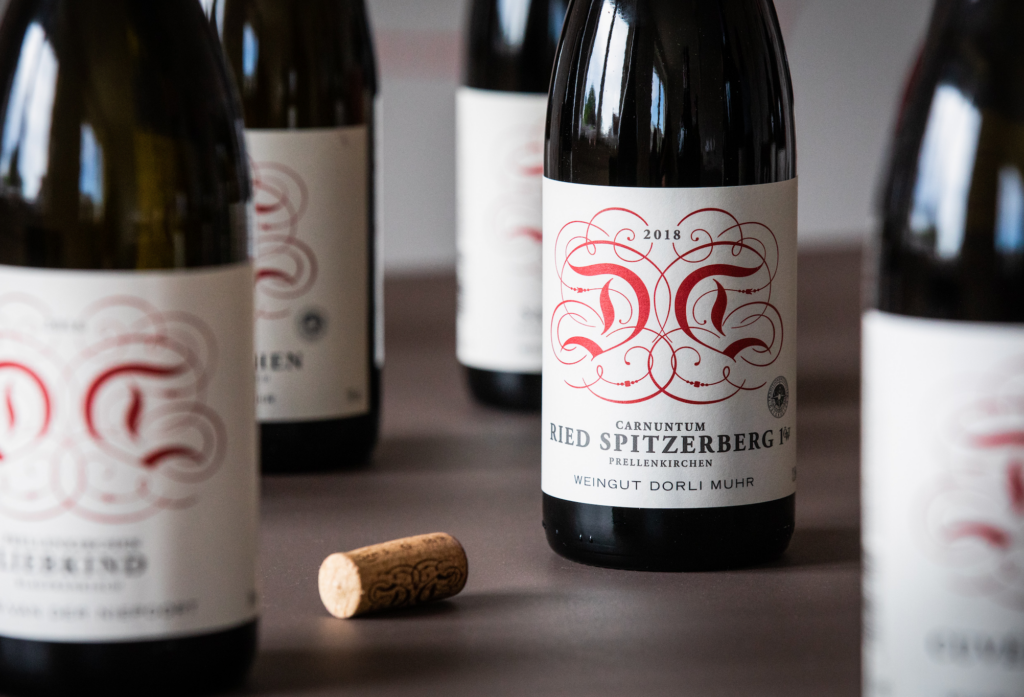 Austria doesn't keep official figures for how many women head up wineries, but in Carnuntum, Muhr's home region, Muhr "sees a lot of daughters taking over their parents' businesses." She estimates within a decade "women will make 70% of all wine coming from Carnuntum." Muhr hopes these examples will give confidence to and inspire a wider circle of Winzerinnen to join them.
Muhr's own daughter Anna, 19, recently declared her intention to study wine business. She's working a harvest at her father's winery in Portugal and then she'll come back to Austria to start her studies. "I think she's on the right track," says Muhr. "But if she decides to do something different, that's fine as well. Somebody will carry on the winery."
But Muhr, clearly having hit her stride, is a long way from stepping back. And it's difficult to imagine anyone filling her shoes. "I think the important thing is to have a long-term perspective. Usually, if you start something, you have to have targets that are probably for the next or even the following generation." And by then, the "Top 100" may need to make a little more space on its list.