Fresh, Frank and Fiercely Carnuntum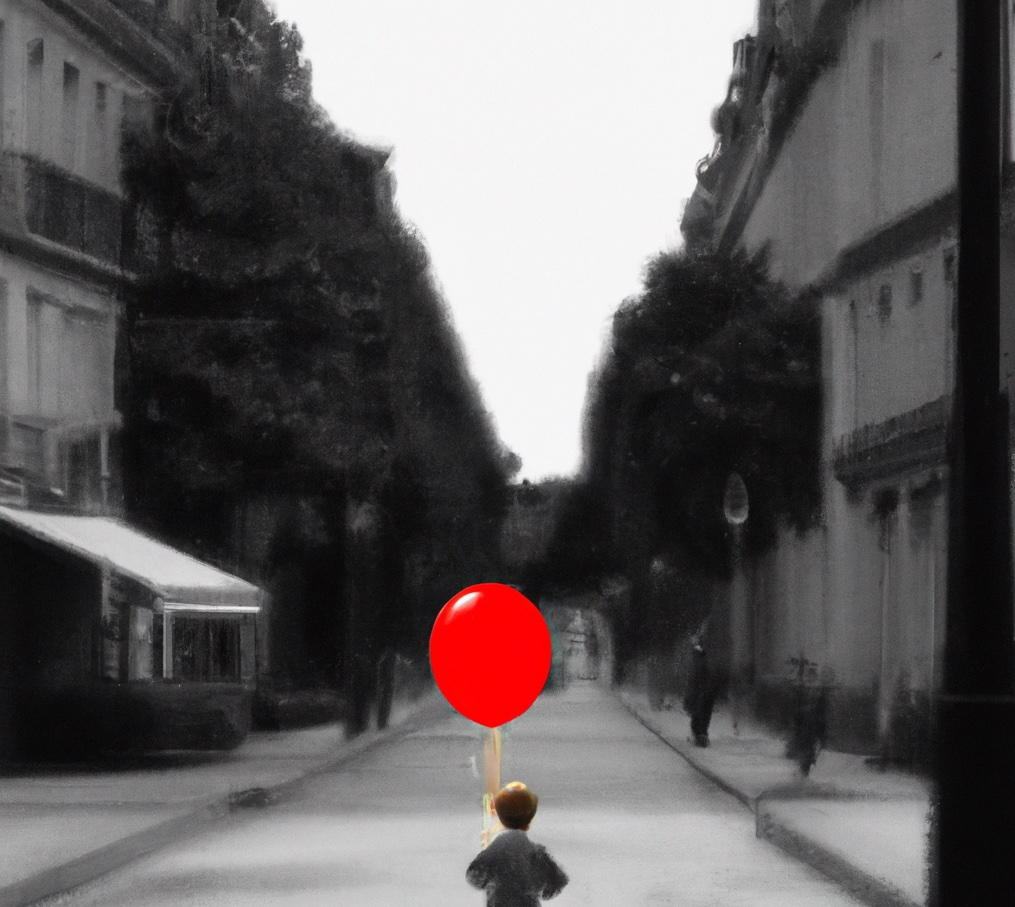 A small, sweater-clad grade-schooler shimmies up a lamp post in pursuit of something that we, the audience, can't yet see. The camera pans out on the child's ascent to reveal a brilliant burst of scarlet: a balloon floats above monochrome Paris streets. Holding tight to the string, the young hero of Albert Lamorisse's classic 1956 film then goes about his day — his new companion quite literally in tow. Strangers turn to stare, some disparage, some protect; the red balloon inspires and challenges those it encounters. And, in refusing to conform to the status quo, pushes the boy to grow both creative and nimble.
Carnuntum is Austria's vinous red balloon. A wine region seemingly there from the beginning, yet with an identity forever in flux. Even as its current chapter is today being written, its history dates to Roman times when it served as a winter camp, local capital, and headquarters for Emperor Marcus Aurelius. Carnuntum has known many names, sizes, and economies. It is a land of intersections and opposing forces, fueled by tensions: the steep, ancient Alps and the wild, younger Carpathian mountains; the charm of Zweigelt and challenge of Blaufrankisch; the cooling winds from the north and warm Pannonian influences from the southeast.
Carnuntum is Austria's own red balloon.
Like so many wine regions around the world, part of the modern Carnuntum story is a focus on terroir. Yet within this tiny fleck of land, even there the story is far from simple. Carnuntum is made up of six distinct appellations stretching from the fertile farmlands and forest of Göttlesbrunn in the west all the way to the stony exposed limestone hills of Prellenkirchen and Spitzerberg in the east.
And at a mere 832 hectares within Austria's overall 46,515 hectares, it can sometimes feel like the region carries little more significance than a single balloon in all of Paris.
Rubins are Red, Grapes are Blue
The scrappy, collective, and can-do attitude in young-old Carnuntum, however, is today bringing rich color to a region once better known for white wines. Thirty years ago, twenty-five leading growers came together to create a calling card, a collective identity, a way to help Carnuntum stand out in the modern, overcrowded wine landscape. The result was a red balloon called Rubin Carnuntum.
The job of this now 100% Zweigelt wine, sporting the region's ancient victory monument (the Heidentor) on the capsule and a standardized back label text, is not an easy one. And while Zweigelt may indeed be the messenger, make no mistake, the message is terroir. Each bottle is sent into the wider world holding tight to a shared regional motif, while simultaneously representing each grower's unique interpretation. A single vision expressed through — today — 36 individual lenses.
Walking this sort of tightrope can, however, only exist within regular and ongoing cooperation. "The group dynamic was always to work together, to taste together, to define the typicity of the region together. To refine the individual stylistic expressions, while never losing what sets them apart," says Christina Netzl of Weingut Franz and Christine Netzl, who runs the family estate together with her father, Franz. As a founding member of the Rubin Carnuntum association, their 28-hectare, certified organic estate located in the sunny, clay-and-gravel slopes of Göttlesbrunn about 40 km southeast of Vienna provided the perfect starting point for a journey into Austria's beating red heart.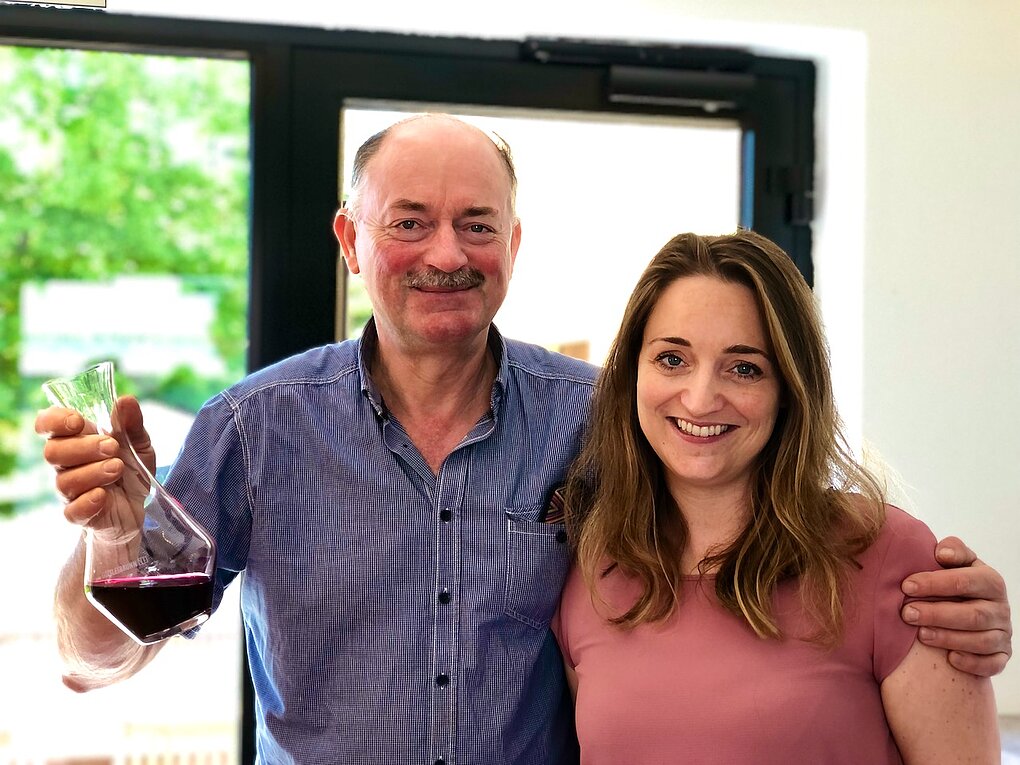 Each vintage, Rubin Carnuntum submissions are presented to the group in a single seating, tasted blind, assessed, reviewed, and communally selected. The process can be daunting, but the results make it all worthwhile. "I was super nervous the first time I submitted our wine," Netzl remembers. "When the wines are that young, you tend to only know your own wines in the cellar. The tasting is a great chance to check your own performance in the vintage. Thankfully [that year] everyone said 'yes'!"
Early on Zweigelt was identified, together with Blaufränkisch and, to a lesser extent, Merlot, as representative of Carnuntum's distinctive characteristics. The variety is planted to 235-hectares, representing over a quarter of cultivation, and thrives amidst the region's copious winds and in the fertile soils. "With Rubin Carnuntum we really want to show the typicity of Zweigelt grown here," says Netzl, for whom the variety has long played a leading role in the Arbesthaler hills. "Zweigelt can achieve a high ripeness while still grasping tightly to its freshness. We're looking for a characteristic spice on the palate and elegant juiciness. The wine should never show excessive 'warm' flavors, nor be too tannic."
Unlike the simple "fresh and fruity" expressions of the past, modern approaches to careful canopy management, yield regulation, and a focus on organic practices — over 50% of Rubin Carnunum vineyards are currently farmed organically — are leading to sleeker and more nuanced wines.
Over the last 30 years, Rubin Carnuntum growers have collaborated on groundbreaking projects focused on site and soil, including an in-depth geological evaluation to better understand the place they call home. These projects led the way for Carnuntum to join Austria's association of traditional wine estates (ÖTW) in 2018, with eight classified Erste Lage vineyards. Although Carnuntum received its DAC status in 2019, Netzl asserts, "The group was in place and working together long before Carnuntum became a DAC, and that's part of why it is so important."
Saving Blaufränkisch on Carnuntum's Spitzerberg
"Spitzerberg wines made from Blaufränkisch were initially considered 'farmer wines' and were most often blended into cuvées in an effort to try and hide them," says Dorli Muhr of Weingut Dorli Muhr in Prellenkirchen, where 90 hectares of craggy, limestone slopes and an unrelenting wind — upwards of 300 days a year — are a distant cry from the fertile, protected forests of Göttlesbrunn. "In the beginning, it was difficult to convince producers here in Prellenkirchen to have confidence. Wines from a very poor limestone hill taste really different from wines grown on sedimentary soils, which provide humidity throughout the year. But we want the wines to show where they come from."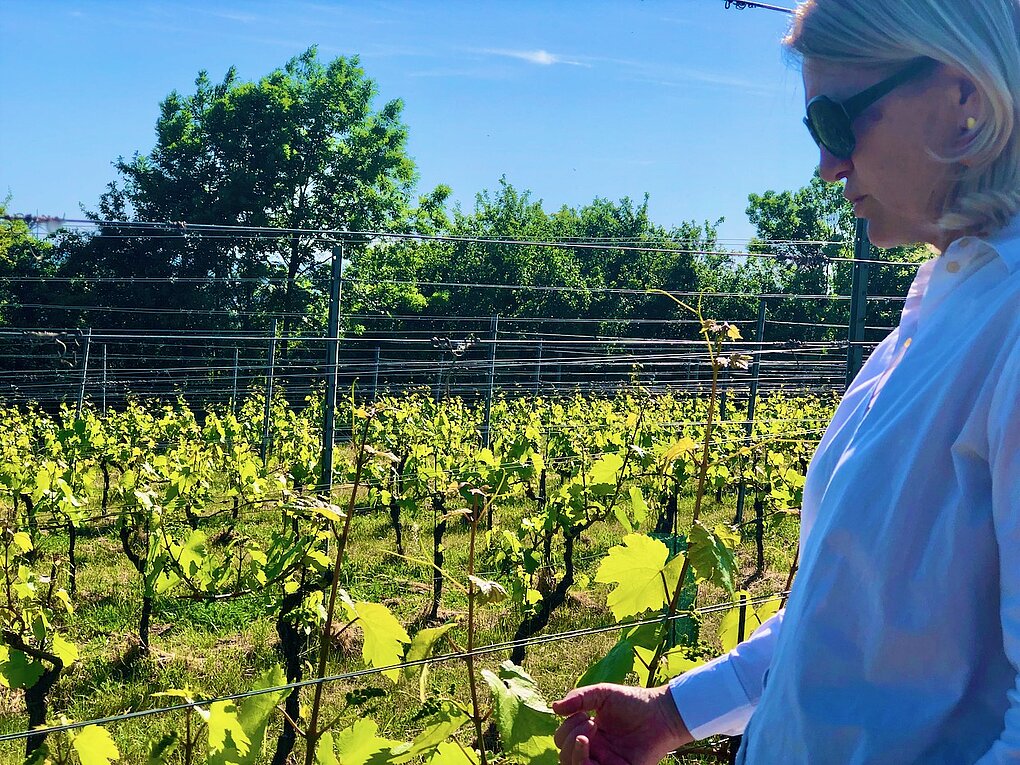 Muhr is an active advocate for Carnuntum's "other" red: Blaufränkisch. She started making wine on the fossilized reef of the Spitzerberg in 2002, inspired by a 0.17 hectare "wedding gift" from her grandmother of then-unplanted vineyards. Today, she owns 12 hectares of primarily old-vine Blaufränkisch and Syrah, and a brand new cellar (June 2022) less than a 10-minute drive from her vineyards, as well as some of the top wine scores in all of Carnuntum.
"Pruning is like a game of chess, you have to decide the architecture for the coming decades, to know where you want to be before you ever get there."
Although Blaufränkisch has always been a part of the Carnuntum story, its more significant role in the region coincided with a growing consumer appreciation for sleeker, higher acid wines, a changing climate, and Spitzerberg's entrance to the scene. "The soils give the dense structure to a Spitzerberg [wine]. Thanks to the continental climate, the wine is never bold. And a beautiful acidity gives the wines the potential to mature for a long time."
When it comes to the vineyards, Muhr brings the same long-term strategy that she feels for the region to her vines. "Organic and biodynamic wine growing are the basis of everything. We work very gently in the vineyards, trying not to stress out the young vines, and to create healthy conditions for them in the soil and air." She adds, "It's like a game of chess, you have to decide the architecture of your plant for the coming decades. You need to know where you want to be long before you ever get there." A game being played not so much for Muhr, one quickly realizes, as for future generations.
Opting for Organics
In a region of just 115 small estates — the largest of which is still less than 100 ha — the future is much more personal than a tally of numbers. This scale creates a sense of group accountability and an awareness that future value is measured in units beyond annual profit reports. Of the 615 hectares cultivated by Rubin Carnuntum winegrowers last year, 398 hectares are certified organic or in transition. Austria as a whole, by comparison, stands at 15.9% as reported by the Austrian Landministerium (BMLRT) in 2021. "Organic, low intervention and high quality winemaking is the future of Austria due not least in part to our small size," says Karoline Taferner of 25-hectare Weingut Taferner in Göttlesbrunn.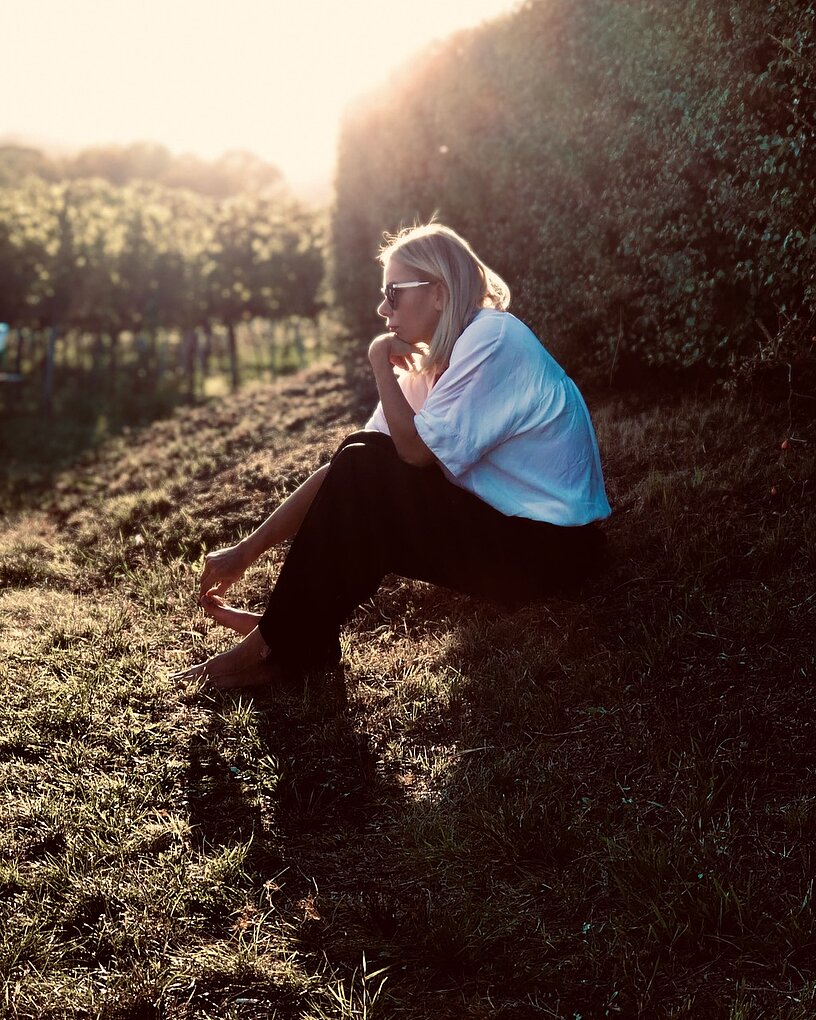 For Taferner, the move to organic certification (2022) was a natural extension of the multi-generational estate's philosophy to create wines that unequivocally show their specific piece of the Arbesthaler Hügelland. In 1989, Tafener's father Franz converted the successful mixed farm entirely to viticulture. Since then, three generations have worked together to cultivate the vineyards, with Tafener managing operations since 2018.
"Even though we have not used herbicides or insecticides in our vineyard for over 20 years now, I have seen subtle but continued changes over the last 3 years," Taferner says. "There has been an increased intensity of flavor and aroma since our transition to organic farming. Added complexity in the wines. Sugar, acid, and tannin levels are more balanced. The grapes experience less stress caused by synthetic chemicals and are better able to fully express their natural flavor and aromas."
The fertile soils and south-facing terraced slopes make a style that first found international fame in the '80s and '90s, for Zweigelt in particular. Today, Taferner works hard to hold that richness in check, seeking out depth and spice as her signature instead. "I like to play around with whole bunches in my single vineyard Zweigelt ferments. It feels like I am getting greater complexity and silkier tannins. This brings a freshness and purity to the wines in high-ripeness vintages."
Matching site to variety, with close attention to soil makeup and location, is an ongoing process. In 2020, Tafener initiated a replanting of the southwest-facing, calcareous Ried Haidacker with Blaufränksich. "We believe in the future of Austrian red wine varieties there," Tafener says. "It wasn't easy, but we decided to put Blaufränkisch where we used to have Welschriesling." This year will bring the first harvest.
Something Old, Something New
The development of the region's western vineyards that started in the late 1960s, as mixed family farms transitioned to winegrowing, is entering a new phase. In many cases, the people who achieved that renown then are today working with a second generation. And in a trend that speaks to the cooperation and collective esprit that seems to be part of the Carnuntum DNA, these generations are choosing to work side-by-side. Each generation brings a crucial set of attributes to the table: expertise and energy, clarity and creativity, patience and perspective.
"We are fortunate in that we think alike and have similar goals," says Johanna Markowitsch of Weingut Markowitsch in Göttlesbrunn, talking about the process of working together. "My father has the experience and I am the fresh breeze." Her father is Gerhard Markowitsch, one of the winemakers known around the world for placing Austrian red wine firmly on the map.
This side-by-side approach is finding its way into Carnuntum bottles as well. At least in practice, if not name. These second, often natural, ranges with playful names such as JoMa from Markowitsch or Christina from Weingut Netzl, are seeing stunning success in export markets, especially the U.S. and Scandinavia.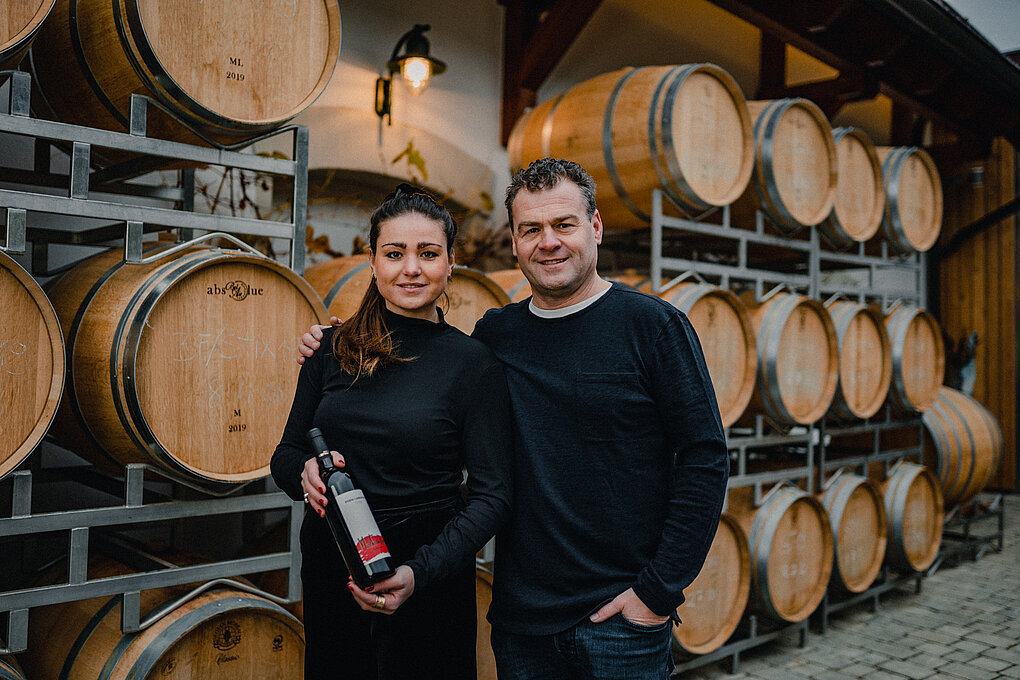 These wines speak in the glass, perhaps with a different accent, but as much of the region today as any that came before. However, in a somewhat cruel turn of fate, many of these next-gen expressions, born of the very same growers who fought hard to understand and transpose what Carnuntum is, are not allowed to carry the Carnuntum name on their label.
Hannes Trapl, the first of a new generation to work biodynamically, counts among them. Austrian quality wine wanting to carry the name must pass a sensory tasting to verify quality and typicity according to the rules of the region. "Joma is a playground for me," says Markowitsch, "where I can also try a lot of new/old techniques. Grape varieties that do not fit into our pyramid of origin. In some cases quite old vines!" While DAC Carnuntum is relatively new and more progressive than many, rules are still rules. Then again, rules are there to be broken. And that may be the next hurdle.
"I think we have to change the system here," says Muhr. "In my opinion, the tasting at the Prüfnummer is obsolete. We need to find another way." The attitude that shaped this region thirty years ago is far from finished. "I would say the whole area has changed in the last 10 years. I think we have great opportunities for the future," Markowitsch adds with a smile.
In English — unlike in German — the word "winegrower" is not gendered. A winegrower is defined by action. Simply put: an individual who makes wine. Yet by now, you'll have noticed that many of the heroes named above are women.
At present, of the 36 Rubin Carnuntum estates, ten are led by women and account for 300 hectares of the association's 630. Add women cellar masters to the equation and suddenly that number skyrockets. A stunning 72% of all relevant production in Carnuntum is in women's hands today. All heroes might not wear capes, and they certainly don't all wear dresses. It just so happens that in Carnuntum they do, and that too may be the continuing wave of the future as well.
At the end of Lamorisse's film, balloons from throughout Paris rally in support and defense of the single red balloon and the boy. It's a moving image of the power of working together, and returning color, in its many forms, to a world too often without.