Eat + TRINK | A Sweet Delicacy Calls for Schiava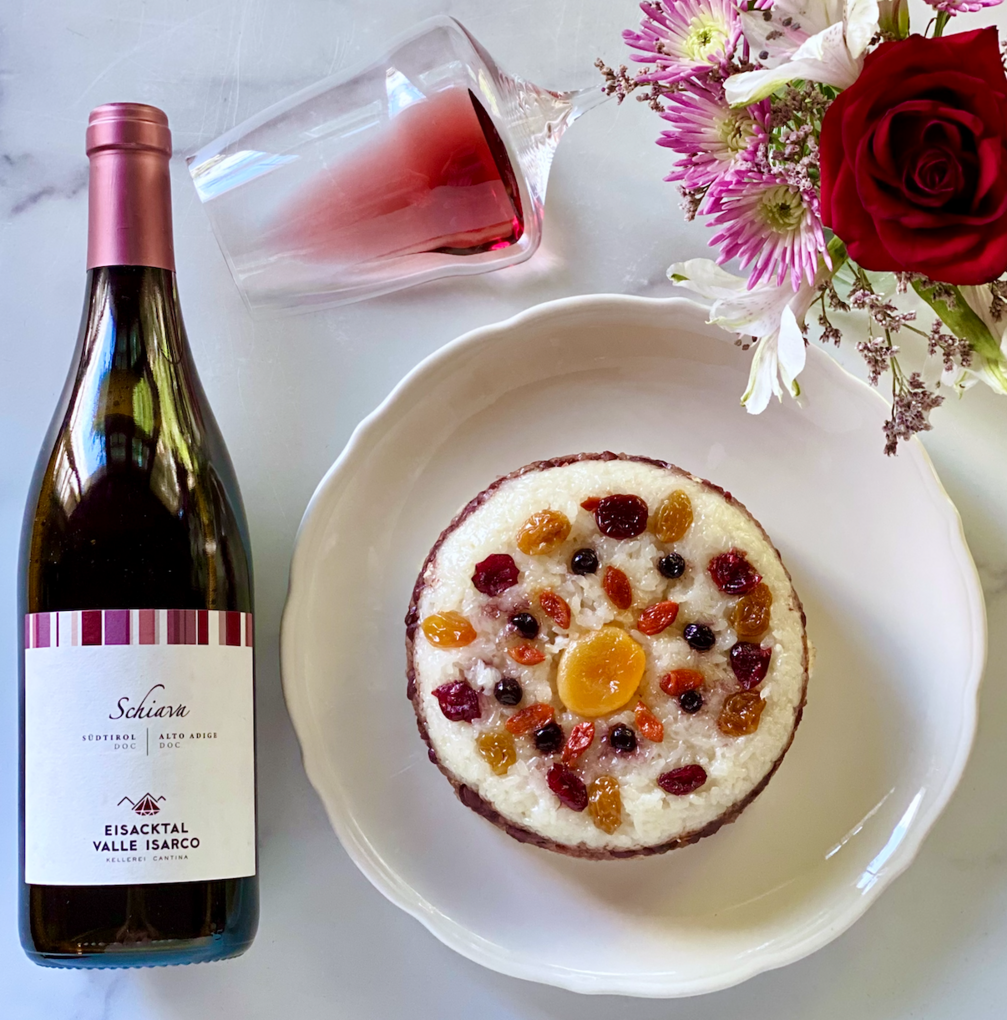 Lunar New Year (aka Spring Festival, or Guo Nian in Mandarin) is arguably the most important holiday for people of Chinese heritage — especially in Taiwan, where I grew up. It's been my favorite since I was a kid. Now, living in Brooklyn, I recall that a few days before the New Year every household starts to "sweep the dust" to banish bad luck, erase unhelpful habits, and create positive new ones. On the day before New Year's Eve (a holiday we call Little New Year's Eve), we will take down the old Spring Festival couplets and replace them with fresh verses.
On New Year's Eve day, family members from far and near return home. They gather to help prepare a celebratory dinner. In my family, after that dinner, I would always rush my mom to have her take me to my grandparents' house. I didn't want to miss any fun playing with my cousins or the moment when our elders would give us red envelopes in exchange for our blessing to them.
In years when my husband and I don't get to go home for Lunar New Year, we try to keep our connections with our Chinese heritage by honoring tradition. Making Eight Treasure Rice at Lunar New Year is one of those rituals.
Eight Treasure Rice is a rich, traditional Chinese dessert enjoyed in winter, especially at the turn of the year. Its popularity lies not only in its tastiness and nourishment but also in its auspiciousness. Form plays an important role. Eight Treasure Rice looks like a treasure bowl. The shape of the dish resembles an ancient Chinese currency. People believe that to eat this dish during Lunar New Year is to wish for wealth in the coming year and to express gratitude for a family's reunion, safety, and happiness.
As the name suggests, Eight Treasure Rice is composed of eight symbolic ingredients, including sweet rice (not actually sweet, but glutinous), red bean paste, lotus seeds, raisins, walnuts, goji berries, jujube, and pumpkin seeds. Take lotus seeds and jujube, for example. The meaning of their homophone Chinese characters is the wish for a newborn to join the family. Since Eight Treasure Rice is sweet, it also signifies the sweet feelings of marriage and families.
The homology of medicine and food has been a defining characteristic in traditional Chinese medicine for millennia. Vegetables, meats, fruits, and grains are thought to offer their own dietetic invigoration. Eating them during the right seasons also plays a critical part in the theory.
Take glutinous rice, for instance. It is thought to have the effect of replenishing energy, dispelling cold, and nourishing qi — the forces that animate the human body. There is a long-standing custom in Beijing that people eat a Cold Relief Cake (a kind of rice cake made of glutinous rice) in winter to gain the health benefits of glutinous rice.
Jujube, a Chinese fruit similar to the date, is said to improve sleep quality and brain function, promote digestion, and supply antioxidants. Red beans contain high levels of potassium, which has diuretic effects. They are also thought to accelerate metabolism and aid digestion.

It is said that Eight Treasure Rice originated as part of celebrations of a military victory in the Battle of Muye, fought in ancient China in 1046 BC between the rebel Zhou state and the reigning Shang dynasty to end the dark dynastic period. Eight warriors in the Zhou army made heroic contributions to the battle. To honor them, the Zhou people created this dish, adding ingredients to represent each one.
Another version of the folklore surrounding Eight Treasure Rice is related to the ancient Eight Treasure diagram, a unique Chinese folk-art decoration that was very popular in Jiangnan, China in ancient times. This refers to eight auspicious objects that signify prayers for good luck, longevity, and happiness.
Today, Eight Treasure Rice is enjoyed year-round and the list of ingredients that can be included in the dish has expanded. It is fine to use whatever you have on hand, but the sweet (glutinous) rice and red bean paste are essential.
Pairing a traditional Chinese dessert with an Italian red may seem unusual, but connecting disparate cultures through food and wine mesmerizes me.
Schiava

Pairing a traditional Chinese dessert with an Italian red may seem unusual, but connecting disparate cultures through food and wine mesmerizes me. The idea of pairing Schiava with Eight Treasure Rice struck me when I first encountered this vivacious, fresh strawberry-scented bottling from Alto Adige-Südtirol, the mountainous, bilingual corner of northeast Italy. From the first sip, I knew the two deserved to meet.
Schiava (aka Vernatsch and, in Germany, Trollinger) is the region's flagship native red variety. Producing light-bodied wines with bright acidity and low to moderate tannins, Schiava shares similar characteristics with Pinot Noir, but is laced with a more pronounced floral, fresh-berry note and an almond finish.
The 2020 Cantina Valle Isarco/Kellerei Eisacktal Schiava Alto Adige DOC, from the smallest and youngest of Alto Adige's co-operative wineries, displays an alluring bouquet of rose petals, violets, cotton candy, and sugar-coated fresh strawberries, with a trace of amaretto. On the palate, it's bright, juicy, and delightful.
The sweetness of Eight Treasure Rice is subtle and delicate. The lightly sweet rice balances out the heavily sweetened red bean paste and dried fruits. Usually, I would pair sweet food with sweet wine, but the Schiava's fruitiness and the candied fresh berry aromas match the moderate sweetness of Eight Treasure Rice. The nuttiness of the walnut also compliments the almond note of the Schiava. Moreover, the marked acidity of Schiava offsets the sticky decadence of the dish and prepares you for the next bite. 
Traditionally, osmanthus syrup is drizzled over the dish before serving. I skipped the syrup for this pairing because I felt it would overpower the Schiava. (I enjoyed the syrup-free version more. With this preparation, every ingredient gets its moment in the spotlight.)
This year, I'm thrilled that I will have the opportunity to make Eight Treasure Rice with my family in Taiwan — a long-awaited wish come true. At Lunar New Year, I invite you to celebrate with me and give this pairing a try.
Eight treasure rice
Yields 6-8 servings
Ingredients:
2 cups sweet rice (glutinous short-grain white rice)
1 ¾ cups water
½ cup sugar
2 ½ tbsps vegetable oil
10 oz sweet red bean paste (you can buy canned sweet red bean paste in Asian grocery stores. Alternatively, boil 10 oz. of kidney beans until they are soft. Dry them. Melt 5 oz sugar and 1 tbsp butter with the kidney beans while they are warm, then mash coarsely).
1 dried apricot
1 tbsp dried cranberries
1 tbsp dried blueberries
1 tbsp dried golden raisins
1 tbsp dried jujube — optional (soak in cold water for 10 minutes, then rinse and set aside. )
½ cup chopped walnuts or pecans, lightly toasted
Preparation
Wash and rinse sweet rice under cold water to get rid of impurities. Lay sweet rice evenly in the rice cooker with 1 ¾ cups water. Soak for 5 minutes, then cook. Once done, take rice out and cool for five minutes.
In a mixing bowl, combine warm sweet rice with sugar and vegetable oil, mix thoroughly until sugar has dissolved. Mix walnuts and sweet red bean paste in a bowl.
Brush a thin layer of vegetable oil on a 7- or 8-inch-wide ramen bowl (a round cake mold works, too). Put one-third of the rice in the bowl, using a spoon to press and flatten. Spread the sweet red bean paste on top of the rice, press, and make a generous, even layer about a half-inch thick. Top the rest of the sweet rice to fill the bowl. Press the rice tightly.
Place a plate on top of the bowl, flip it over, then remove the bowl.
Arrange the dried fruits on top of the rice. Apply pressure while placing the dried fruit.
Cover the rice with the bowl. Steam for another 20–30 minutes. The dish is now ready. It can be served either warm or at room temperature. Refrigerate any leftovers. Reheat in the microwave or steamer to enjoy.