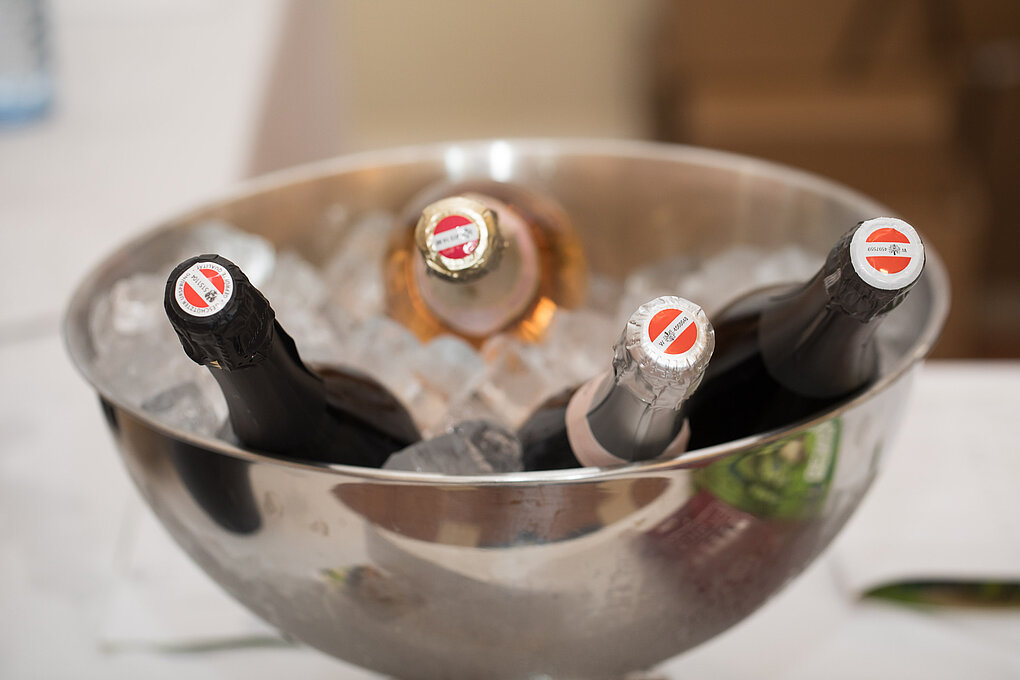 ​Not all Sekts are created equal. In the more than 180 years since the birth of Austrian Sekt, the universe of sparkling wine has changed significantly, with Austria sporting an especially impressive dynamic. Today, sekt makes up more than 10% of Austria's total wine production. And recent industry reports show strong growth with double-digit increases in volumes and value for Brut, extra dry, and rosé styles. 
In response, new sparkling wine regulations focused on clarifying both quality and origin have come into effect in recent years. The purported goal of these regulations is to help consumers in their buying decisions and raise the international image of Austrian Sekt.
Yet, despite the regulations, new production methods and numerous bottle descriptors have turned the Austrian market into a confusing maze of labels. The major price differences among products can often only be understood by reading the very fine print. And although the roadmap may not be as clear as intended, the regulations have succeeded in uniting Austria's roughly 200 sparkling winemakers—both those embracing and eschewing the boundaries of these new regulations—in pursuit of a distinctive and definitive Sekt style.
A Sparkling Start in Austria
In 1842, Robert Alwin Schlumberger founded Austria's first Sekt estate in Bad Vöslau. Although Schlumberger had earned his spurs as the cellarmaster for Ruinart in Champagne, his knowledge and experience with the méthode traditionelle would go on to earn acclaim for Austria across Europe over the course of the 19th century. Today Schlumberger is the largest sparkling wine producer in Austria. The company sources its grapes mainly from one of the main sparkling wine regions, Niederösterreich, around Poysdorf.
"We have long focused on regionality and terroir. We see the high-elevation sites of the Kamptal as offering ideal conditions for Sekt production."
In more recent times, however, it is the smaller wineries in the Kamptal, especially in and around Langenlois, that are redefining Austrian sparkling. These include Bründlmayer, Loimer, and Steininger, who grow their own grapes, use the best juice from the pressing, and rely on maturation periods of at least two to three years. In addition to single-varietal cuvées of Grüner Veltliner, estates such as Loimer and Bründlmayer have made a name for themselves with Pinot family bottlings of Chardonnay, Pinot Blanc and Pinot Gris.
The Rules of Sekt Austria
Austria established a state-run Sekt committee in 2013 with the purpose of developing strategies and rules related to Sekt production. The suggestions from this committee are then proposed to a national committee and later implemented as law. The 12 committee members represent the entire production spectrum from individual winegrowers to commercial wineries to industrial producers.
"The committee was founded with the dual intention of identifying quality criteria in Sekt production and expressing regionality," explains Peter Szigeti, deputy chairman and owner of Sektkellerei Szigeti in Gols. "Back in 2014, we laid the cornerstones for a three-tier quality pyramid: Klassik, Reserve, Große Reserve. It went into effect in 2016, and stands for Austrian Sekt from a protected designation of origin."
The new descriptor "Sekt Austria" was codified in January 2022, and since then has been signified by Austria's official red-white-red banderole on the top of the bottle. "Our Sekts need to mature for at least 12 months, and potentially for many years, to achieve the complexity in taste that we are looking for," explains Hannes Harkamp of the eponymous estate in Styria. "As a winegrower and a member of the Austrian Sekt committee, I and some like-minded colleagues were able to ensure that these approaches were included in the new legislation." Wein- und Sektgut Harkamp is one of the first growers in Austria to produce biodynamic sparkling wine.
Regional Differences
Through its detailing of origin, vintage, aging and authorized grape variety, the regional description on an Austrian sparkling wine's label reveals much about the quality inside the bottle.
"Hergestellt in Österreich" Literally: "made in Austria," with little to no claim about regional origin. These wines tend to be industrially produced Sekts whose fruit is bought in, often with grapes from other countries, and then made into Sekt in Austria.
"Österreichischer Sekt" without a geographical indication or protected designation of origin means the fruit is sourced from throughout Austria. Only 40 grape varieties may be used for the production of Qualitätswein.
"Sekt Austria" legally stipulates in the Sekt pyramid the use of only grapes of a protected regional designation of origin (PDO), Charmat or traditional method vinification, minimum lees contact, and the proportion of the yield pressing and the dosage.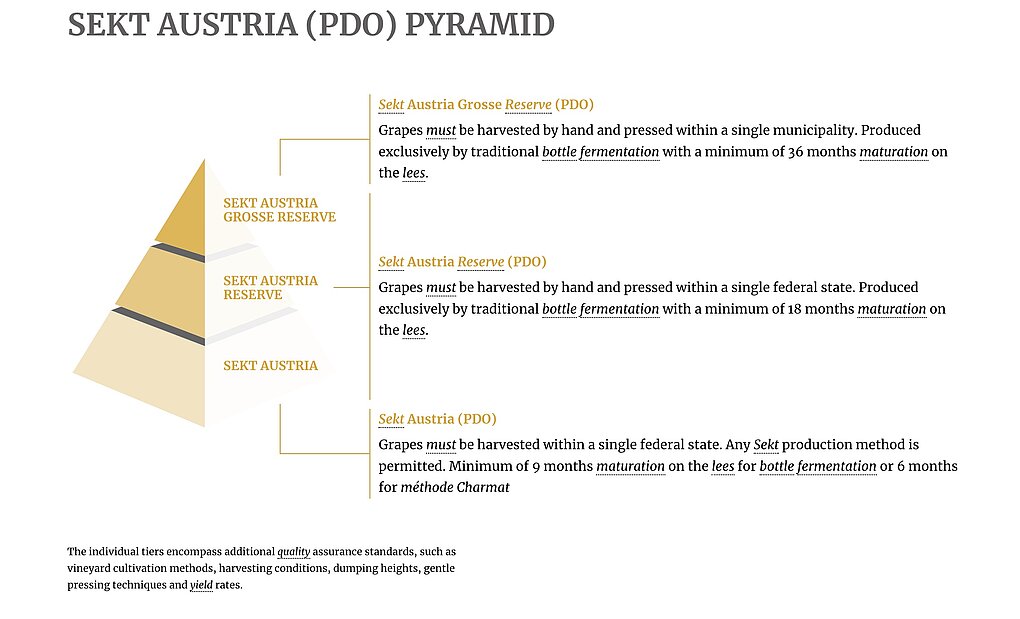 Sekt Pyramid
The Sekt pyramid defines the requirements for various quality tiers on the "Sekt Austria" label. The new name replaces the old designation "Österreichischer Sekt g.U." (Austrian sparkling wine PDO), which is difficult to pronounce, especially in international terminology. A further decisive innovation of the new regulation is that all sparkling wines must pass a quality control by a tasting consortium.
"Sekt Austria" forms the foundation of the pyramid. In 2020, these entry-level Sekts constituted close to 90% of the total Sekt category. All grapes must originate from a single federal province and this must be indicated on the bottle's label. They are fresh, everyday bubbles, and include any production method. Charmat-method Sekts require a minimum of six months on the lees, while those made under the traditional method must mature for at least nine.
"Sekt Austria Reserve" raises the bar, permitting only wines made using the traditional method. In addition to the significant fact that the grapes must come from one winegrowing region, also of importance is that Sekt Austria Reserve requires hand harvest, whole cluster pressing, 60% yield from the pressing, a minimum of 18 months on the lees, and residual sugar levels of no more than
12 g/l.
Sekt producers who aspire to the "Austria Sekt Große Reserve" tier at the tip of the pyramid face stringent quality challenges. Beyond the aforementioned requirements for "reserve," harvest and pressing yields are capped at 50%, the maturation period is increased to 36 months, and the federal province as a protected designation of origin, as well as the indication of a municipality, are mandatory on the label. This category represented just 1.3 percent of Austrian wine production in 2020.
In theory, all Sekt producers can meet these requirements. Yet some members of the young generation like Christina Hugl from the "Jungen wilden Winzer" show little interest in squeezing into the corset of regulations involved with "Sekt Austria." In particular, the pét-nat scene, which has exploded in Austria, sees itself as marginalized by the regulations. The wines are routinely made from Austrian grapes and to high quality standards. Yet many of them are working with organic or biodynamic viticulture, a factor not yet accounted for in the new Sekt
production laws.
Other young winemakers, such as Weingut Jurtschitsch from the Kamptal are producing highly regarded pét-nats as well as outstanding Sekts. "We haven't really engaged with the new 'Sekt Austria' classification," Alwin Jurtschitsch explains. "We have long focused on regionality and terroir. We see especially ideal conditions for sparkling wine production on the high-elevation sites of the Kamptal up at 450 meters above sea level." Other producers, such as Manuel Ploder from Ploder-Rosenberg and Christoph Hoch, are pursuing their own distinct style with minimal intervention, and are eschewing the use of the banderole, believing the sparkling wine's quality speaks for itself.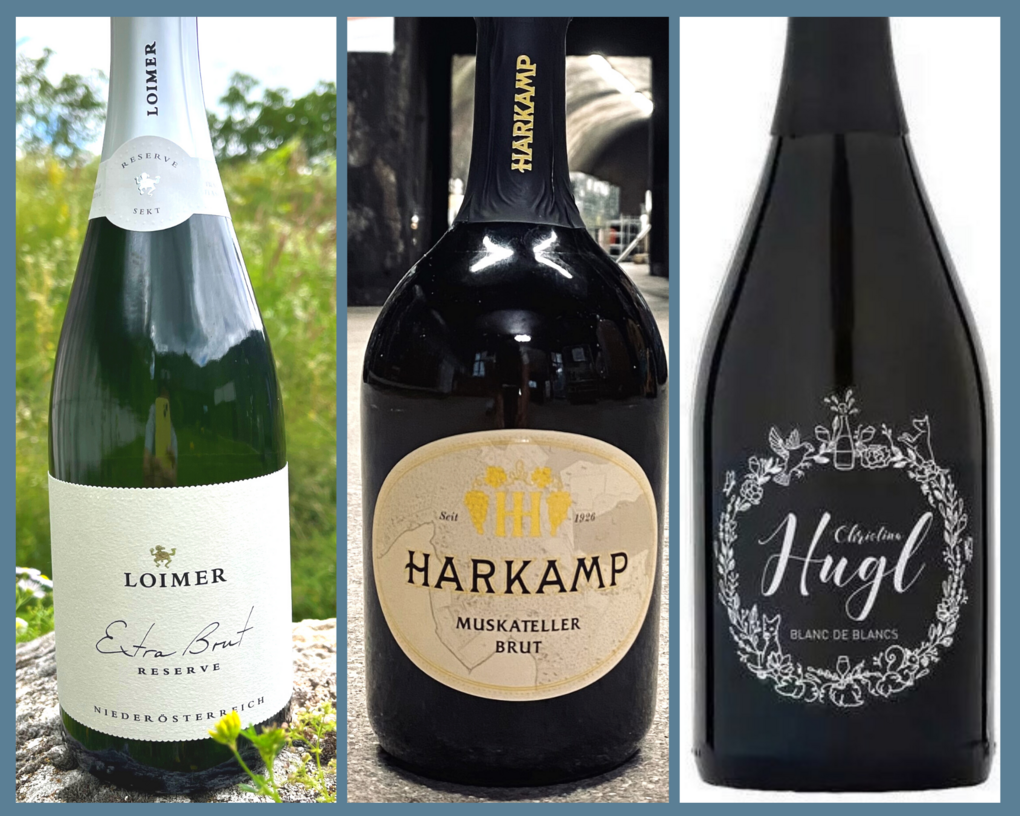 A SPARKLING FUTURE IN THREE SEKTS
NV Extra Brut Reserve, Weingut Fred Loimer, Kamptal
The grapes for the 2018 originated from organic and biodynamic cultivation on the higher-elevation sites of Langenlois (400m) and Gumpolskirchen (200m) in the Niederösterreich growing region. Loess, gneiss, sediment, and calcareous rubble shape these sites. Spontaneous fermentation, 8 months of lees contact (course and fine lees), as well as malolactic fermentation are all factors in this complex sekt. Delicate aromas of baking bread mingle with mellow ripe apple and citrus zest. Fine, creamy mousse with thrilling momentum, a juicy, red currant acidity and an unforgettable lime kiss. Agile, austere, and bone dry with 1.5g dosage, and a long creamy and citrus finish.
NV Muskateller Brut, Weingut Harkamp, Südsteiermark
The vineyards of Weingut Harkamp are found exclusively in Sausal in Austria's Südsteiermark. The cooling northern influences and warm currents from the south offer an ideal cradle for winegrowing. The Muskateller is a delight on the palate and produced from organically cultivated Muskateller grapes harvested in 2018 and 2019. (Demeter certification was completed in 2020). Enchanting aromas of blossom honey and elderberry with a delicate tropical touch. The fine mousse and 9 g/l dosage envelop the palate in a finely fruity embrace. A wonderful aperitif.
2018 Blanc de Blancs Reserve, Christina Hügl, Kamptal
Christina Hügl has long been a player on both Austria's Pet-Nat and sekt scene. The 2018 Blancs de Blancs is a whole-cluster fermented blend of Grüner Veltliner and Welschriesling. Notes of pineapple are offset with the fresh herbal notions of lemon thyme and ripe apple. A thrilling sekt with a delicate bead that delivers a delightful creamy texture despite a residual sugar of only 1g/l. Tender caramel notes mark the lingering finish.
Translated by Weinstory.de ​