Happy Wine Hikes in Alto Adige: 7 Rules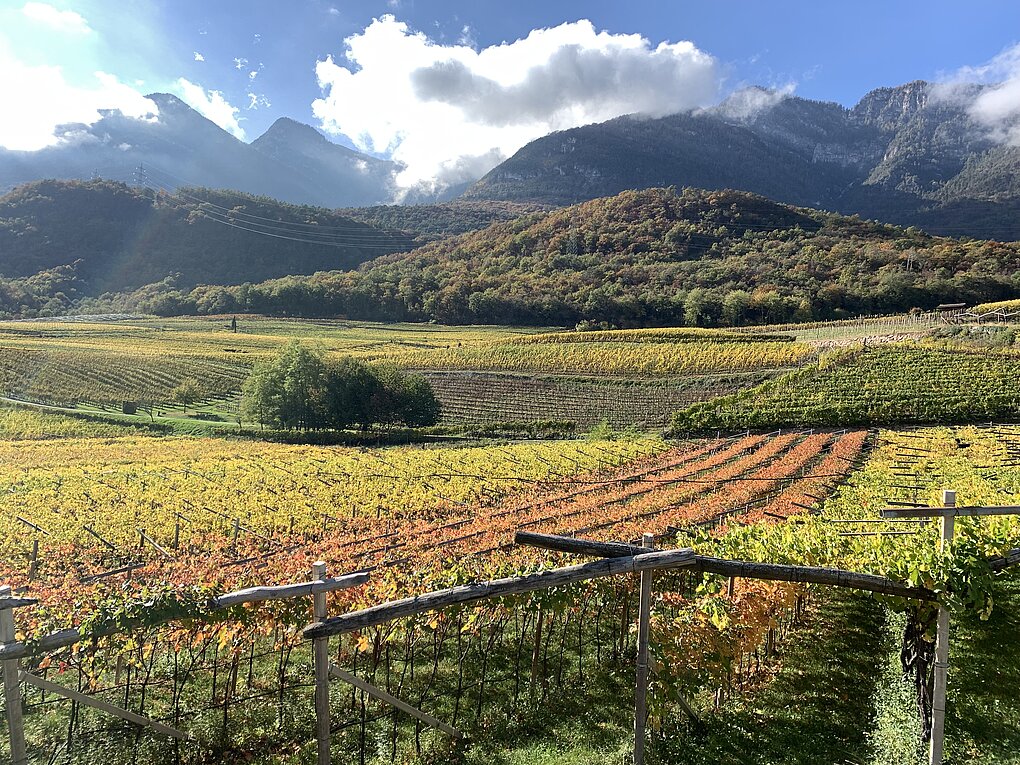 Ellen Wallace, Swiss wine expert, hiked 675 km in Switzerland in six months in 2021 to write Wine Hiking Switzerland, then set her sights on the Dolomites.
Scuff your boots and kick up a pile of golden leaves on a winding backroad in Alto Adige-Südtirol, then slow down. It's time to watch sheep tidying the green cover between vine rows in these Dolomite foothills. A surprise is revealed the next day: the vines and nibbling sheep belong to Manincor, a pioneering biodynamic winery frequently mentioned in any conversation about Alto Adige's future in the face of climate change.
This is a corner of Europe where the soft lusciousness of Italy blends with the alpine majesty and orderliness of Austria, for until 1919, this was part of the Austro-Hungarian Empire. As a result, every place has names in two languages. Despite the region's turbulent 20th-century past, today it is a moving tapestry of (increasingly environmentally sensitive) soft tourism threaded with cyclists, climbers, and hikers, along with wellness seekers and gastronomes. At their feet are some 5,000 hectares of vineyards producing famously good Pinot Grigio, Pinot Bianco, Chardonnay, and Gewürztraminer as well as indigenous reds, foremost cheerful Schiava (a.k.a. Vernatsch) and its more profound counterpart, Lagrein.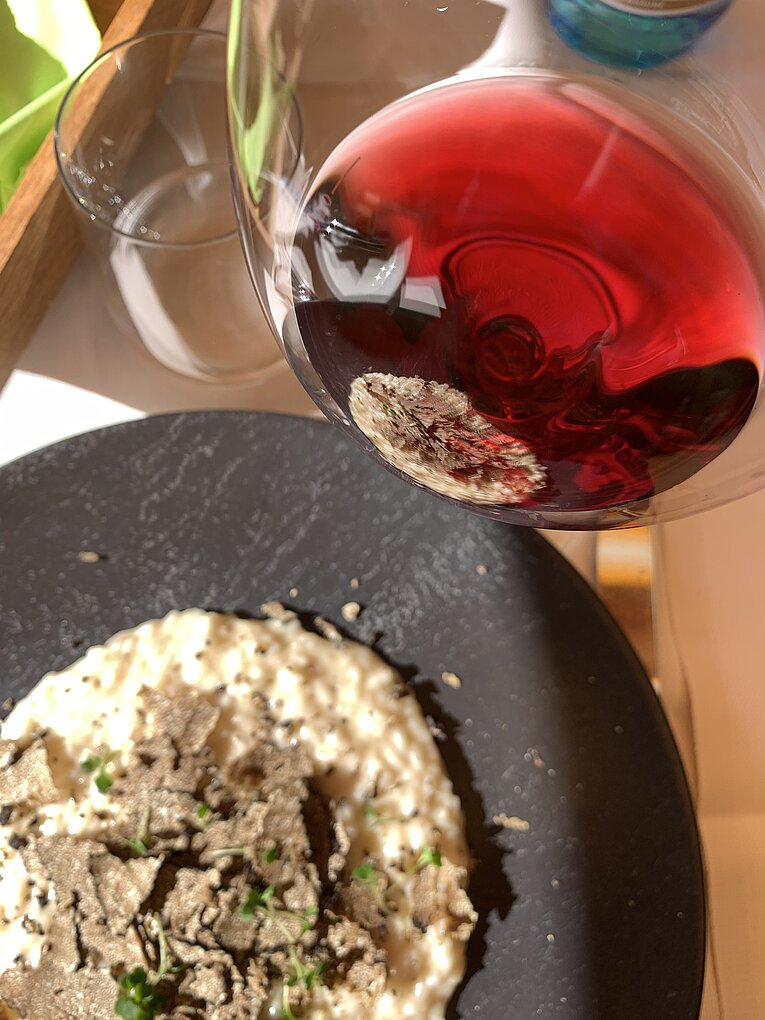 There is no better way to learn about wine than by starting with nature in all its grandeur and following the inherent limitations of your own pace to pay attention to your surroundings. Try walking a minimum of two hours or 8 km and you'll soon find you can readily walk 12 km and more. Walk around, not just through vineyards. The memories you store will have greater depth and richer colors.
Rule 1 for wine hiking: use public transport to slow down before you arrive and get your bearings.
I wanted to make my first visit to this mountainous region, not far from my south-central Swiss Alpine home, partly to compare how the two are contending with climate challenges. My adult son, an avid climber, suggested I head east of the regional capital Bolzano-Bozen to view magnificent peaks such as Marmolada (3,315 m.a.s.l.), but there the vineyards are spread out and I wanted to use public transport. A colleague advised me to explore all three main wine-producing glacial valleys, the six official tourism regions, and the seven sub-regions — a lovely if impossible idea!
I opted to visit only Kaltern-Caldaro, southwest of Bozen-Bolzano. From Milan, the train follows the Adige river valley, packed with fruit trees and vines. Vineyards are interspersed among orchards that supply 10 percent of Europe's apples. Forested mountains that are often regional parks rise abruptly on either side. Italian gradually gives way to German, although both are spoken widely here. From the Bozen-Bolzano rail station, a 25-minute bus ride gets you to the heart of Kaltern-Caldaro. (The region's bus system is modern, clean, and simple to use, as well as inexpensive.)
Rule 2: Stay at least two days in a place, if you can.
Kaltern-Caldrao is a fine old hillside town surrounded by vines, a few hundred meters above a popular natural lake, Kalterersee/Lago di Caldaro, which is among the shallowest in Europe, and therefore warm.
Rule 3: Slow hiking, slow food,
slow wine.
All three are on offer here. Mid-afternoon on my first day, I set off along small farm roads that climbed slightly before dipping down to the lake. I wondered about boars in the nearby woods, studied old farm machinery, admired castle rooftops, and made a note to ask about vine training, which tends to the sheltering traditional pergola system. Four hours later, having forgotten I was farther east where the sun sets earlier, the lake began to look like a mirage. I managed to hail the last Sunday bus back and reminded myself of
Rule 4: Research trails in advance but decide where to hike only on arrival. The best maps in the world don't give you that "aha!" feeling. But then take a map along; read it and calculate times.
The vineyards were vibrant. Although less than 10 percent of the region's wine is organic, change is underway. A decade ago, says Christoph Fischer, area manager for Europe at Kellerei Kaltern cooperative, only 10 percent of its growers did not use pesticides. Today only 10 percent do. As of next year, under what's known as the 2030 Alto Adige Wine Agenda, herbicides will be banned outright in vineyards. The Agenda is the region's roadmap to improving soil and ecosystem health and establishing the broader social and cultural contexts for these.
Meanwhile, hiking makes you hungry. Be sure to eat the regional specialty, Knödel-Canederli, which are delicate spinach or cheese dumplings.
Rule 5: Ask locals which restaurants they go to for a relaxing meal and order local foods — even if you don't know what they are.
Manincor, it turns out, is the haven I had walked towards before sundown the previous day.
Rule 6: Visit one but no more than two wineries a day.
In my case, this meant walking through the vineyards with Michael Goëss-Enzenberg, Manincor's courtly owner. He points from manicured rows to one where the cover crop has just been seeded, another where it is further along and he spots a plant that will provide leaves for our lunch salad. Nothing goes to waste here. Horsetails, deemed weeds in my garden, are used to make teas, while early nettle roots go into a concoction to strengthen the vines "as they gain steam early in the season," he explains. In line with biodynamic practices (Manincor is a founding member of the respekt-BIODYN group of biodynamic growers), he thinks of these treatments as homeopathic.
Uphill we go, to a trail alongside woods, where small, free-roaming Breton Ouessants sheep are busy. Their diminutive size suits them to clearing forest undergrowth and vineyard greenery while leaving the vines undisturbed. The sheep drink from a pond thrumming with frogs who keep many insects under control. Goëss-Enzenberg's love of animals is clear, as is the way the parts of nature's farming puzzle all fit together – including meat consumption. The estate's male lambs are slaughtered at six months. "We eat very little meat, but it's part of the whole. We need all of this – the animals, insects, plants. Animals are the soul of the vineyard, they bring something to it."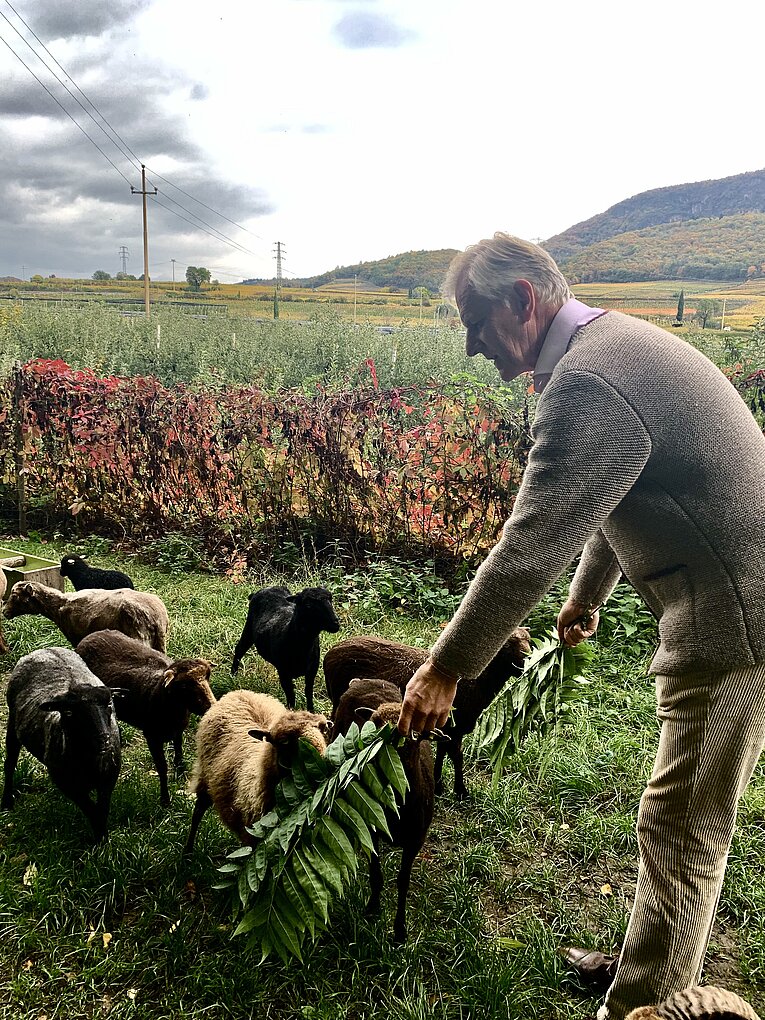 Biodynamic farming is designed to be respectful — not hands off — he notes. Holistic human stewardship is at the heart of the philosophy. One key feature of this is diversity, of grape varieties, but also plant and animal life, and we are part of the mix. "At least 30 percent of 'terroir' is the human touch," Goëss-Enzenberg says.
As we walk toward the winery, a puzzling sight catches my eye: a pile of planks on the rooftop. Trees from the estate's grounds end up as staves that dry here for three years before a team from Stockinger, one of Manincor's main coopers, picks them up as they deliver the next barrel order. Goëss-Enzenberg's eyes light up. "I love wood! I trained as a carpenter." Later, inside the winery, he points out that the surprisingly comfortable wooden chairs are made entirely from recycled barrels, his own design.
Manincor's cellar is a masterpiece of integration: A 400-year-old group of buildings retrofitted with a sophisticated geothermal cooling and heating system is among the elements designed to reduce the winery's footprint. Most of this is a state-of-the-art cellar that opened in 2004. It is invisible from the outside, another reminder that we humans need to remember our place. Among the estate's latest innovations is reducing bottle weight. "We went from 600 grams per bottle down to 550 and we're working on getting it down to 500. But you want to have stability." Stainless steel is used for technical operations, but oak dominates, giving wines like Eichhorn Weißburgunder (a.k.a. Pinot Blanc), a striking single vineyard wine that is fermented and matured in oak.
All of this would be anecdotal, just a tale of a lovely green-thinking farm, if the wines were not as good as they are. Manincor has a style that is classic, elegant, restrained. The wines are all marked by subtle if very present aromas and clean, pure lines. Of the whites, the Sauvignon Blanc 2021 Tannenberg with its quiet mineral and salty touches was a favorite. Those were indeed Schiava canopied vines I'd seen and they give a delicious light red wine, to be served with a chill that is very good with any of the local dishes, especially polenta and Kalternsee fish, especially pike and char. The Mason di Mason Pinot Noir is remarkable, despite a subtle start: it is mouth-filling and perfectly balanced, with elegant spice and a very long finish. The dark Lagrein is one of the best I will taste. "We want to treat it like a Pinot Noir," Goëss-Enzenberg says.
The most beautiful wine of all is a special treat, made only in good vintages: 2018 Le Petit from Petit Manseng late harvest (January) grapes. Served with an apple strudel offered as a gift that morning by one of the winery workers, it is simply exquisite, wine as fruit accompanied to its richest extreme, perfectly balanced. There is a sense of harmony at this family table, a mention of an early morning swim in the lake with a group of friends, the change to an electric car. Goëss-Enzenberg's wife Sophie speaks of her morning spent volunteering at a forest kindergarten. She trained as a midwife and offers homeopathic remedies to family and staff. We talk about the Goëss-Enzenbergs' three children, who will begin to take over from their parents in 2026.
There is much to envy here. The family has for centuries owned the domain and lands around it that include fine castle ruins on a hill overlooking the lake. But what reverberates here is Manincor's example. When Goëss-Enzenberg took over the winery in 1991 the grapes were sold to a cooperative; he set out to improve the vineyards and six years later began bottling estate wines that have earned an enviable international reputation. In the past, neighboring farmers called biodynamic practices too impractical and costly, but recent drought conditions have given them pause and there is now more discussion about holistic solutions, he says. "We do everything we can all year to bring balance and diversity to our vineyards, but also in our wines. This year we irrigated only once, but our vines did not dry out." Unlike some in the region, berries were not dramatically smaller. "The soil is healthy," he says simply.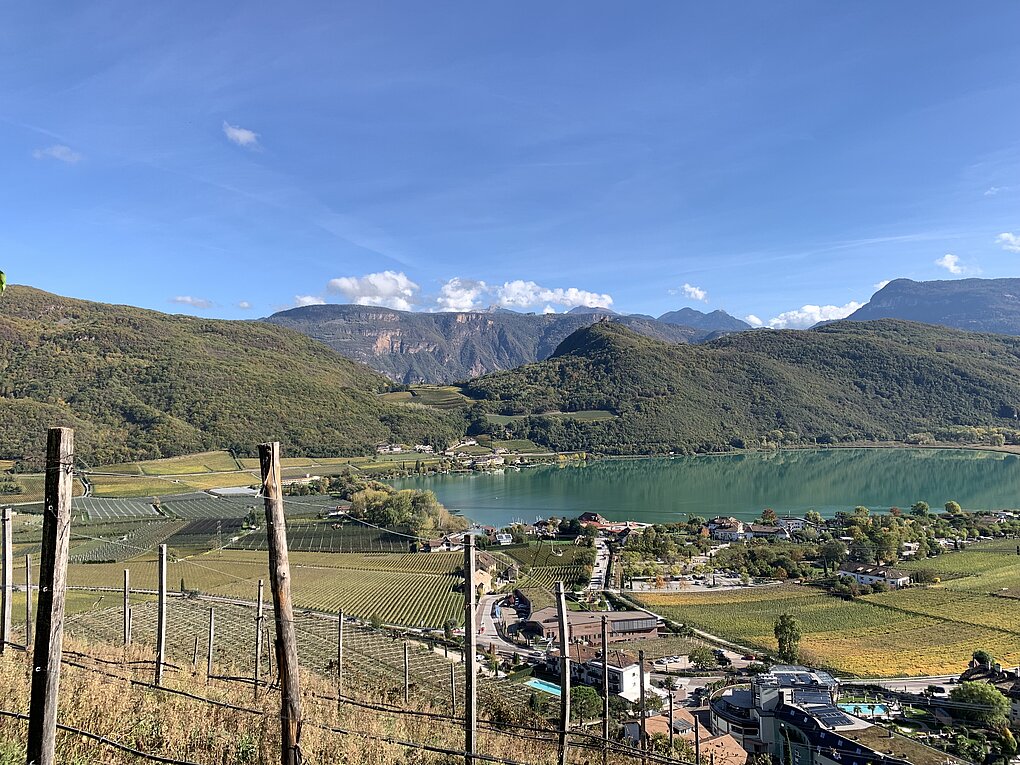 A hike up the other side of the winery from Kalterersee-Lago di Caldaro gives a much clearer picture of why there won't be an overnight shift to organic wines. Vine parcels are small, often under half a hectare, creating a beautiful but challenging patchwork landscape. These are mainly weekend growers, says Fischer; many of them also have orchards. Kellerei-Cantina Kaltern was one of five cooperatives in the subzone in the early 20th century. But these have continued to merge and today this, the largest, has 490 members each of whom farm an average of less than one hectare. Today, the co-op makes 4 million bottles a year from a total 440 hectares of vines.
Encouragement to change begins by creating a sense of community. The cooperative works closely with its member-growers and pays them a healthy price for their grapes. Growers earn about 26,000 euros per hectare, according to Fischer. An annual label design competition is hugely popular. The wines are very good quality even at the entry level and the market logic of a good range that includes some top wines is clear. This is a fine place to fall in love with Schiava. But start with a glass of the Quintessenz Pinot Bianco, which is raised in oak barrels for a year, then left to age another year in bottles before release, giving it a nose of rich and ripe fruits and great depth with good acidity.
Rule 7: Vary the length, altitude, and scenery of your hikes, rather than picking up where you left off.
Post-winery visits, I set off for trails above St. Niklaus, where small roads are easy to navigate and the views from 300-400 meters above Kaltern-Caldaro are beautiful. The cable car up to Passo Mendola runs every 15 minutes, is inexpensive (best: get a regional transport pass from your hotel or local tourism office), and sets you down in a mountainous area rich in history, with straightforward forest hikes. The views are not only spectacular, they also provide keen insights into local geology: you suddenly see why vineyards here have rich moraine soil while slopes higher up have the crumbly gravel from the peaks. Bonus: you're bound to work up an appetite for still more food and wine.
Final tip: As on any hike, be sure to pack a change of clothes/extra clothing layer, sun cream, cap, water, snacks, flashlight, phone battery pack, and emergency medical kit.