Wish You Were Here! Love, Bodensee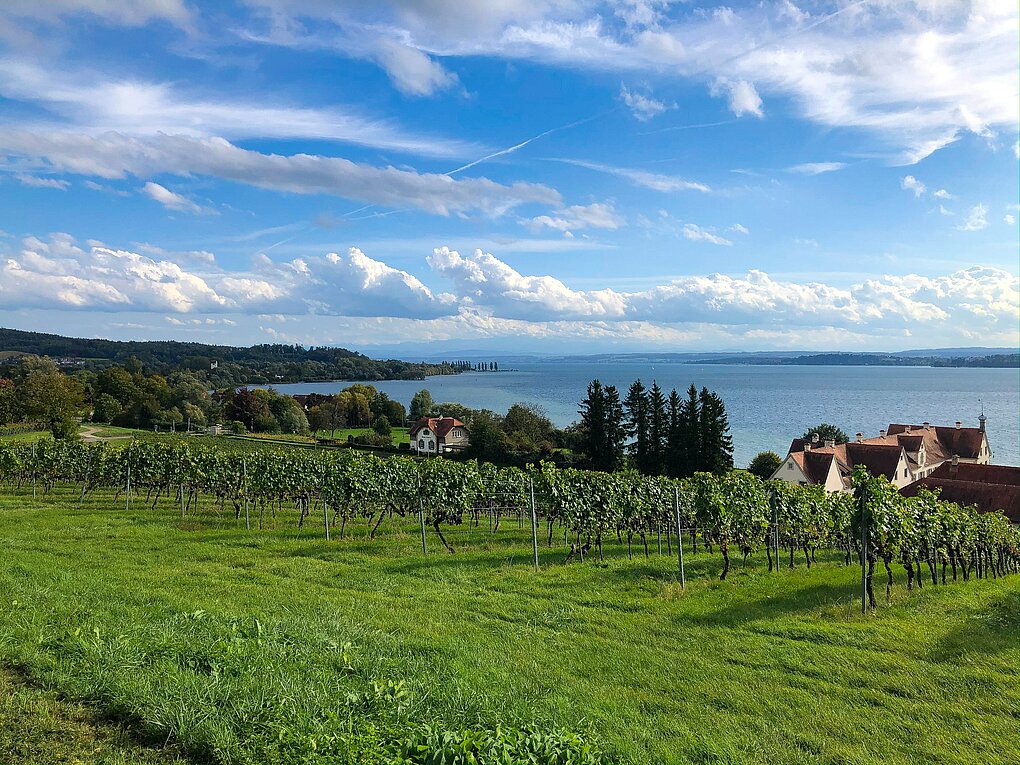 Ask a German about their favorite domestic vacation spots and Bodensee — aka Lake Constance — routinely sits near the top of the list. The country's largest lake offers plenty of water and winter sports, proximity to Switzerland and Austria, the island of Mainau, and the Reichenau peninsula with its medieval history and churches.
Then ask about dream winegrowing destinations, and watch Bodensee slip way, way down the list. With a reputation for simple wines that do little more than embody lake life, it is no wonder that in recent times Bodensee has struggled to be taken seriously. But a small group of young winemakers has come together to change the perception and horizon of this new lake terroir.
Bodensee is Germany's Rising Cool-Climate Region
It is true that Müller-Thurgau, a variety bred over 100 years ago as a high-yielding vine, contributed to the dilution of German viticulture in the 1970s and 1980s and even now continues to symbolize a certain typically light and fruity style. Yet this perception masks a revolution long since underway with fires burning throughout the region. In Meersburg, for example, at the estate of Johannes Aufricht, or at Vollmayer, which cultivates the Hohentwiel, the highest vineyard in Germany. One bright spot in particular is a tiny part of the lake encompassing the small towns around Nonnenhorn and Lindau.
The majority of the lake's shores belongs to the federal state of Baden-Württemberg, with almost all viticulture here part of the Baden winegrowing region. Yet the towns of Nonnenhorn and Lindau actually fall within the borders of Bavaria — hence their designation as the Bayerischer (i.e. Bavarian) Bodensee. Even if the only other winegrowing of note in Bavaria lies in far-away Franken, the lake vintners from Nonnenhorn and Lindau are nevertheless expected to seek consultation from the winegrowers association there. To add to the absurdity, and as a fine example of why German wine law might charitably be called "complicated," the Bayerischer Bodensee region is actually classified viticulturally as neither Baden nor Bavaria, but rather as part of the Württemberg winegrowing region.
"I asked myself whether the the soils and climate could produce a wine that is fun to make and drink."
Nonnenhorn (and Lindau) are thus part of a 90-hectare niche. Its total size is roughly equivalent to the holdings of a single estate such as Dr. Bürklin-Wolf in the Pfalz. And yet so much is taking place in those 90 hectares, much like a bridge being built from the distant past to the here and now. The Bodensee is likely the region in which — as many as 1,200 years ago — Pinot Noir first emerged on German soil. And, with the efforts of a small group of young winemakers, the Bayerischer Bodensee is shaping up to be the region which in the course of climate change once again becomes an epicenter for Pinot Noir, Chardonnay, and other new varieties. Teresa Deufel and Sebastian Schmidt, Benjamin Lanz and Simon Hornstein, Julian Gierer, and Jonas Kurek have risen to the forefront as growers dedicated to making distinctive, authentic wines from a place of natural beauty and unique climate and geology. Despite their local success and having wines that stand up well against international comparison, they remain an insider's tip.
Pioneers in Nonnenhorn
My journey starts at a 100-year-old abandoned dairy farm operated by Ulrike and Oliver Schaugg, and known today as the Rebhof. Once a place for processing milk, the cellar is now home to stainless steel tanks and wooden casks, while on the floors above people live and create art. Oliver was a master glass maker and hails from an artistic household. His wife Ulrike is ostensibly the winemaker, although they now create the wines together. The pair see winemaking as one part of their diverse interests. This is why they've stuck to the 2.5 hectares that Ulrike's father, Ulrich, planted back in 1969.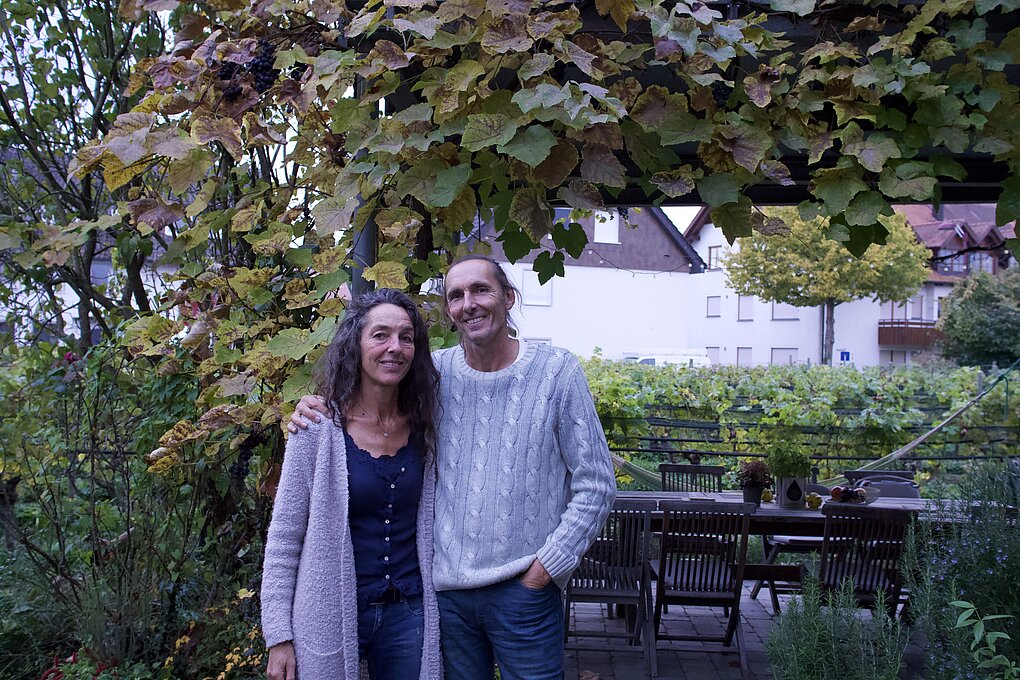 The large, centuries-old wine press next to the Rebhof confirms that although Ulrich Höscheler was considered a winegrowing pioneer in Nonnenhorn, wine cultivation in the region long predates him. Höscheler remembers helping to crush grapes in that press as a boy, in the mid-'50s. The following year, however, brought a bitter-cold winter and spring, freezing most of the vines. Seegfrörnen ['lake frozen'] in the Bodensee dialect.
Restart with Müller-Thurgau
Höscheler planted his first vines in 1969. He would later find a like-minded soul in Rudi Hornstein, who lives just across the street and whose son Simon is now making waves himself. Höscheler planted Müller-Thurgau, Bacchus, and Spätburgunder, received additional training in Wädenswil and Freiburg, then launched into production. "It was a bit of an informal affair, but a very brave one as well," Ulrike says of that time. She too had decided to train as a winemaker in the neighboring village under Hannes Deufel, the father of Theresa Deufel, who in 2009 was among the first in the Lindau and Nonnenhorn area to achieve fame beyond the lake's shores. Ulrike later went to Neustadt, Switzerland, and even Zimbabwe. Traveling the world, gathering experience is one thing; selling your own wines is another. "We both are totally terrible salespeople," Oliver admits. "So we're happy when someone approaches us." The two live from word of mouth, but fortunately there are enough people who share their understanding of art, life, and wine.
One of the truly fun parts of Nonnenhorn is the proximity of the winegrowers. Traveling between farms can sometimes be as simple as merely crossing the street as, for example, in the case of next-gen winegrower Simon Hornstein. When I arrive, Hornstein packs a few bottles under his arm and leads the way through one of his vineyards to the nearby lakeshore. The morning atmosphere is almost too lovely to be true. Solitary boats glide across the water, the air is clear, and high visibility means we can spy both the shoreline on the Swiss side and the foothills of the Alps. A bevy of swans land in the water in front of us as Simon opens a bottle of his Müller-Thurgau.
From Lake Wine to Terroir Wine
Rebhof wines have remained classic lake wines, even if the varietal roster has now skews toward PIWIs. It is likely that Ulrike and Oliver were the first to plant Regent, a hybrid red variety that allows them to spray minimally in the vineyards. Then came Johanniter and, a few years ago, Souvignier Gris. The wines are pleasantly fruity, and when ripe reveal an easy-drinking character that appeals to the lake crowd.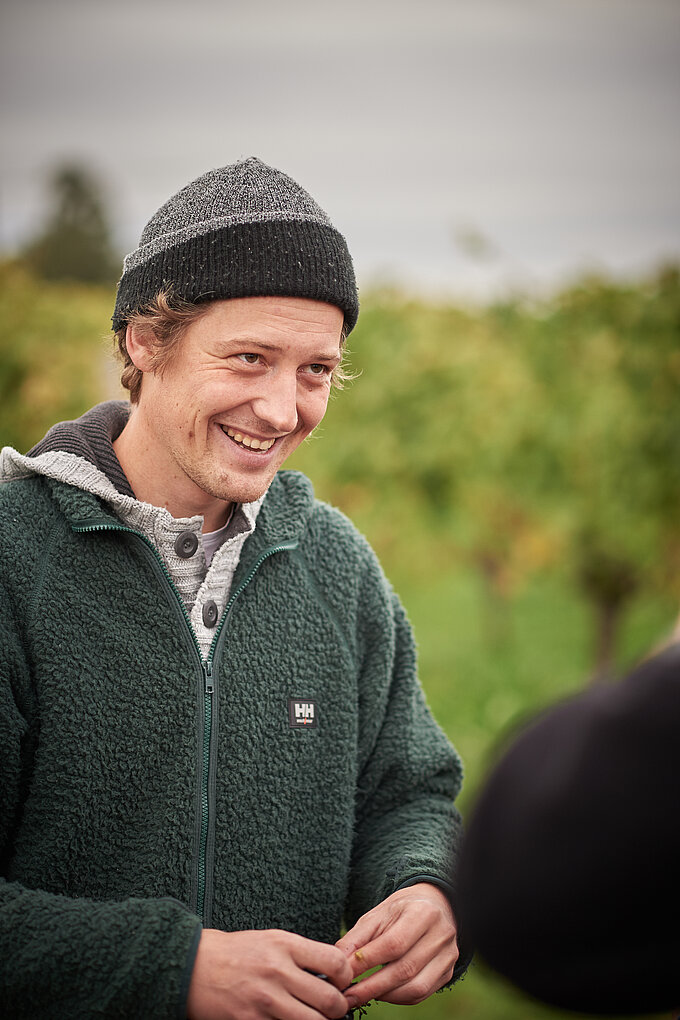 Hornstein's wines, by contrast, are shaped by something else entirely: "Before I decided to return after my studies, I asked myself whether the unique elements of the soils and climate here could produce a quality wine worth having, one that is fun to both make and drink and which also attract attention beyond the lake's borders."
His parents had already begun producing a less floral and fruity style, and had started the move to single varietal wines. The first thing he did when he took over was to produce each parcel separately. "I took time with the soils and even wrote my Bachelor's thesis on it. I literally turned over every stone here. My unending soil analyses ended up driving the lab in Geisenheim crazy, so they ultimately gave me my own key!" Simon, 30, now knows the soils of the northeasterly point of Lake Constance like no other. It's the cornerstone for his terroir wines.
His Müller-Thurgau presents itself with a purity and precision of a kind I've rarely experienced. "I've reached the point where I age the wines longer to get the fruit phrase and the reduction a bit more behind me, and to boost precision." But the wines have much more than precision: finesse and elegance, and above all else tranquility and balance. Hornstein's first sturm-und-drang phase, in which he kept the wines intentionally reductive and with cap-gun aromas, ultimately reflected the cellar more than the terroir. Now, he works with whole cluster pressing, and in some cases foot-stomps grapes. He ferments spontaneously with plenty of sediment. The wines remain on the gross lees in Austrian barrels from Kärnten. He learned about the Pauscha cooperage during an internship in the Steiermark. To date, Hornstein has worked solely with used barriques, but he is now starting to experiment with 600L and 1,200L barrels and Fuders that impart even less wood to the wine. "If I feel change is needed, then I simply do it, without the need for too much deliberation." Alongside the necessary specialist knowledge, Hornstein uses his instinct and intuition to extrapolate the character of Nonnenhorn in his wines: the stonier it gets, the more gripping and nimble the wines become. The white wines — over the course of our discussion, we'd long since arrived at the Chardonnays — offer an impressively salty minerality, as if rolling a seastone back and forth across your tongue.
The Gent Believes in PIWI
The electrifying energy in Hornstein's wines is quite similar to that found in the wines of Benjamin Lanz. Lanz and Hornstein are constant companions and listening to them — even in the moments when they're not together — gives the impression that they've developed a bit like fraternal twins, whatever the superficial differences between the two estates and portfolios. Hornstein has the infrastructure and access to established vineyards with Müller-Thurgau, Grau- and Weißburgunder, Chardonnay, and Spätburgunder. Lanz started from scratch just a few years ago.
Before that, his mother, like so many around Lake Constance, ran a fruit farm. When she took up a relationship with Johannes Haug, a winegrower from neighboring Lindau, it closed a circle. As a youth, Lanz helped out at the estate where Haug worked. Following an internship and studies, Lanz was drawn back to the region by its unplanted hillsides. "Most are planted with pears, because once upon a time you could earn good money from that," he recalls, "But nowadays fruit comes from everywhere. And the fruit farmers don't want to work the steep slopes." He began clearing the orchards for vines, opting for organic viticulture and PIWI varieties from the start.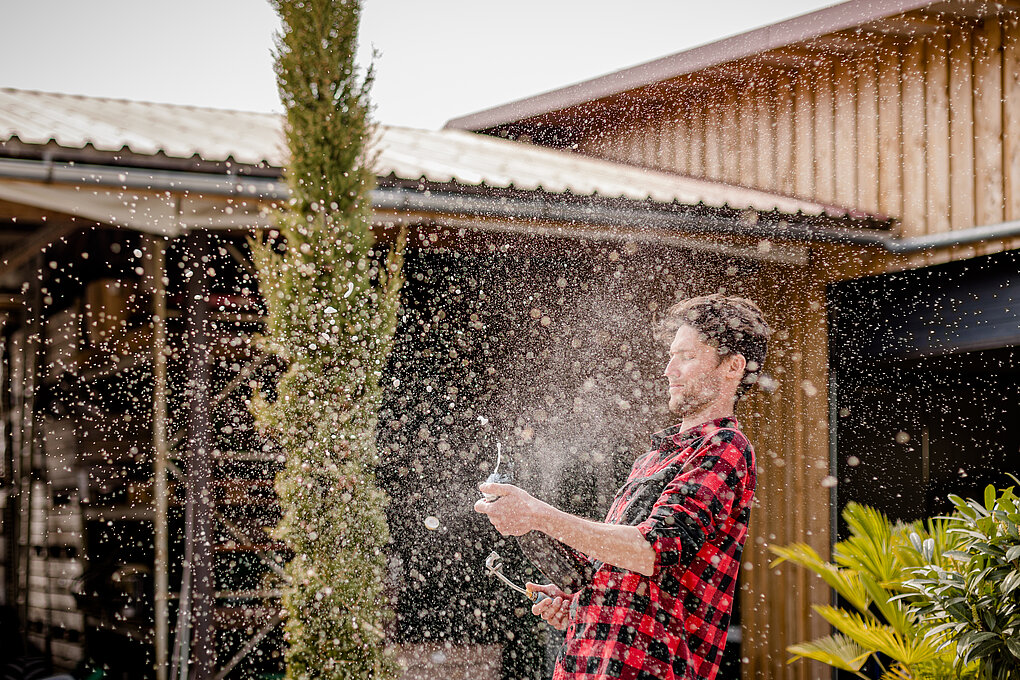 That's how Lanz experienced things under Teresa Deufel, cousin to Johannes Haug, who in turn is now his step-father. And that's how he, Lanz, wanted to do it as well. "Conditions are ideal for pero [peronospera] here. High set, relatively cool, and the clouds empty their rain before they hit the Alps. We'll often get 1,200 to 1,300 millimeters of precipitation." At the same time, the wind whips through here. It comes out of the south/southwest, and because there are mountains on three sides, it tends to swirl, with the Rhine estuary working a bit like a channel pushing the south winds upwards. PIWIs were a logical choice.
Terroir Over Variety
"We need [PIWI] varieties that are a vehicle for origin. To date, PIWIs have been used by real pioneers who were good agricultural stewards and winegrowers, but not necessarily particularly ambitious cellarmasters." This has meant that there's been little glamour surrounding these varieties, and that PIWIs have picked up a reputation as decent base wines and little else. "The most recent generation of newly developed PIWIs were, above all else, aromatic varieties. I'd prefer something different," Lanz says. In my view, he is currently producing the finest PIWI wines anywhere in Germany. For him, the specific character of towns such as Nonnenhorn, neighboring Bodolz, and Lindau are decisive. And even more so the individual sites, such as the Nonnenhorner Seehalde with its pebble and sand soil or the Schönauer Entenberg with its weathered stone that the glaciers laid around the lake in hills during the last ice age.
Because terroir trumps variety, grape names on Lanz's labels are increasingly difficult to find. At this point, he prefers to plant the PIWIs as part of new field blends. In the cellar, he raises his wines not unlike Simon, with the exception that thick-skinned PIWI berries require a different pressing approach. Lanz eschews aggressive clarification of the juice, and ferments and matures with plenty of solids. The village-level Ortswein and single-site Lagenwein are partially or completely raised in oak.
Open Exchange Unlocks Success
"When you see what Benjamin and Theresa are doing with PIWIs, then I see the attraction," Simon says, as we sit by the lake. "But I wouldn't pay too much attention to the varieties, rather to the origins. I often talk about this with Benni and who knows, it may well be that in a few years I'll plant my first PIWIs too." After the clear, structured, saline Chardonnays, I get caught up in Hornstein's Nonnenhorn Spätburgunder, whose structure fascinates me. There is a certain lightness and grippy tannins that shape a highly distinctive character. It is a densely woven wine with a dancer's lightness — and a long, lingering spice.
The reds are where Hornstein clearly surpasses Lanz. This directly reflects that red PIWI varieties simply aren't playing in the same league and more work is needed there. Yet for each estate's whites, the bar is the same. And it's a high one. "Simon thinks things through as much as I do and we're good at sharing that with one another," Lanz says. "But there are also other people we talk with. The discussions are getting more open and honest, and everyone benefits from that."
Not According to Plan
Two towns over, in the kitchen of Teresa Deufel in Lindau-Schachen, the winegrower doesn't mince words. A decade ago, she was the lake's shooting star. Her story fit with the times: young, female, with a can-do attitude in the aftermath of her father's much-too-early passing. It also didn't hurt that she was already farming organically and working with PIWIs. "The female factor was an enormous draw a decade ago," she notes. "It was unbelievable how much press attention I got without me having actually achieved something or won any prizes — although that was simply because I hadn't had the time to submit the wines at the right time anywhere."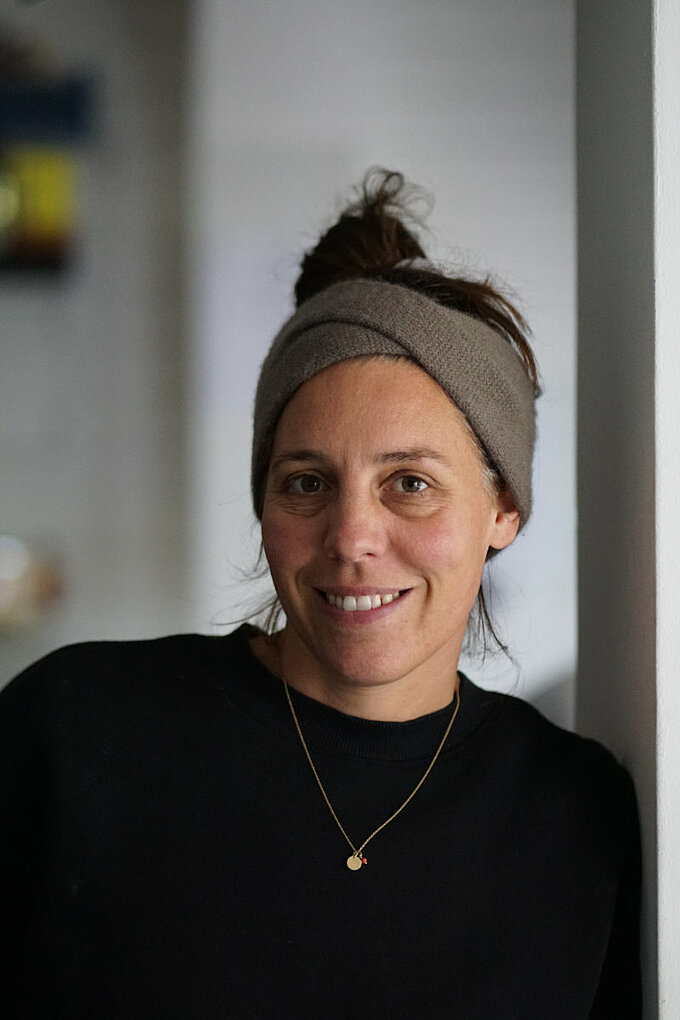 From First Success to Mixed Aspirations and Expectations
The years that followed appear to have moved at warp speed. In 2012, Deufel and her now husband Philipp combined his certified organic fruit farm in Lindau with her vineyards. She had children, her husband expanded the fruit farm to 30 hectares and tended to the 3.5 hectares of vineyards. Both of their children graced the world at harvest. There was never enough time.
But there were the wines. In many cases with a baby strapped to her in a sling and radiating energy (and sometimes exhaustion), Deufel produced single varietal wines of Muscaris, Johanniter, and Cabernet Blanc. There were also blends with unusual names and labels like Superblubber, Rakete, Muchacho, SoHo and Liebelei. And – not to be forgotten – a Spannenlanger Hansel secco and Sprudeldicke Dirn pét-nat created together with Benjamin Lanz.
And then there is the tavern she runs called Degenstein. "I got the idea back in 2009 when I was doing an internship in Austria under Claus Preisinger," she explains." I simply liked the way they live their wine culture there. I wanted to do something like that here, too." Deufel regrets that she lacks the time to experiment the way that Lanz and Hornstein do, yet her wines are also filled with spirit, charm, and Lebensfreude.
The Right Proportions
Sebastian Schmidt is another member of the young lake generation who went out to learn about the world of wine only to return to this remote outpost. For Sebastian, it was a matter of appreciating the potential that's slumbering here.
The family lives in the oldest farm in Hattnau, a village set above Lindau and Nonnenhorn. Sebastian's father, who originally hailed from the Nahe, planted his first half-hectare there in the mid-1980s, and Sebastian quickly became fascinated with wine. After studying winegrowing in Vienna, and landing an apprenticeship at Hirtzberger in Austria's Wachau, he traveled to Comtes Lafon in France's Meursault to learn what needed to be learned. Lafon in particular shaped him and he developed a style that brings the Burgundian together with the prerequisites of the Bayerischer Bodensee: delicacy and precision over power or concentration.
"For us, Müller has the same levels of potential that Riesling has in other regions."
Even if he follows the cultivation of PIWIs with interest, in his own work it is the classic Pinot family of grapes that fascinates him most: "For me it's all about the right proportions. We take everything from the Pinot family as whole clusters. We work without sulfur during fermentation. Sometimes there's a little bit of gentle pressing, everything is raised with a bit of sedimentation, sometimes a bit of sulfur is added to the tank, sometimes only at bottling," the winegrower explains, leaning against a Burgundian demi-muid in his cellar.
A Coming and a Going at a Model Estate
Spend some time in the common room of this remarkably pretty estate and you'll quickly notice that its architecture stands out from everything else in the region, and yet still fits harmoniously into the landscape. "When we built it new, we weren't just taken with steel, glass, and concrete, but also with the idea of wood. We found a Voralberg architect to help us made these ideas come true." Although the weather on the day I visited was less than friendly and the season already over, things were bustling while we tried Schmidt's sold out wines.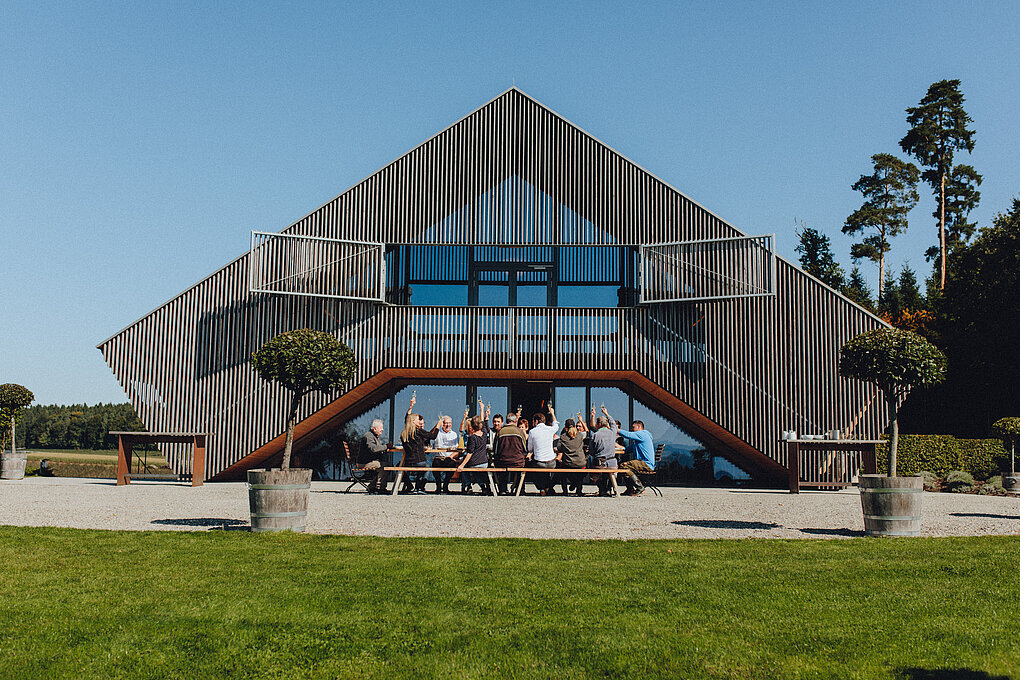 "We as winegrowers need to come together to advance the quality of the wine. You and I know that Pinots of the kind we make here reach their peak after ten years, and it would be a scandal if you drank them all after just a year." All reasons why Schmidt is currently retooling his portfolio. The Gutsweine alone will remain as young wines. His Ortsweine will only leave the cellar after two years of aging, and the single-site Lagenweine only after three. The Ortswein and above will be fermented exclusively in barrique. "And if we're already raising the wine in oak, then the wines should get the time they need." Schmidt currently produces wine from 14 hectares. The best nine hectares are his own, those for the top wines from the Zwirken, a former glacial moraine, and the Nonnenhorner Seehalde. His best sites are not just planted to Chardonnay and Pinot Noir, but also with Müller-Thurgau, whose excellence Sebastian wishes to keep working through. "To date we've had the Müller exclusively as a regional wine, but that's going to change. For us, Müller has the same levels of potential that Riesling has in other regions."
Many More Plans
Sebastian Schmidt has found his own distinctive style, one that is somewhat fuller and more mature than the crystal-clear Purezza that Simon Hornstein makes with the same varieties. Yet the two growers are immediately recognizable for their skilled craftsmanship, but also especially the identical origin of the wines — no different from what's at play in wines from Benjamin Lanz and Teresa Deufel.
Shortly before sundown I leave the Rebhof for the shoreline, a bottle of Souvignier Gris Reserve in tow. The estate has its own small beach house, from which one can gaze across the water in peace. The wine presents as intense, with a lovely volume, power, and density. Yet it also possesses the typical lively, almost sparkling acidity and minerality that is present even in this wine raised in oak.
The word "potential" comes up frequently in my discussions with the winemakers. Although they've already tapped a portion, to realize it fully they would prefer a dedicated designation of origin for the Bayerischer Bodensee. Regardless of whether Müller-Thurgau, Chardonnay, Pinot, or Souvignier Gris: the wines contain a distinctive energy, freshness, clarity, and minerality. Whether, when, and if this appellation will become official remains unclear, but the groundwork is nonetheless being laid day by day. The engaged winemakers have already put the first steps into motion: expanding the land under vine, orienting themselves toward the VDP's quality pyramid, seeking a ban on herbicides in its statutes, and designating a solid dozen single sites that would form the peak of the pyramid.
---
Tasting Recommendations
Rebhof: Souvignier Gris
Characteristic shades of radiant yellow. Notes of peach and apricot, grapefruit and mandarin, as well as cassis and gooseberry. Elegant and balanced on the palate with a ripe and typically racy acidity. Appealingly dry, light, and marked with a taut spiciness reminiscent of orange zest.
Hornstein am See: Chardonnay "Nonnenhorner Seehalde"
Clarion and still, with bright, citrus expression, green pear, and crisp Mirabelle plum underscored with hay, crushed wet rock, and an elegant barrel influence. A delicate, smoky reduction emerges to support, not dominate. Fruit purity goes hand-in-hand with savory spice on the palate, while a sprightly acidity and minerality sparkle and shine. Appealing concentration and depth with a long and powerful finish.
Lanz.Wein: Kalimbula
Even this entry-level blend of Johanniter and Solaris delivers surprising levels of mouthwatering drinking delight. An intriguing and racy mélange of white currant, celery stalk, and ginger, as well as pepper spice and gravel. A powerful and radiant acidity splinters the white and yellow fruit on the palate. Pure, crisp, joyful, and wonderfully saline.
Teresa Deufel: MuHo
The abbreviation MuHo stands for Muscaris raised in Holz (wood). Specifically, a skin-fermented, barrel-aged and unfiltered Muscaris. Channeling the natural Muscats from Austria and Roussillon, yet marked with the freshness and elegant acidity of the Bodensee. Aromas of flowers, nutmeg, pear, rose petal, and cardamom, as well as forest floor and yeasty notes. Powerful with tremendous momentum on the palate, complex and herbaceous, delicately juicy, lively and refreshing.
Schmidt am Bodensee: Wasserburger Müller-Thurgau
The Müller-Thurgau reveals aromas of flowers, citrus fruit, nutmeg, and mint, as well as accents of smoke and stone. Slender with a lively acidity, good concentration, spice, and nuanced fruit. A beautiful balance between the traditional agility for which Lake Constance is known, and an uncomplicated nuance and depth.
Translated by Weinstory.de