The Delicious Dichotomy of Alto Adige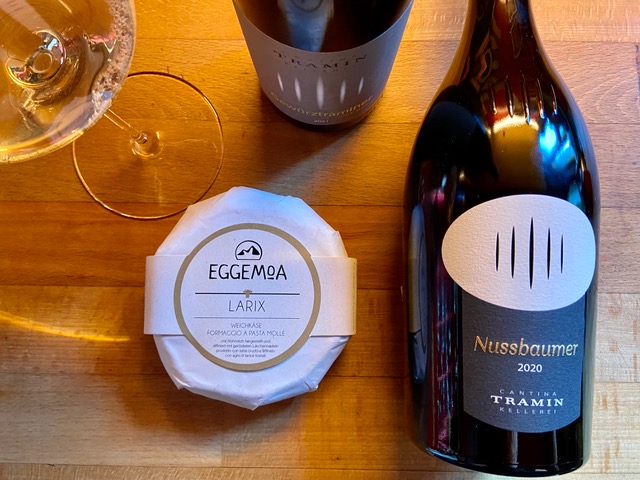 A stylish modern building: concrete, metal, and local wood. A large glass front opens onto the mountains across a narrow Alpine valley, 1300 meters above sea level. The spacious tasting room and long table feel simultaneously airborne and grounded. This dichotomy—true for so many things in Alto Adige—is further epitomized by the modern structure of the Eggemoa dairy in Mühlwald, where Michael Steiner handcrafts a range of delicious soft cheeses from the raw milk of his family's Braunvieh cows. 
The dark-haired and serious young man took over cheese-making from his mother, following studies at the region's agricultural college and a two-month-internship with Swiss cheese legend Willi Schmid. Nearly single-handedly demonstrating the immense potential for cheese beyond Gruyère and Emmental in the late 1990s, Schmid revolutionized the oft-neglected soft cheeses with his extraordinary feeling for milk. This, in particular, seemed to have a lasting influence on the young apprentice. Upon returning to his native Mühlwald, Steiner completely restyled his family's range of cheeses with a focus on local resources. For Larix, he uses lightly roasted young larch needles from the dairy's own woods, which the cheese's white bloomy rind covers and combines with a wonderful waft of earth. The delicate round transcends the table and transports you among the trees, where the forgiving forest floor seemingly bounces beneath your feet.
One of my favorite pairings is with Cantina Tramin's Nussbaumer, one of the winery's top Gewürztraminer bottlings. Nussbaumer conveys the warmth of the evening sun on your skin, and basks little Larix in a golden glow of brightness. At 15% alcohol the wine isn't exactly delicate, but neither are the alpine peaks overlooking the vineyard, and the cheese's rich creaminess stands up to the wine's full body without any difficulty. Ah, Alto Adige…
In reinventing their wines, winemakers like Stürz helped reinvent their region as well. 
With this delight in the glass, it is difficult to believe there was ever a time when things looked anything but bright for this aromatic and ancient variety. Yet, in the 1970s and '80s winegrowers fell for the lure of large crops and a quick buck, selling lightish wines to tourists, just as dairy farmers had been accustomed to earning low payments and little acclaim for the region's unremarkable wheels of cheese.
Change took hope and hard work. In the 1990s, a group of young winemakers around Martin Foradori and Cantina Tramin's long-standing winemaker Willi Stürz grew tired of the lusterless reputation of their region's wines and set out to reinvent them. Not quite overnight, but with spectacular results. And Gewürztraminer was the poster child. Due to lower yields, rigorous selection and a decision against any residual sweetness, the new dry wines were (are!) as refreshing as Riesling while filled with intense orange-pink-yellow aromas. They seem to bottle the light that makes the region so special.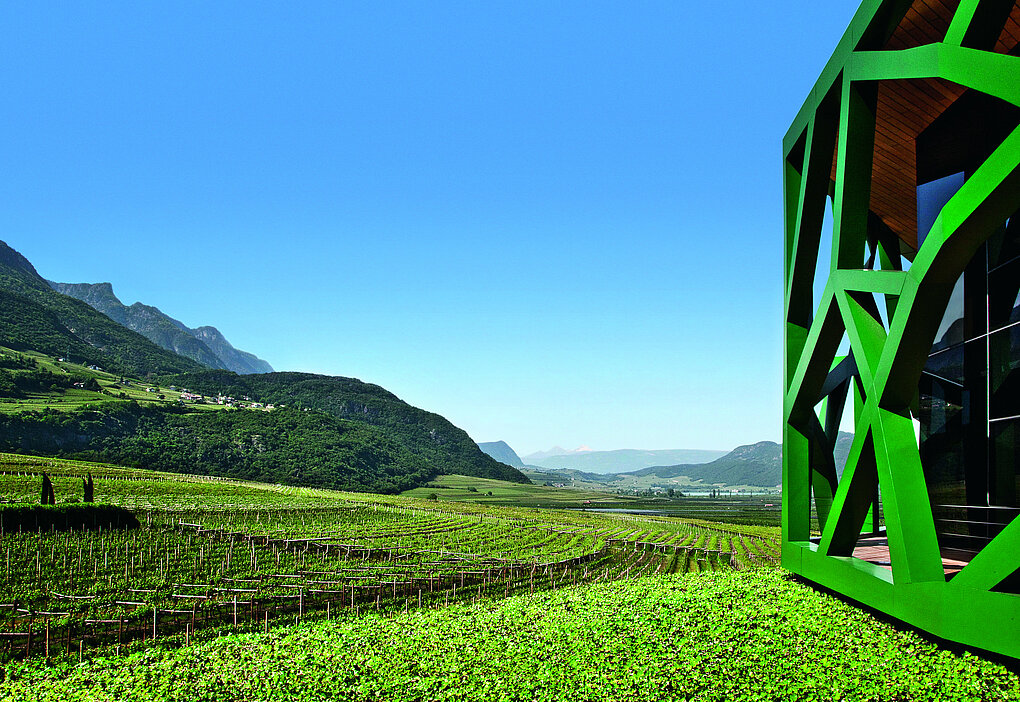 Nussbaumer is wonderfully polished and bright, yet mineral—and an indicator that Willi Stürz's talents extend beyond the cellar to the mind as well. To achieve wines of this caliber, he has had to convince a daunting number of small winegrowers (280 of them, farming 245 hectares) to adopt the new and stringent quality standards. The Cantina's futuristic premises boldly telegraph this message across the green-clad valley.
Thus, in reinventing their wines, winemakers like Stürz helped reinvent their regions as well. And this success has in turn inspired producers such as Michael Steiner to reimagine their own work. Opened in 2018, Eggemoa's new dairy buildings are, like the region's wineries, soaring and grounded.
When I first encountered the new Eggemoa cheeses in 2016 at a local cheese fair in Taufers, the small soft cheeses, so different from the standard, semi-hard Latteria wheels, took me by surprise: the dairy equivalent to the transformation of dry Gewürztraminer some years earlier. They showed character and originality without deafening volume. Who was the cheesemaker? Steiner's mother and sister apologized for his absence; he was out on a mountain rescue emergency.
We would meet the next day. Him: quiet, eyes dark and haunted. They had, he said, arrived too late, a reminder of the larger, higher forces shaping this landscape. Life is an awesome and beautiful struggle. And we are quite simply, like the wine, like the cheese, soaring and grounded.