Get to Know German-Speaking Orange Wines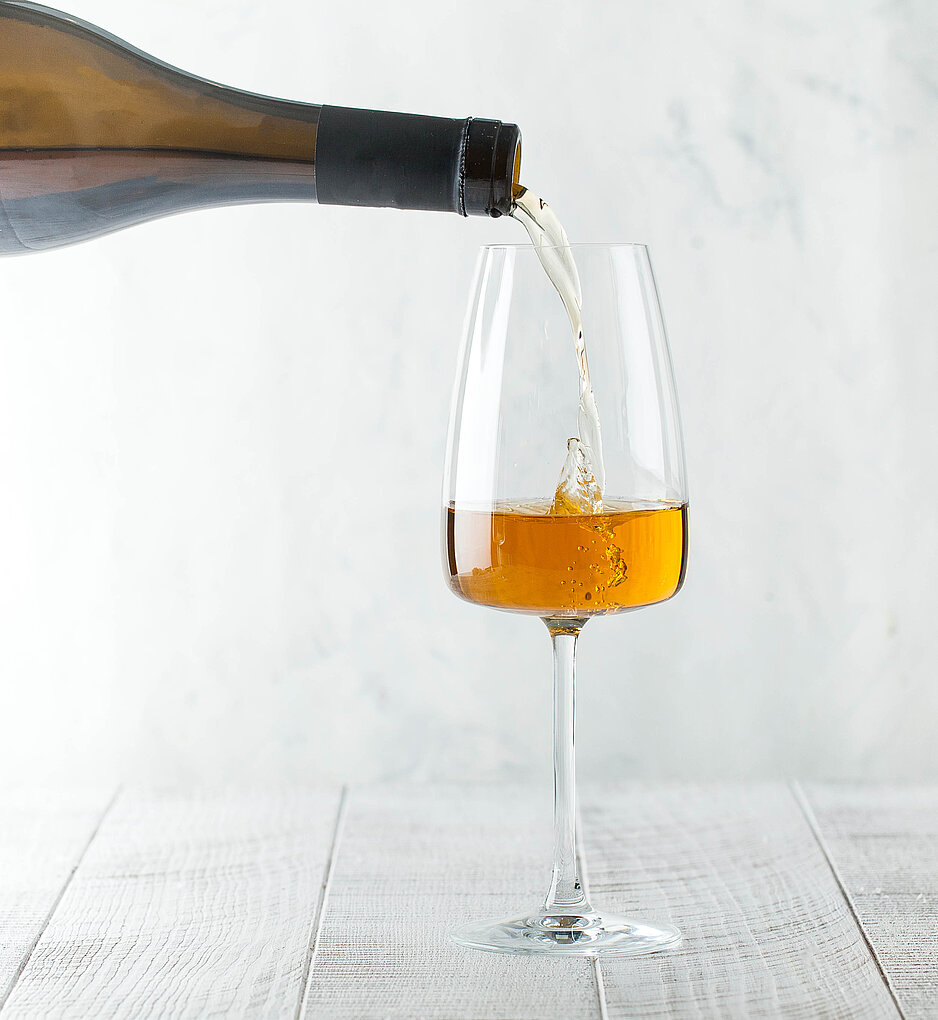 Skin-contact white wines may have their revolutionary roots in Georgia, Slovenia, and Friuli, but the umlaut zone also stakes a strong claim for orange expressions.
Austria was an early and highly successful adopter (think Tschida and Tscheppe, Muster and Meinklang). For this, thank geographic proximity, shared traditions, a former empire's worth of fascinating white varieties, and the remarkable open-mindedness of producers, especially in Styria and Burgenland.
Germany came later to the game. The country has been slower to embrace natural and experimental styles generally and its signature variety, Riesling, requires an exceptionally deft hand to succeed in skin-fermented form. However, German producers are quickly making up for lost time. Pioneers like 2Naturkinder have dialed in the affinity between Silvaner and skins, and joyful experimentalists like Bianka and Daniel Schmitt strike the balance for blends. Even guardians of tradition like Philipp Wittmann are dabbling in skin-ferments.
Down in South Tyrol, a small but growing number of experimentalists such as GraWü and Garlider are pushing a new understanding of skin-contact expression. Switzerland lags the pack. But you will find rare stunners there, such as Mythopia's Disobedience — the most in-your-face Fendant (aka, Chasselas or Gutedel) you are ever likely to see — though you may need to drop by a Zürich wine bar to find it.
Orange Wines for Life

Few people know these wines better than German-born, New York City-based expert Doreen Winkler. After sharpening her skills at a Michelin-starred Hamburg restaurant and the German Wine Institute in Mainz, she hopped around the globe, eventually settling in New York in 2008. Five years later, she was tasked with creating a natural-only wine list for Chef Fredrik Berselius of Aska in Brooklyn. "I had already dabbled in natural wine and was excited to go full force," Winkler recalls. "This is also when I started falling in love with orange wines."
(Now would be a good time to clear up a misperception that all orange wines are organic, biodynamic, and/or the product of low-intervention winemaking. Exceptionally healthy grapes are essential to successful skin fermentation. But there are no rules dictating who can and cannot work in this style.)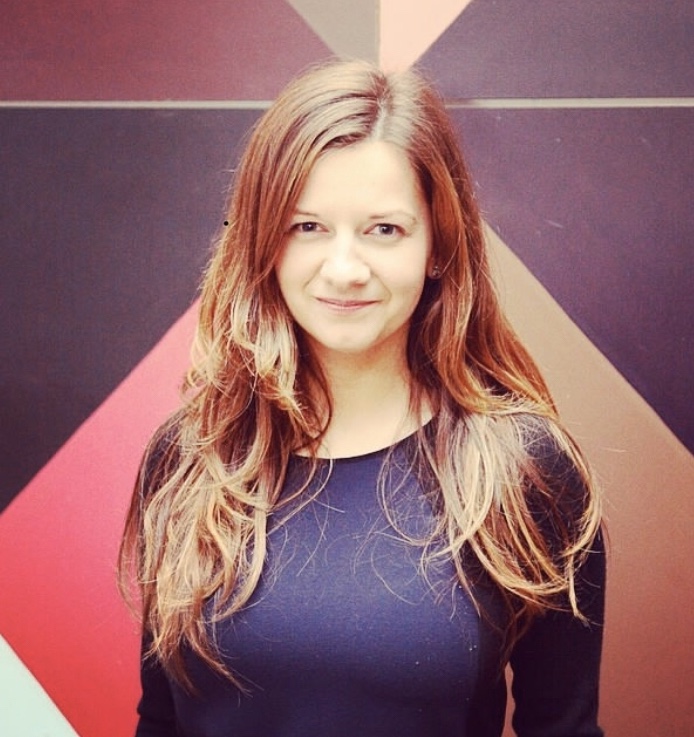 In 2019, Winkler launched Orange Glou, a wine club dedicated to skin-fermented whites with a focus on origins and farming. This month she expanded the brand to open what she believes is the world's first orange-only wine store, on Manhattan's Lower East Side. She's quick to point out that despite the name, "no one who makes orange wine cares about the color. They're after the full spectrum — aromas, flavors, and textures. This is where the love is and where the skill comes in."
"No one who makes orange wine cares about
the color."
Fermentation on the skins transforms the identities of wines made from grapes we thought we knew. It builds character and complexity, density and viscosity, often while enhancing freshness and variously savory-spicy and herbaceous elements. It is especially revelatory in the way it takes aromatic grapes into unexpected registers. Orange wines can be polarizing, but fans will tell you they win on the complex dimensions of tannin, minerality, acidity, and umami that can only be coaxed from white grapes given the chance to mingle with their skins.
For her club and shop, Winkler pulls bottles from around the world, but her picks from German-speaking regions are — naturally! — among the most exciting. These are wines of extreme versatility and, in many cases, ageability. Vintages indicated below are those Winkler found particularly memorable, but she encourages drinkers to discover their own favorites.
Icons of "New Austria"
Christian Tschida's Himmel Auf Erden Weiss 2019 "is completely nuts," Winkler says of the Burgenland maverick's utterly outré above-ground, outdoor skin fermentation and risky "zero/zero" winemaking. "This is a big thing with Tschida," she notes. "It takes an extremely skilled winemaker to work successfully without fining, filtration or added SO2 and I'd say 1% of winemakers achieve this. It's all about farming for perfectly healthy grapes and working incredibly 'clean' because otherwise you have no choice but to add SO2."
The key, Winkler thinks, is that this blend of aromatic Scheurebe (an aromatic crossing between Riesling and Bukettrebe) and delicate Weissburgunder (aka Pinot Blanc) is divided into two parts, one half seeing days on the skins, the other getting four weeks. The parts are then blended back together and aged in old barrels. The result is a paradox: "light-bodied, fresh, and mineral, yet grippy and firm, with so much aromatic finesse, herbaceous background notes and lemon, honeysuckle, apricot up front," says Winkler.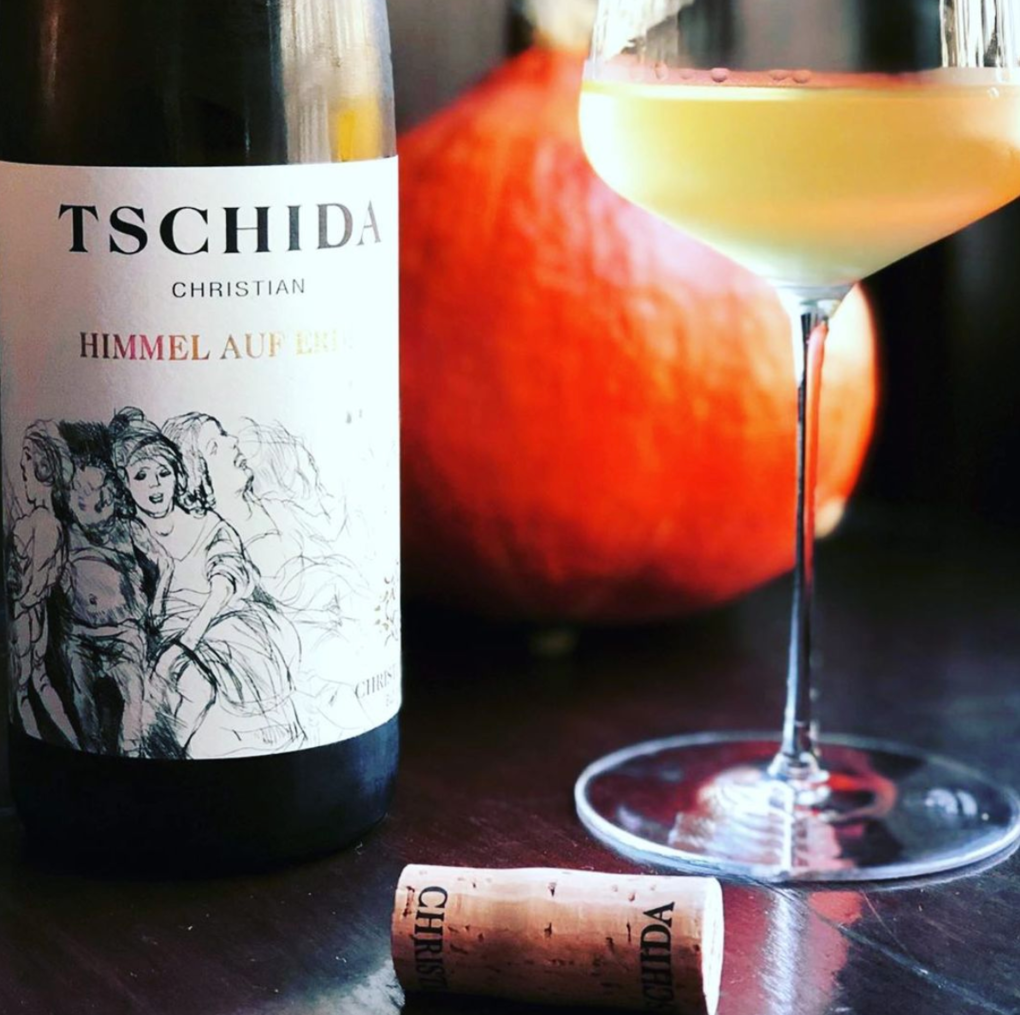 Maria and Sepp Muster's Graefin 2018, from Styria, is 100% Sauvignon Blanc, a specialty of the region. "Skin-fermented Sauvignon Blanc tastes like sunshine — the freshness, texture, viscosity, aromas," says Winkler. Grown biodynamically and made from 80% destemmed grapes, spontaneously fermented in large neutral cask with three weeks of skin contact, the Graefin is built to age but enjoyable right now with notes of pineapple and ripe peach. Winkler likes floral and mineral characteristics and "super-savory dried herb character."
Meinklang's Foam White Pet-Nat 2019 is 100% Grauburgunder (aka Pinot Gris) from a major force in biodynamics and experimental vine training in Burgenland. The grapes are from Meinklang's "Graupert" vineyard, notable for being left unpruned. "Very unusually, the vines have total freedom to grow and climb according to their basic instincts, regulating their own yields, leading to a large proportion of very small berries," Winkler says. "The resulting higher skin-to-pulp ratio means five days skin contact can pull tremendous aromas, extract, and complexity into the wine. It's an absolutely precise, delicate sparkler with notes of dried apricot, Alpine flowers, and herbs."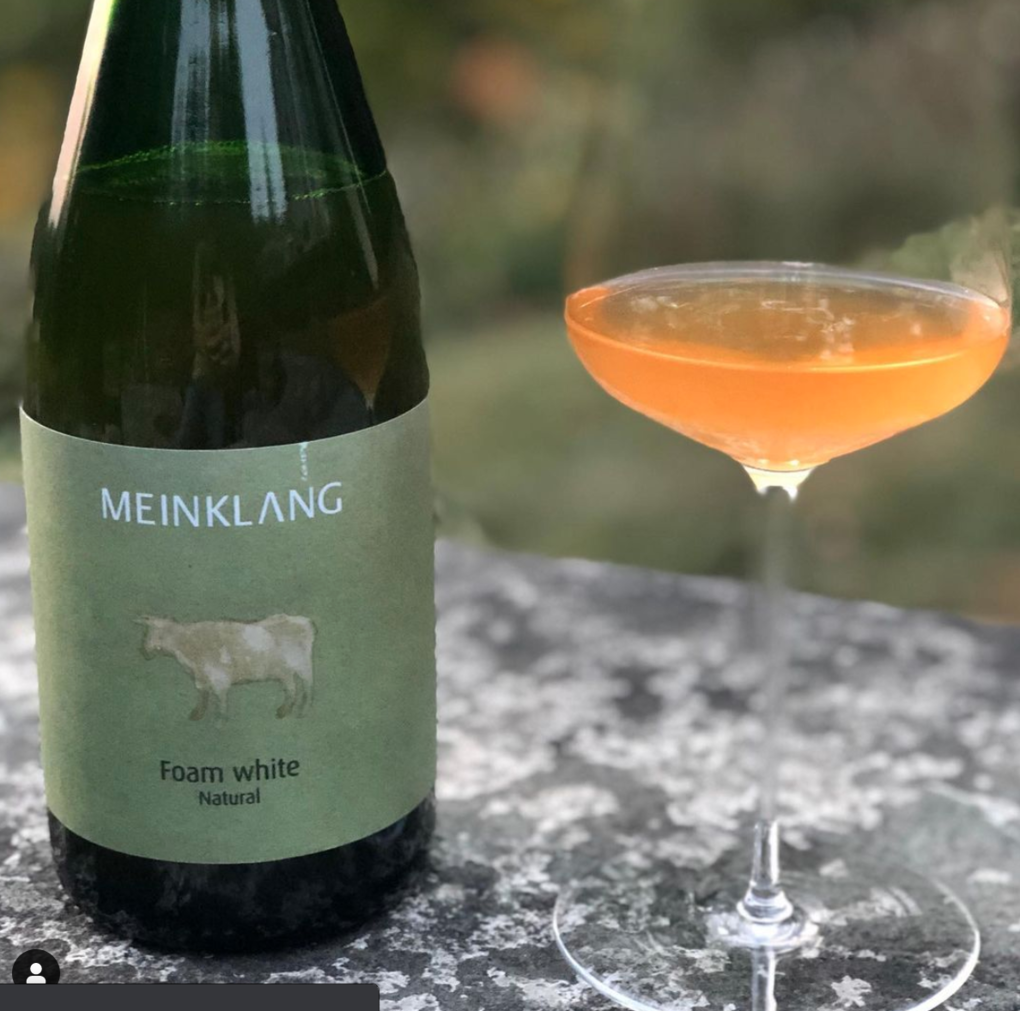 Austria's obscure indigenous varieties also feed the matrix of complex aromatics and layered texture Winkler seeks. Georg Schmelzer's Frühroter Veltliner Schlicht und Ergreifend 2015, from Burgenland, is made from a freckled pinkish rarity that calls to mind Pinot Gris and Gewürztraminer. With extremely sensitive biodynamic farming and zero/zero cellar work, the wine sees eight weeks on the skins, followed by 18 months in neutral wood. "The result is a fascinating, medium-bodied wine redolent of smoke, patchouli, and salted apricot."
Blends that bring extra complexity and intrigue
Over in Franconia, 2naturkinder's Drei Freunde 2016 is a play on the affinities of Bacchus, Silvaner, and Müller-Thurgau both for each other and for time on the skins, allowing for a range of lighter textures and aromas. "Some of the grapes are destemmed, some are left whole berry for a light carbonic effect, each variety is fermented separately on the skins for a week with the Bacchus in steel tank, Silvaner and Müller-Thurgau in old oak," Winkler explains. "2naturkinder is showing some serious skill in making something truly special out of undersung grapes."
Winkler flags yet another leader of biodynamic Burgenland: Gerhard Pittnauer's "Perfect Day" 2019, a blend of Chardonnay, Traminer, Grüner Veltliner, and Muscat Ottonel, with the Traminer and Muscat partially destemmed, some whole cluster, and all but one of these grapes fermenting over 10 days in open vats on the skins. It's the Chardonnay that is direct pressed to add "a citric, almost green freshness and minerality to this delicately tropical blend," says Winkler. Each wine is separately vinified in neutral barrique.
"More and more producers are doing this," Winkler explains. "A day on the skins for one variety, two days for another, direct press for another. It reflects their deepening understanding of how each variety responds to skin fermentation in terms of structure, aromatics, phenolics."
In South Tyrol, the experiments are just getting started. In the shadow of the Dolomite mountains, Leila Grasselli and Dominic Würth make their GraWü Vigneti delle Dolomiti Bianco. The 2016 is a blend of organically farmed Sauvignon Blanc, Gewürztraminer, and Sauvignon Gris (a mutation of Sauvignon Blanc) macerated for up to three weeks, aging on the lees in large oak barrels for two years. Winkler says it stands out for its "medium body, peach, honeydew, elderflower, pink grapefruit notes."
Quintessential umlaut varieties
For archetypal German and Austrian varieties, Winkler looks to wines like Martin and Anna Arndorfer's "Anina Verde" 2018. Yet another one out of Burgenland, this is 100% Grüner Veltliner given 60 days on Riesling (yes, Riesling) skins, for added complexity, then aged briefly in steel tank and neutral barrique. What grabs the palate, Winkler says, is the wine's "viscosity, freshness, and weight, and notes of fresh pineapple and peach."
From the Mosel, she likes Jan Matthias Klein's Little Bastard 2020, a blend of organically farmed Riesling, Müller-Thurgau, and Sauvignon Blanc (the latter a lot more typical of Germany than you might think), with skin-fermented Muscat for texture and dimension. All the grapes were vinified separately, but blended in December after harvest and put back in old casks for a few more months. She's drawn to its notes of "quince, pear, Fuji apple, mint, nut, smoke, and a spritz of CO2 on opening."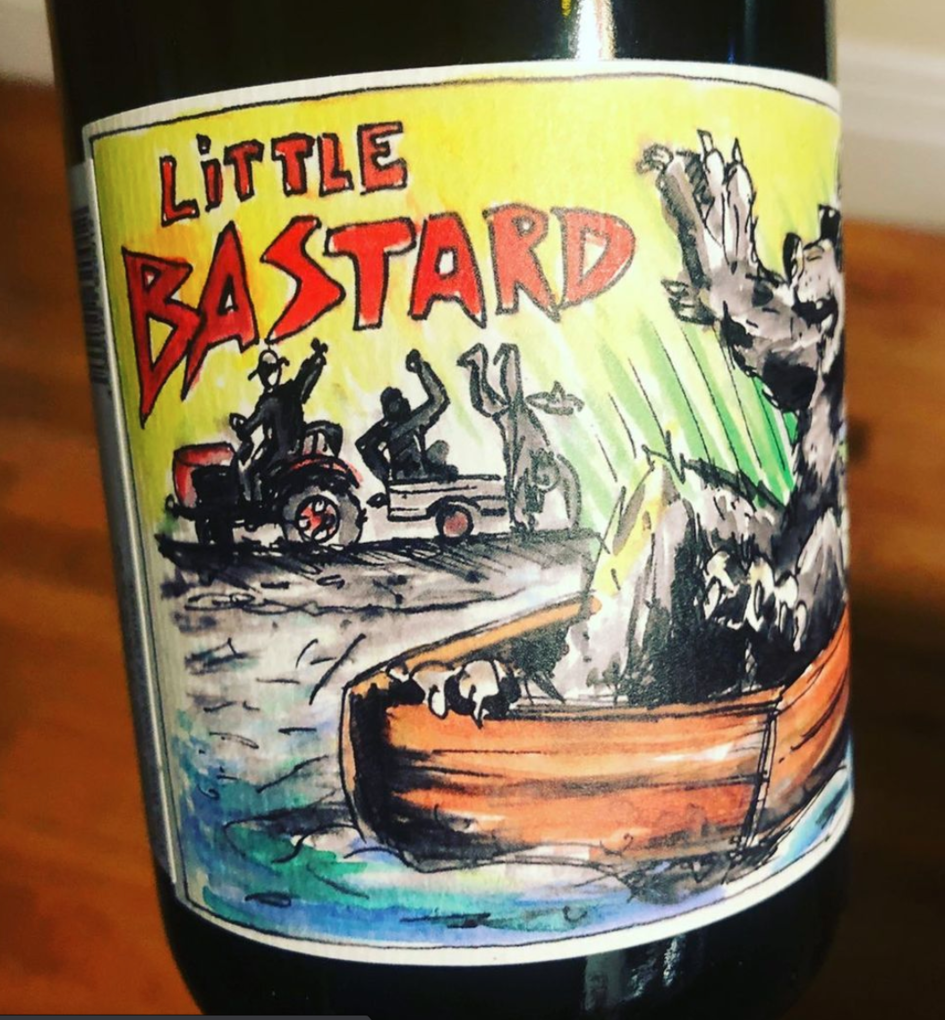 Riesling on its own is especially challenging to work with as a skin-contact wine because of its delicacy and innate structure. "I never thought anyone would succeed in this," Winkler says, "But then I tasted Schmitt." Rheinhessen's Demeter-certified biodynamic producers Bianka and Daniel Schmitt made their striking Riesling M 2018 from old-vine fruit that got a hefty (for Riesling) two-week maceration. The wine ages in used 225L and 600L barrels for about a year on the full lees. Their deft hand brings alluring depth, texture, and intensity.

Winkler is clear: "I don't have favorites." But one of the most memorable orange wines she's encountered is Mythopia's Disobedience 2012 from a, well, mythically innovative biodynamic grower tucked high in Valais, Switzerland. Grower Hans-Peter Schmidt has created a strikingly biodiverse ecosystem designed to subvert the monoculture of wine growing. His farming combined with a radical grapes-air-and-nothing else cellar minimalism yields wildly beautiful wines. It's still very rare to find skin-fermented Gutedel (aka Fendant/Chasselas). The 2012 saw three weeks' skin contact and four years of aging, yielding a ripplingly complex interplay of fruit and floral notes. "If I had the money," Winkler says, "I would buy a couple of cases, stash them away, and open one every year." ​