The Many Faces of Kalterersee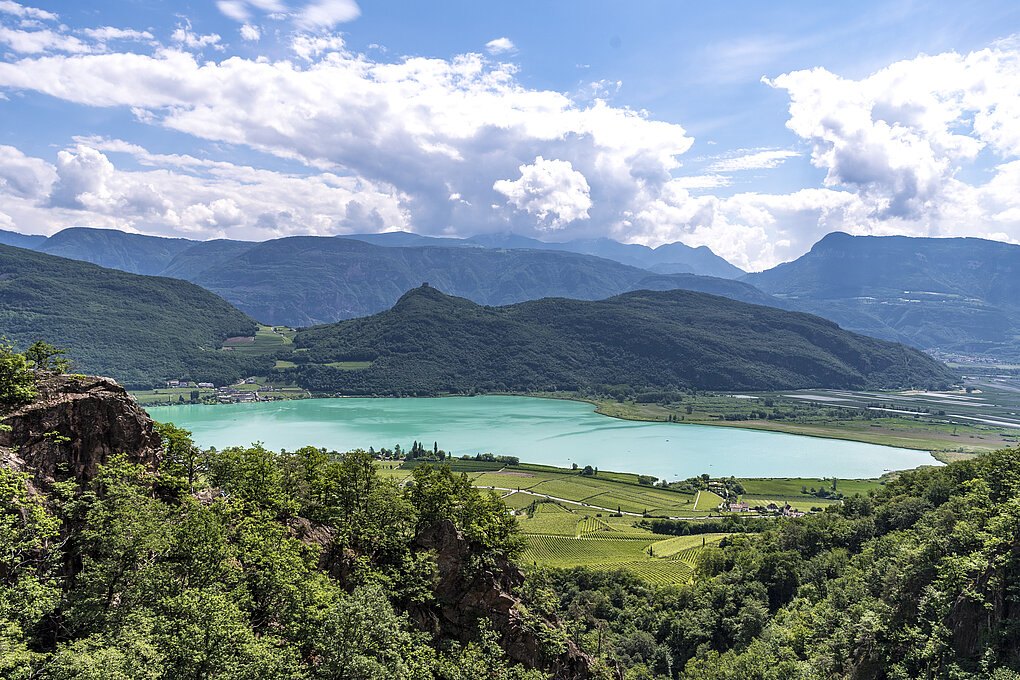 Take a springtime drive along the South Tyrolean Wine Road and it is hard to miss Lake Kaltern, flashing silver in the distance. Alight in the town of Kaltern to discover the intoxicating scent of flowers everywhere. A warm breeze from Lake Garda, known as the Ora, rolls through in the evenings. Laughter echoes across the town's piazza, where people drink coffee, read the newspaper and, towards late afternoon, enjoy a glass of Kalterersee. 
Kalterersee is Alto Adige-Südtirol's oldest DOC zone, and "wines from the lake" remain the most fragrant and floral expression of Vernatsch (aka Schiava) anywhere in the region. Grapes are grown here using Guyot training, unlike in nearby St. Magdalena, for example, where they grow on pergolas. Within the larger constellation of Alto Adige-Südtirol wines, Kalterersee Vernatsch falls on the easy-drinking side: bright ruby red in color, light and moderate in weight and with the pronounced bitter almond notes that are the hallmarks of Vernatsch.
Perhaps this is a reflection of its home. Lake Kaltern is the largest freshwater lake in the region. If one imagines the Alto Adige-Südtirol as an inverted triangle, Kaltern and its lake are on the bottom (southern/southwestern) corner. Compared with other Alpine lakes, Lake Kaltern is relatively warm, with a mild climate and a picturesque landscape that draws heavy tourism from May onwards.
An "Auslese" designation is also available for premium bottles. Unfortunately, as bemoaned elsewhere in the umlaut wine universe as well, the term has come to be synonymous at an international level with sweet wines produced from Riesling. Auslese, of course, is not a true quality criterion; it refers solely to the ripeness level of the grapes at harvest. Efforts to clear up this misconception have been largely…fruitless. Accepting this, the region's winegrowers declared on pragmatic grounds that dry Vernatsch wines would instead be called Kalterersee Classico Superiore.
It should be noted that the Kalterersee DOC actually extends beyond the borders of Alto Adige-Südtirol, encompassing five additional Trentino communities. As such, a bottle of "Kalterersee" produced within any of a specific set of communities along the lake's shores— Kaltern, Eppan, Tramin, Kurtatsch, Montan, Neumarkt, Pfatten, Auer and Branzoll — may also be labelled as "classico – klassisch" as well as the denomination of "Südtirol."
Kalterersee reflects origin, home, lunchtime around the table, family.
Diminishing and Ascending All at Once
A high-yielding variety with large grapes, Vernatsch has traditionally been cultivated more for quantity than quality. Its modern cultivators, a cadre of growers who love and believe in high-quality Vernatsch, however, have turned that equation on its head. They are ripping the vines up from places where it is not well suited, but also investing time and resources into better cultivation — and finer wines — in sites where it thrives.
As such, over 3,500 historical hectares of Vernatsch have now been whittled down to just 650 or so. The decision makes perfect sense in many ways. The Guyot training employed in the region encourages more fruit and less color, but demands lots of painstaking labor; there is little point in trying unless the winegrower is behind it with heart and soul, both in the vineyards and in the cellar. 
The decline of Vernatsch vines in South Tyrol can surely also be traced to a larger trend away from red and toward white wines. Many decades ago, when the region was still part of the Habsburg empire, Südtirol was the southern boundary and hence a default zone for red wines. Vernatsch in particular, but also Lagrein was grown here and then exported throughout the Habsburg empire.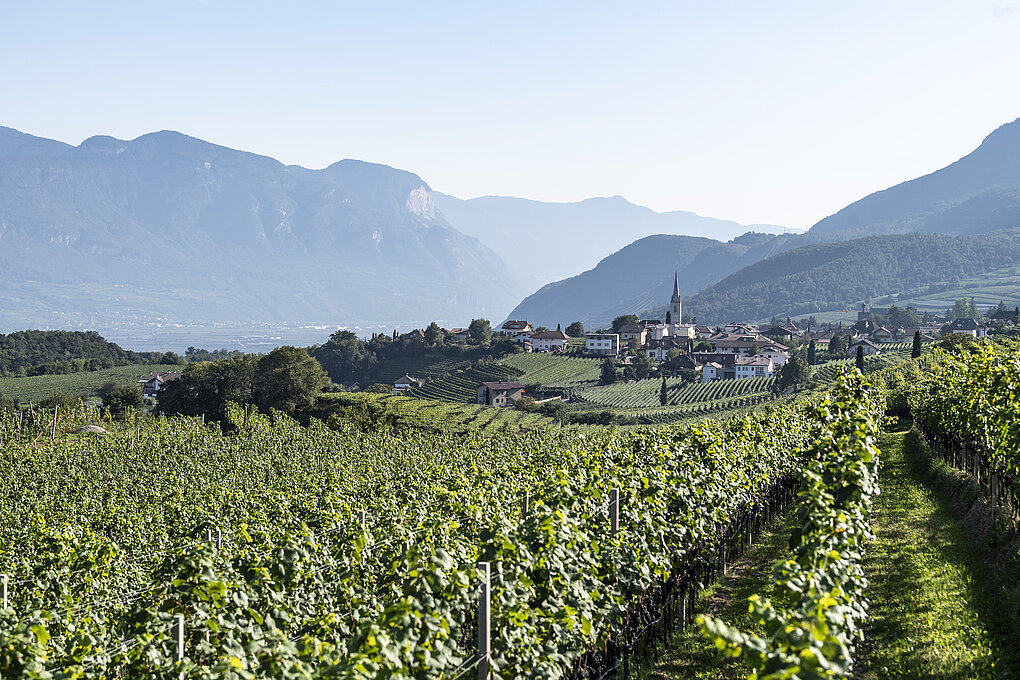 But a movement that started in the 1980s to rip up and replace Vernatsch, primarily with white varieties, reflects an underlying truth: Südtirol-Alto Adige's has simply become better suited to white wines, from both a climatic and marketing standpoint.
Both of these trends – the reduction and the preservation – can be seen at Kellerei Kaltern, one of Alto Adige's-Südtirol best-known cooperatives. In 2016 it began halving its 150 hectares of Vernatsch, under the theory: the tighter the selection, the better. This was intended to ensure that by the time the winery had reduced its footprint, quality would be high and the grower could achieve a sustainable price. Quality, yield — and payment — would have to approach the levels for Weißburgunder (aka Pinot Blanc) and Sauvignon Blanc. 
According to Andreas Moser, winemaker at Kellerei Kaltern, it's all about site selection: "Vernatsch grows optimally at 300 to 400 meters of elevation, with south-by-southeast exposure. If the site faces due south, then you can descend to 250 meters. The soil should be somewhat light and loose to prevent the vines from taking up too much water. Old vines are better equipped to resist extremes, as their roots reach deeper in the earth and can better regulate the water supply compared with young plants. If the plants take up too much water at once (especially during harvest), the grapes swell and split."
On Moser's watch, these guidelines have been put into action. Kellerei Kaltern and its members have diligently replanted Vernatsch and cultivated newer plantings throughout the area, in many cases in overgrown or neglected sites. 
Towards Quality
At present, plans are in motion to classify Kalterersee as a Riserva. The draft law is in the hands of the Ministry of Agriculture, and things are moving forward. Riserva would specify, among other criteria, that the wine must stay at the estate for a minimum of two years. Such Riserva classifications bring greater esteem at the international level, especially when trying to enter new markets. And Kalterersee has seen strong sales in the relatively new markets of the US and UK.
While Kalterersee's traditional flavor profile is made to order for the current trend toward lighter-bodied wines, it doesn't have to be, as noted by winegrower Andi Sölva: "I swim completely against the tides, and even against my personal wine preferences, with my wines because I prefer to drink Kalterersee aged and a bit warmer." Three-star Michelin chef Massimo Bottura recently held an event at which he paired each course exclusively with a bottle of Kalterersee. The maestro of Italian fine dining isn't the only one blown away by the many faces of the Kalterersee. It may be difficult to find a common thread for all of the various Kalterersee wines, but this is also indicative of its strengths: it is a wine of multitudes.
Kalterersee Charter
This played out spectacularly in the formation of the Kalterersee Charter. The document, which was co-signed by twenty-two producers and took effect in 2011, defines quality criteria that its members voluntarily agree to fulfill. Yield per hectare is restricted, the grapes must come from vineyards in and around Kaltern, from a maximum elevation of 450 meters above sea level, and must be hand harvested. Wines from Charter members also set a later release date for all wines. 
Yet when the Charter was being formulated, its framers tried to lay out a flavor profile for Kalterersee wines… and failed. They were ultimately forced to drop the issue precisely because they couldn't come to terms on one style. Even with Vernatsch as the common denominator, practical aspects of how the variety is allowed to express itself has been left to the wisdom of the individual charter producers. The charter instead accepts that as long as the wine is of good quality, then diversity can make up the difference.
The diversity of vinicultural techniques give Kalterersee its many facets
and nuances.
Under the charter, expressions range from a Kalterersee of delicate, floral fruitiness to deep, rich, concentrated versions often with high alcohol and barrel aging. There are also a few exceptions. There are winemakers who mature their Kalterersee wines exclusively in steel, while others opt solely for tonneaux or barrique. The diversity of vinicultural techniques are what give Kalterersee its many facets and nuances.
Quality through Clone Selection
In comparison with other Vernatsch wines, the Kalterersee tastes more elegant, mild and light. It is more floral, with distinct bitter almond tones and less powerful tannins than a bottle from St. Magdalener, for example. The tannins are softer, without the spiciness of Vernatsch from the Meraner area.
A variety of old vines, in some cases between 50 and 100 years of age, can be found scattered throughout the Kalterersee region. Although the small, concentrated grapes from such vines are often more difficult to work with, they offer discernible benefits. Stefan Rohregger of Weingut Rohregger says: "At our estate we have 0.5 hectares of vines over 90 years old, many of them hung with Tschaggelevernatsch [ed. note: an old Vernatsch clone with very small berries]. When the old vines are worked properly, the wine has more concentration, more finesse, you can see it in the grapes themselves. If you reduce yields, to 6,000 to 7,000 kg/hectare, then Vernatsch really puts out its best." Wines from these clones provide concentrated balanced wines – but were ripped up in the past because their yields were lower.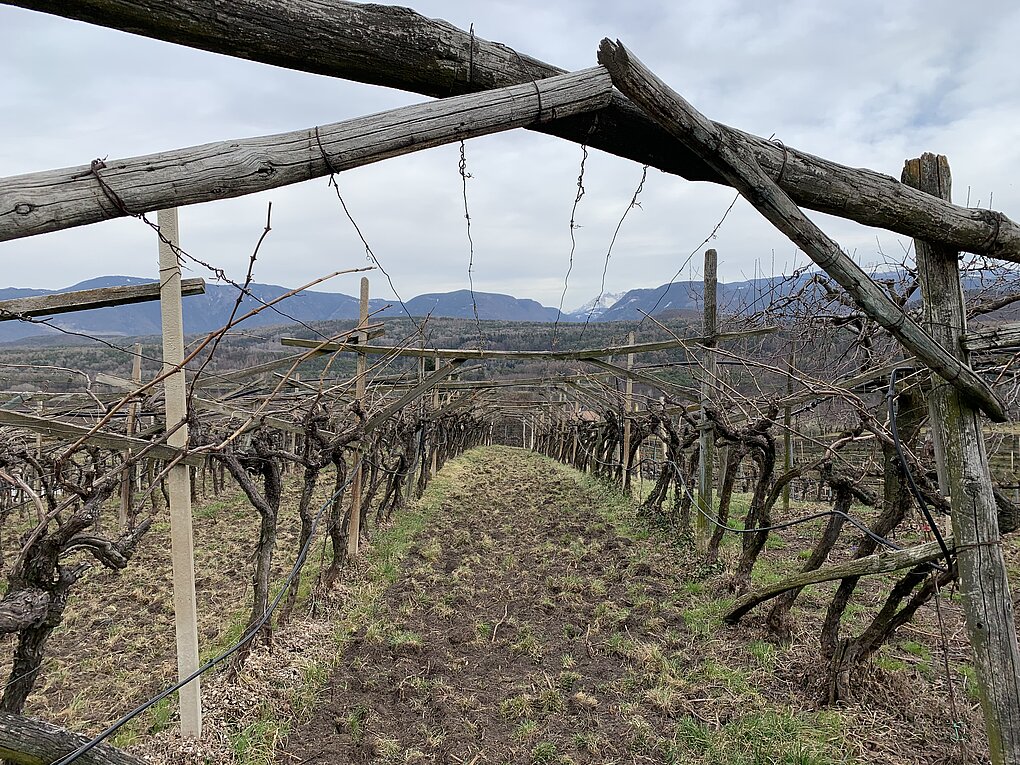 Weingut Ritterhof has planted one hectare of its own Kalterersee clones to observe how Vernatsch can develop. The best results and clones are then selected and re-propogated. For many in the region, this is a novelty; 20 years ago there was no Vernatsch selection. It was instead being ripped up.  Dieter  Sölva  from Weingut Niklas formulates the mentality clearly: "What was the value of research if nobody was replanting?"  
The problem today is that clonal selection is still in its infancy for Vernatsch and will require time to establish the proper balance of yield, fruit, hardiness and ambition, and then to select and breed those clones. Hannes Andergassen of Weingut Klosterhof adds: "We also do meticulous selection of the best clones for our Kalterersee. But you need the right site to achieve top quality. It is often difficult to find the balance between variety, clone, training system, site, and cellar work. Sometimes I feel it's a love-hate relationship with Vernatsch. And yet, in the end it's our wine and I embrace it. I inherited the love for this variety from my great-grandfather. Vernatsch represents 25% of our production. Kalterersee reflects origin, home, lunchtime around the table, family." 
Jakob Nicolussi-Leck, whose young, eponymous estate makes highly elegant and independent wines that have drawn praise at many tastings, notes: "Our small business has roughly 5 hectares of wine. We have a separate vineyard for Vernatsch, it has always been cultivated on the best site. My father was a champion of Vernatsch, this variety belongs to the estate, it is pure emotion! Each of my wines bears a name that is very important to me, that links me to it."
Looking Forward a Decade
The growers are motivated, well aware that it falls to them to keep driving the kind of progress that will attract interest in the region and its wines. Strong profits raise the value of the village and the quality of life of its citizens at the same time. There is much going on in town, with many events that highlight a dynamic co-existence. At the same time, producers are keen to raise the international profile of their wine without losing their identity. Kalterersee is only in Kaltern. "It's a diamond in the rough," says Eva Kaneppele of Weingut Ritterhof, "Through the charter, increasing recognition from the wine guides and with that higher prices, we're making the wine and the village more interesting."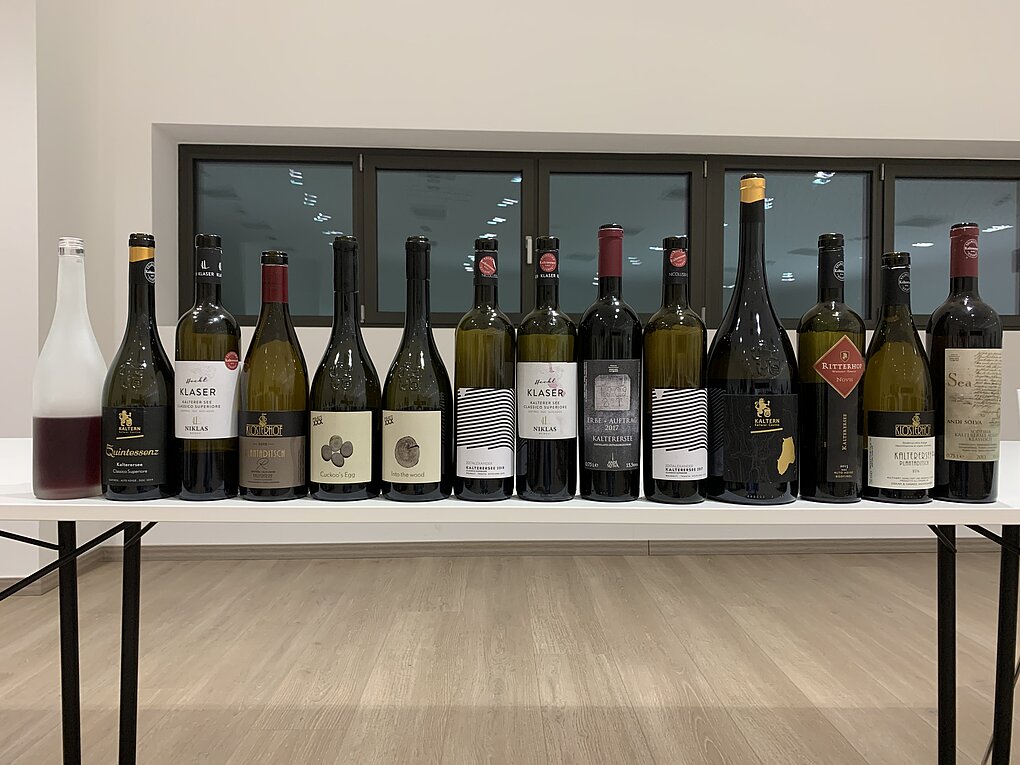 ---
Tasting Notes: Kalterersee
2017 Project XXX "Into the wood" Kalterersee, Kellerei Kaltern
Mature coloration, taut character with iodine nuances and accents of cinnamon and orange. 
Alexander Kalterersee Classico Superiore 2018, Nicolussi-Leck 
Juicy cherry notes wrapped around a cool, fruit-driven core.
2018 Hecht Klaser Kalterersee Classico Superiore, Weingut Niklas
Mild reduction, juicy with a saline touch and violet accents.
2017 Erbe + Auftrag Kalterersee, Andi Sölva
Barrique aged (50% new), warm, spicy, full-bodied with masterful barrel integration. Elegant and deep.
2017 Alexander Kalterersee Classico Superiore, Nicolussi-Leck 
Juicy with round tannins and a bit of bite. 5% Lagrein.
2016 Kunst.Stück Kalterersee Classico Superiore, Kellerei Kaltern (Magnum) 
Exceptional aromas of violets, warm fruit, extreme precision, full-bodied with wild berry aromas.
2015 Novis Kalterersee, Weingut Ritterhof
Bewitching aromas of forest fruit and orange peel and spice. Very juicy and round.
2016 Plantaditsch Kalterersee Classico Superiore, Weingut Klosterhof
Complex, fresh with some residual CO2 
2013 Sea Kalterersee Klassisch, Andi Sölva
Reductive, earthy, reveals a range of enticing tertiary aromas given time in the glass.
---
Translated from the German by Weinstory.de