Immigrants as Vineyard Workers in Alto Adige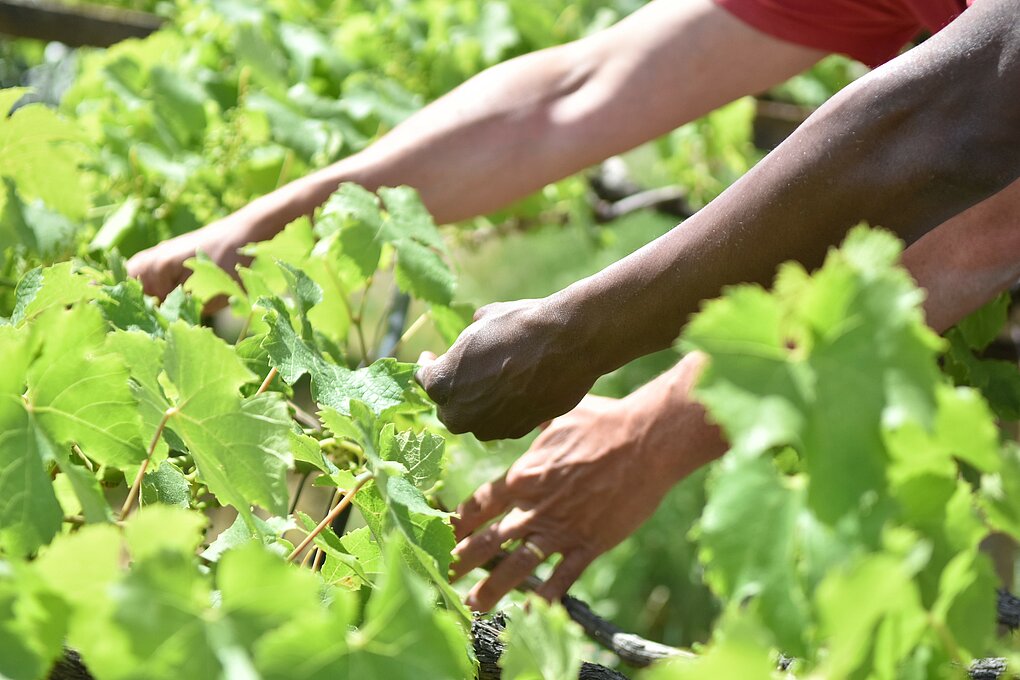 A tiny pilot project created by immigrants for immigrants is taking root in the small wineries of Alto Adige-Südtirol. 
V.I.T.E. — Viticulture Integration Training Empowerment — is an innovative partnership that grew out of shared need. A demographic shift in this Alpine corner of northern Italy is bringing with it a shortage of skilled vineyard workers. Where grandparents and cousins once pitched in, trained immigrants from around the world may begin to take up that role.
According to organizers, the beauty of this public-private approach to addressing the gap between labor supply and demand is that it also fosters understanding and long-term security, which can be critically lacking in the unpredictable lives of many immigrants. Ideally, it will help transform farms into training centers, farmers into teachers, and immigrants into valued members of the local workforce and community. Against the backdrop of nationwide challenges to integrating Italy's swelling immigrant population, this project could not come at a better time.
Hearts And Minds
The project is the brainchild of Leila Grasselli, who brings a decade of experience operating in what she calls "integration environments" and is one-half of GraWü winery in the village of Tscherns, near Meran, and her winemaker husband, Dominic Würth. "We did this project because we're both immigrants ourselves and have an outside perspective," she says, referencing the fact that neither she nor her husband is originally from South Tyrol.
Grasselli's professional background has long brought her into contact with immigrants and asylum seekers, many of whom were unemployed. Würth's involvement in wine made him keenly aware of the labor needs of local producers.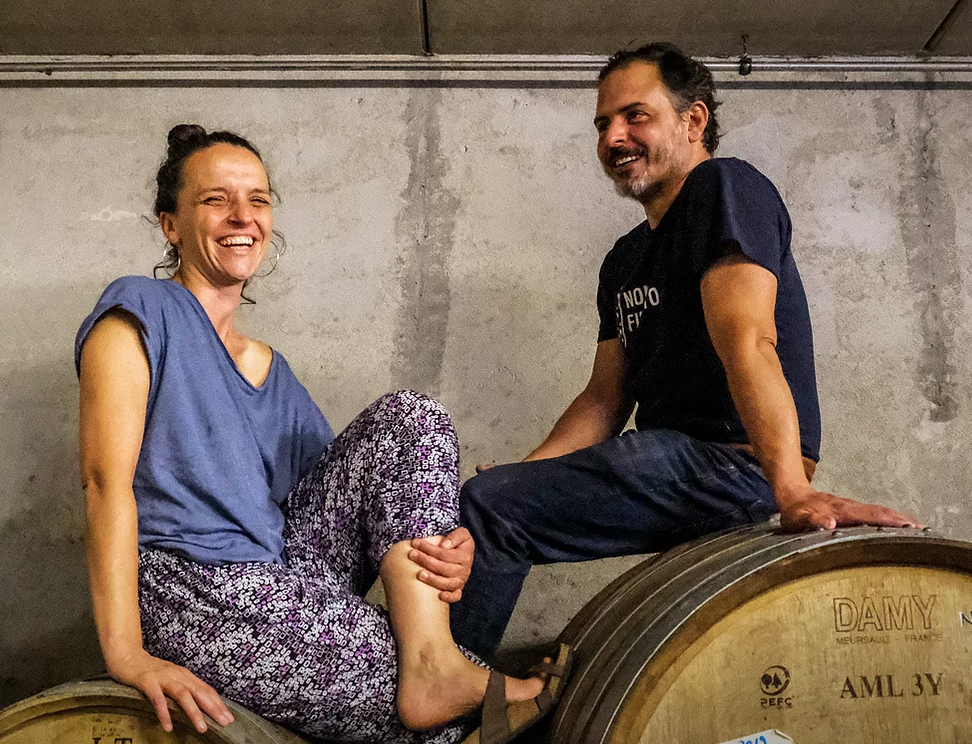 "In discussing this situation with others, we realized it would be good to offer a very basic apprenticeship/training — practice together with theory — for people who could work in the vineyards," Grasselli explains. "It would enable them to build their knowledge while providing wine growers with more trained personnel."
Three years ago, Grasselli and Würth conceptualized the project and sought out partners who could head up and finance it. After "many, many, many meetings and a lot of bureaucracy," Grasselli says, they found a financing source in the European Social Fund, with the money distributed by a regional authority.
The next step was to find a home and leader for the project. Francesco Campana, research coordinator at La Strada/Der Weg, a local association that works with at-risk populations in the region, believed in the project, says Grasselli, and came on board as director; she, along with Elena Faccio, serve as coordinators.
The program launched in April 2021, offering six months of active classroom and field instruction to nine enrolled trainees. Participants include two women and seven men from Afghanistan, Mali, Morocco, Nigeria, and Pakistan. They live in supported housing, mostly in the regional capital Bozen, and commute daily to participating wineries during their practical training. Their costs, even insurance, are covered by V.I.T.E.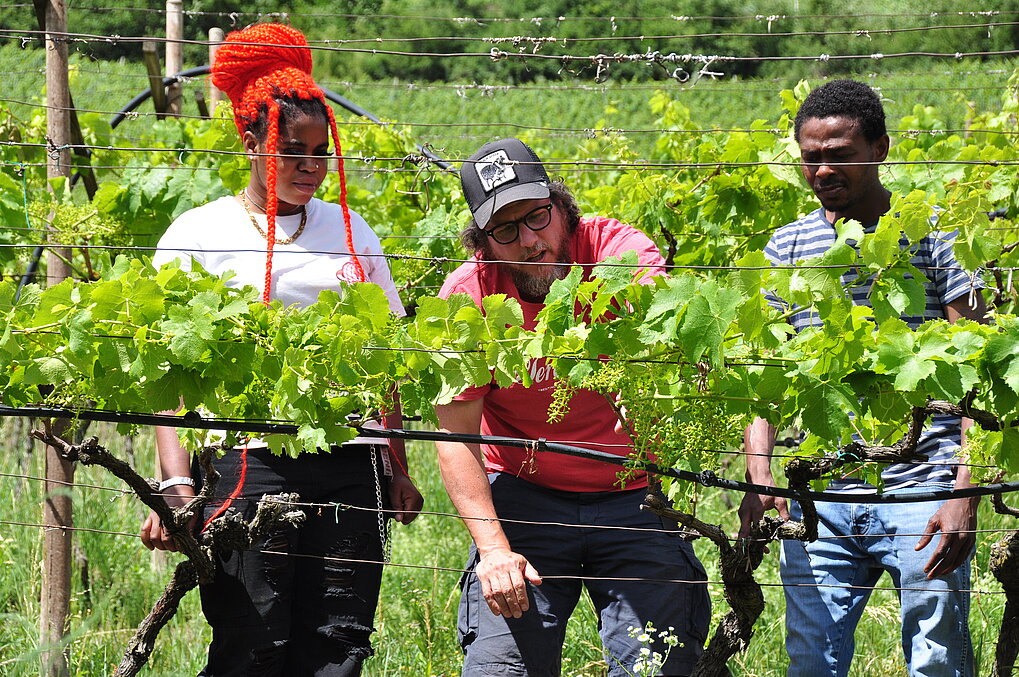 Muhammed*, originally from Gambia, signed on with V.I.T.E. because he liked the idea of farm work. "In Gambia, I learned it at school and at home." This summer he trained with grower Andreas Dichristin of the Demeter-certified biodynamic Tröpfltalhof. "He taught me so much about deleafing, fertilizing, picking," Muhammed says. In the autumn, he returned to the small estate in Kaltern to harvest grapes and apples; soon he will start German lessons through the program. "This is my first time working in a place like this. It gives me great courage to work in the countryside," he says.
A Win-Win with Caveat
"What sets this project apart is the fact that it's an initiative that comes from the producers," explains Würth. "You can give people all the training in the world, but if they don't get the opportunity from private business, then their transition won't work. V.I.T.E.'s goal is integration."
But the barriers are high in South Tyrol, Würth says. "We have two official languages to learn" — German and Italian — "and a farming culture that is very closed and conservative. To help immigrants, growers need to get to know them."
"To help immigrants, growers need to get to know them," says Würth.
Thomas Niedermayr, who heads his family's small organic estate in Eppan, signed on to the program, convinced by "the tremendous importance of giving the unemployed immigrants who live here contact with the local economy." This summer, Nigerian immigrant Peter* trained with Niedermayr, assisting with the seasonal demands of binding vines and placing insect netting along the vine rows.
"It was important to me that we help each other," Niedermayr says. "That I might teach him something, but also that I learn about his culture. We felt it was important for him to join our family around the lunch table and at coffee breaks, to make a connection."
Niedermayr says he will definitely participate in the program again. But he worries about the barriers Würth speaks of and that trainees may have unrealistic expectations about finding permanent work in a region where the ebb and flow of work makes it difficult for growers to support a full-time employee. "There is a risk that the trainees will become seasonal workers, not permanent employees," he feels. "I hope there will be a way to turn this into a situation that gives them security."
This realistic assessment hints at the enormity of the challenge V.I.T.E. faces. But there are strong incentives for producers to push to overcome them.
South Tyrol's wine economy is mostly made up of small growers that supply their vineyard labor needs through family involvement, Würth points out. He says this system still works relatively well when grandparents and other relatives help. But as they age or opt out, tiny wineries feel the pinch. "You can't make wine with just an enologist on staff," he notes.
In parts of the world where vineyards are on flat ground, vineyard work is increasingly being mechanized. There labor needs can be reduced to 100-120 working hours per hectare, according to Würth. But in the steeply mountainous terrain of South Tyrol, he says, 700-1,000 work hours per hectare are required: "We absolutely need people who can and want to do this work."
"V.I.T.E. wants to show a new way is possible to meet the needs of producers and immigrants," says Grasselli.
Anti-immigrant sentiment demands a logical, thoughtful response. "Everyone says, 'No, no we don't want immigrants here'," says Grasselli. "But when we analyze the needs of our society, we have these shortages in the wine sector and in agriculture generally. V.I.T.E. wants to show that a new way is possible to meet the needs of producers and immigrants. It's very ambitious and V.I.T.E. is very small, but that's the goal." Pragmatic positivism and making change at the community level are the couple's way of responding to intolerance and injustice on a larger scale, says Würth.
Their first trainee is a success story. Solomon* came from Nigeria, with a farming background. "He had been working in the field since childhood, so he was prepared for the demanding physical work," says Würth. After training with GraWü, Solomon found full-time employment with a neighboring grower, where he is today.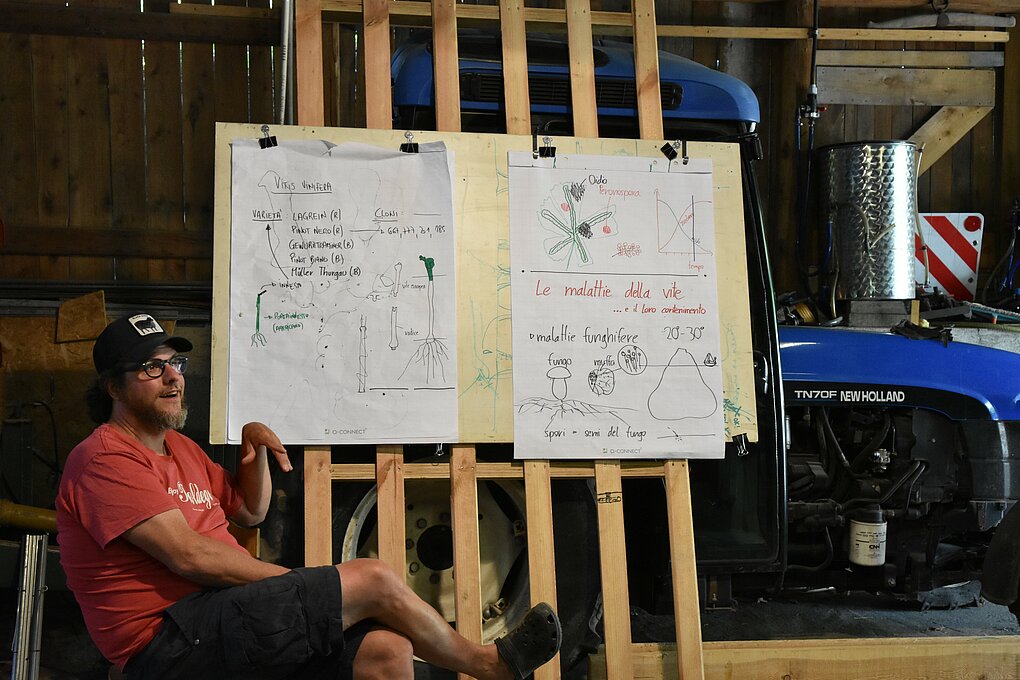 Encouraged by Grasselli and Würth, V.I.T.E. now counts some of South Tyrol's most interesting estates among its partner-members, including Patrick Uccelli of Ansitz Dornach, Matthias Messner of Rielingerhof, Andreas Dichristin of Tröpfltalhof, and Franz von Pfeil of Kränzelhof. As their profiles rise, so may V.I.T.E.'s.
"The V.I.T.E. model will take on a new dimension if it's picked up in places like Tuscany, where significant numbers of people work in viticulture — or even nationally," Würth says. "When we talk with our colleagues across the organic and natural wine scenes, most agree that we need this. I believe this has a future."
Growing awareness is the first step.
* Last names withheld.