Seeking an Alt Route to Choucroute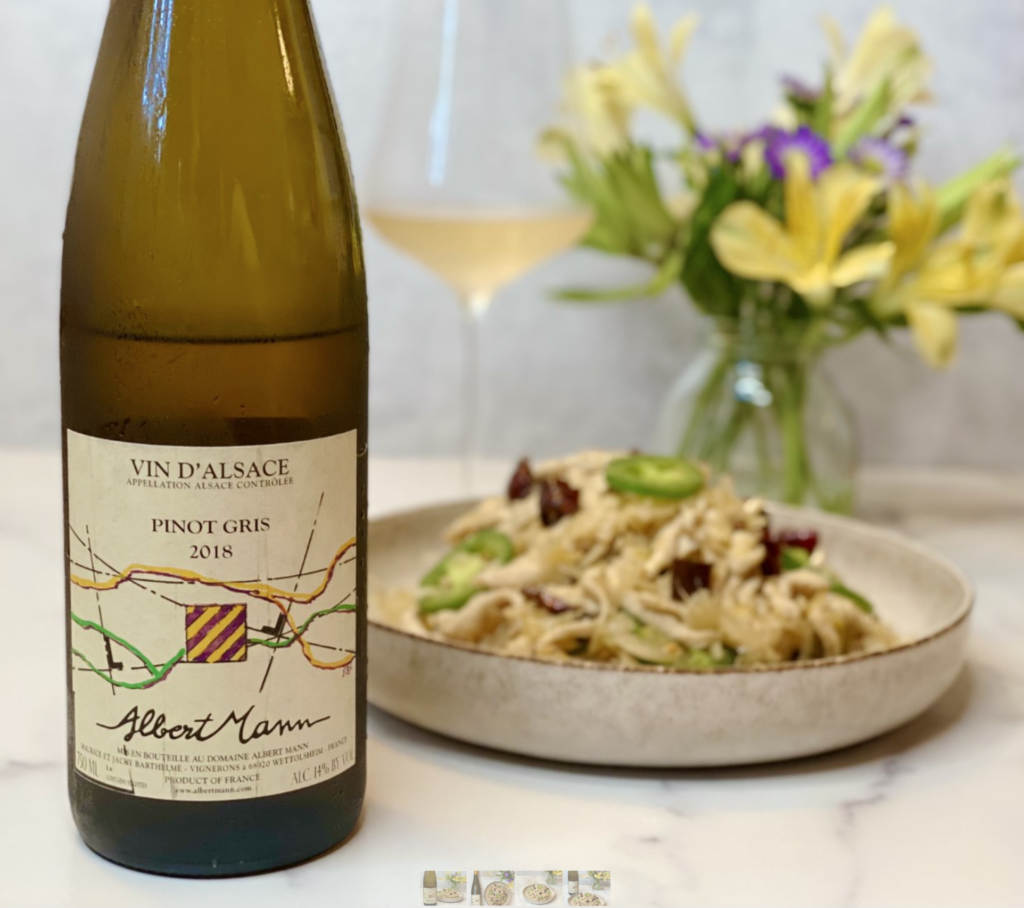 Although my husband Bruce and I have lived in New York City for almost 20 years, we still hold our Taiwanese heritage close when it comes to our diet. For me, indulging in the dishes I grew up with brings a sense of comfort and keeps me connected to my roots. Finding replacements for traditional ingredients can be difficult for those living far from home, but this has spurred the creation of countless delicious dishes. Stir-fried shredded chicken with sauerkraut is one of our favorites.
It's also one of Bruce's signature dishes. We've made it ours by riffing on a beloved local staple in northeast China, swapping out the pickled Chinese cabbage for something that feels closer to New York's Central and Eastern European cultures: sauerkraut. Not least in part because sourcing authentic pickled Chinese cabbage, even here in New York, remains a challenge. Sauerkraut is a snap.
These two cabbage preparations share deep cultural roots and a similar key ingredient. For pickled Chinese cabbage, mild, oblong Napa Cabbage is the way to go. The head is quartered, salted, tight-packed in a jar, then topped with a stone to submerge the vegetable in its own liquid.
For sauerkraut, common green cabbage is the main element and the preparation has a twist. The round head is shredded, salted, and tossed for 5 to 10 minutes to let the salt work its way to softening the cabbage. Once the cabbage releases its liquid, it is transferred to a jar, still submerged in liquid to provide an anaerobic environment for lactobacilli bacteria to grow.
The process of lactic acid fermentation plays a crucial role in the creation of both pickled Chinese cabbage and sauerkraut. Typically, this process takes about two to three weeks to complete. Initially, anaerobic bacteria activate the fermentation, creating an acidic environment that allows the second phase to begin. Higher acid-tolerant bacteria then take over, ensuring the fermentation continues. In the final phase, any remaining sugars are consumed by various lactobacillus species, further lowering the pH to a point where the vegetables are edible and protected from spoilage. As a result, the preserved cabbage is transformed into a tart, tangy, crunchy treat for future enjoyment.
Lack of historical documentation makes it difficult to verify when pickled Chinese cabbage came about. But there is a legend that claims to explain its origins. 2,000 years ago, the first emperor of China, Qin Shi Huan, ordered the construction of the Great Wall of China. The wall builders lived on cabbage and rice. In winter, rice wine was mixed in with the vegetables and in turn, fermented or soured.
Sauerkraut, a common accompaniment deeply ingrained in Central and Eastern Europe since the 1600s, was most likely brought from China to Europe in the 1200s through trade and cultural exchange with the Tartars. The fermented dish then took spread through Central and Eastern European cuisines, and into eastern France, where it's known as choucroute. Given these shared origins, it's no wonder sauerkraut works as a perfect stand-in for the Chinese original.
It's only natural to lean into umlaut wines as pairings for this dish. The high acid and bright fruit of Riesling or Grüner Veltliner would make excellent choices. Even a subtle Silvaner would marry well here. But Alsatian Pinot Gris nails it. Pinot Gris is one of the four noble grape varieties in Alsace where it offers a fuller expression of aromas, flavors, texture, and body than its typical counterparts in Italy (aka Pinot Grigio) and Germany (aka Grauburgunder). As Alsatian Pinot Gris ages, honey and smoke notes develop, adding a rich complexity that satisfies the salty-spicy questions posed by this dish.
As Alsatian Pinot Gris ages,
honey and smoke notes develop,
adding a rich complexity that satisfies
the salty spicy questions
posed by this dish.
Located in the northeast corner of France, on the border of Germany and Switzerland, Alsace, with its shifting boundaries and politics over the centuries, is strongly influenced by German culture, language, architecture, gastronomy, and wine. Alsace is the sole Appellation d'Origine Contrôlée that states the grape varieties in single-varietal wines on the label, as German wines typically do. The unique bottle format — flutes d'Alsace — is also borrowed from its eastern neighbor, and is a legal requirement.
Domaine Albert Mann is a nearly 40-year-old joint collaboration between two major winemaking families, the Manns and the Barthelmés, in Wettolsheim, a commune south of Colmar in the department of Haut-Rhine. The domaine covers 19 hectares, spread over eight communes. Biodynamic farming started in 1997, with Ecocert organic certification since 2000. The 2018 Albert Mann Pinot Gris Vin d'Alsace, from two estate vineyards, Kietzheim and Wettolsheim, offers lavish yellow peach and ripe citrus aromas with hints of honey, yogurt, and smoke. The wine is round and supple, with lively acidity.
The character of the Alsatian Pinot Gris ticks all the boxes for pairing with our alt-route choucroute — the acidity compliments the tartness of the sauerkraut and enhances the sweetness of the chicken and the cabbage; the smokiness in the Pinot Gris works with the smokiness of the dried chilies and compliments the floral and spice notes of Sichuan peppercorns. Pinot Gris's luscious and well-rounded texture creates contrasting sensations on the palate. Think Sancerre paired with goat cheese — in reverse.
Pinot Gris's luscious and well-rounded texture creates contrasting sensations on the palate. Think Sancerre paired with goat cheese
— in reverse.
Stir-Fried Shredded Chicken with Sauerkraut
1lb skinless, boneless chicken breasts, cut into long, thin strips (about 1 1/2 inches long and the thickness of chopsticks)
1 cup sauerkraut (squeeze out and discard excess liquid)
1 jalapeno pepper (cut into thin rings, seeds removed)
3 cups canola oil (for frying)
Flavored Oil
1 tbsp Sichuan peppercorn (if not available, use whole tri-color peppercorns instead)
6 dried chili peppers (use a kitchen shear and cut chili peppers in sections, seeds removed)
3 cloves garlic (cut into small disks)
2 tbsp canola (rapeseed) oil
Marinade
½ tbs soy sauce
½ tbsp oyster sauce or vegetarian versions
1 tbsp rice wine
1 tbsp sugar
1 scallion (cut into inch-long strips)
1 knob ginger (roughly smashed and chopped )
2 tbsp water
Salt to taste
1 tsp cornstarch
1 tsp ground white pepper
1 tbsp sesame oil and 1 tbsp of canola oil, combined
Preparation
Prepare ginger-scallion water by combining scallion pieces and ginger in a small bowl. Add 2 cups of water. Let sit for 5 minutes. Use your hand to mix/squeeze scallion and ginger to extract juices into the water. Discard used scallion and ginger. Save water and set aside.
Marinate chicken with soy sauce, oyster sauce, white pepper, sugar, ginger-scallion water, and rice wine. Mix well. (You don't want the chicken to take on the dark colors of the soy sauce and oyster sauce, which are used to add depth of flavor.) Marinate for 10 minutes. (At the 9 min mark add cornstarch, mix well, and let sit until the full 10-minute mark.) Add sesame and canola oil mixture. Mix well.
Add canola oil to a wok or deep pot. Heat oil over low-medium heat. Fry chicken juliennes in low-medium temperature oil until they turn white. Keep stirring to avoid having the chicken stick together. Remove chicken from the oil, drain, and set aside. (You can do this in a smaller pot in batches to use less oil.)
Prepare flavored oil. Heat skillet over low heat. Add 2 tbsp canola oil. Swirl the skillet to coat evenly with oil. Add dried chili peppers and stir-fry on low heat until fragrant and peppers turn bright red. Remove and set aside. Stir-fry garlic disks until lightly golden and fragrant. Remove and set aside. Add Sichuan peppercorns and stir-fry on low heat until fragrant (do not burn!). Discard peppercorns.
With the flavored oil in the same skillet, add sauerkraut and stir fry for 1 minute. Add partially cooked chicken back into the skillet. Stir fry until chicken is fully cooked. Add golden garlic and dried chili to the skillet and mix well for another minute. Taste and add salt as needed. Serve chicken with rice.