Eat + TRINK | Go Austrian with Tafelspitz This Holiday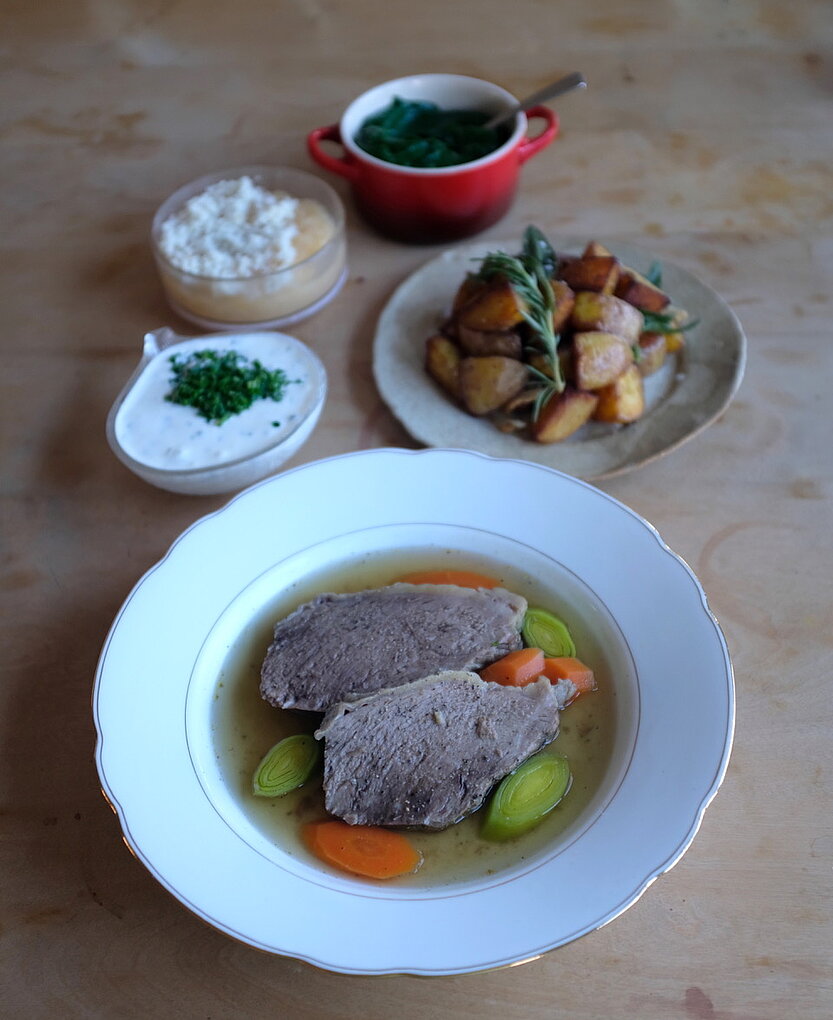 12/17/2021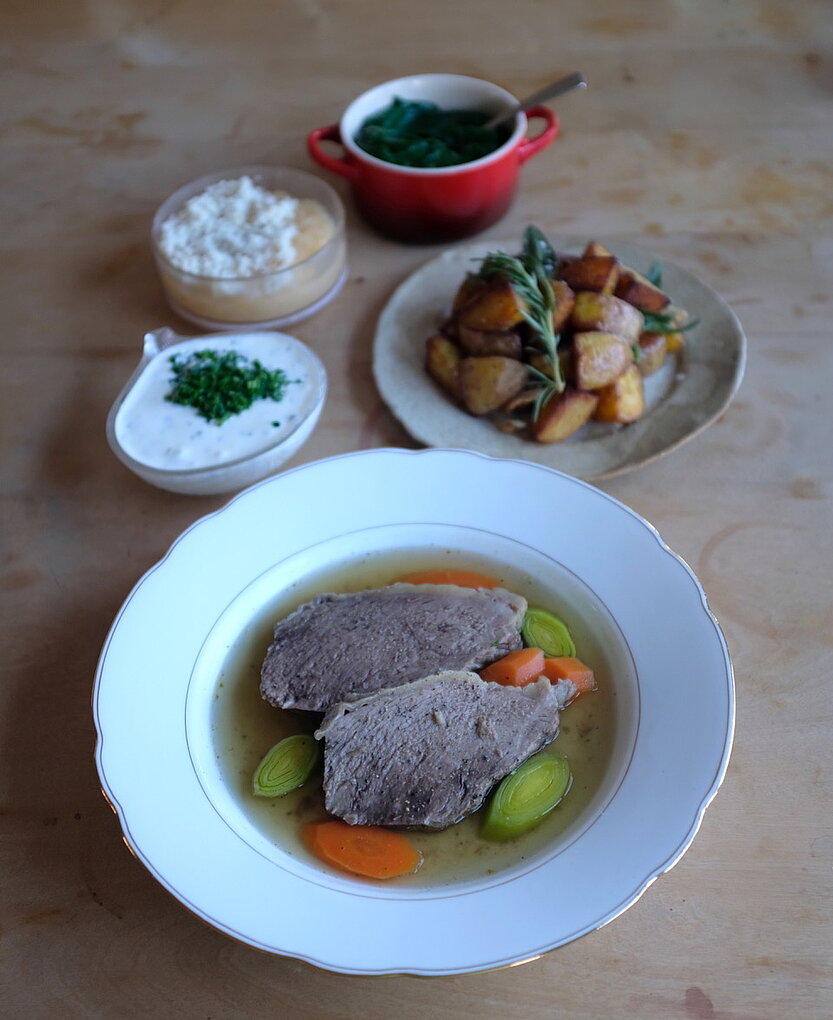 Eat & TRINK | Go Austrian for Your Holiday Feast
By Emily Campeau
​
Tomato season rolled right into the root vegetable months, and here we are, planning end-of-the-year festivities. Whether you're looking to ditch the old classics for a fresh recipe to impress your guests or make dinner for two with plenty left over for a next-day sandwich, I suggest we look to Austria for inspiration.
Tafelspitz is a dish closely associated with Viennese cuisine and is generally considered to be Austria's national dish. The first time I crossed paths with it was at one of those distinguished old Viennese restaurants offering traditional fare, with a decor stuck in time. You can find many of them throughout the city, and the food they offer is filling and delicious.
 The person sitting across the table from me had ordered Tafelspitz. It landed with decorum and proceeded to reveal multiple surprises. The perfectly cooked, tender cut of boiled meat was sitting in a rich broth, its greyness brightened by pieces of carrot and leek.
A parade of side dishes surrounding the meat was very attractive to someone like me, who tends to live a condiment-focused life: apple compote topped with freshly grated horseradish, creamy chive sauce, a luscious spinach purée, and a pile of golden-brown sautéed potatoes. Suddenly my predictable order of Wiener Schnitzel lost all its interest. I ate it anyway, silently promising myself to go on a boiled beef mission while roaming the Austrian capital. When I finally did, I savored every saucy bite, washed down with Grüner Veltliner during a blissful solo lunch. 
Many historical accounts credit hôtelière extraordinaire Anna Sacher of Vienna's renowned Sacher Hotel as the inventor of today's Tafelspitz. If her name rings a bell, it might be because of another supra-famous recipe bearing that name: Sachertorte, the wonderfully rich chocolate cake layered with apricot jam, invented by Anna Sacher's in-laws, the parents of Eduard Sacher, whom she married in 1880. Following his death in 1892, she took over the managerial duties of the hotel he had opened a few years before their wedding. A strong, well-respected woman with a passion for cigars and French bulldogs, she upheld high standards of prosperity and hospitality for decades.
Anna Sacher, a strong woman with a passion for cigars and French bulldogs, is credited as the inventor of Tafelspitz.
Legend has it that Emperor Franz Joseph I (1830-1916) was a fast eater. As was customary at the time, people sharing his table were not allowed to eat after he had finished. Often some of his military men would not even have been served when the Emperor put down his cutlery and they would go home hungry.
Frau Sacher, it is said, showed her genius with the creation of a dish that permitted everybody to be served at once: slow-cooked meat, easily reheated. Reportedly, the emperor liked it so much he declared it his favorite dish, helping to popularize it.
RECIPE
This story contains a hint of what makes Tafelspitz a great candidate for the holidays: most of it can be prepared in advance. When it hits the table, you can sit down with your guests, rid of all pressure. The various components fill the table with vivid colors and what seems like effortless sophistication. It is also perfect for warming up with after a morning walk outside: coming home to the earthy smell of broth rings like ultimate comfort. Should you opt for the full experience, you could venture a Sachertorte for dessert as well; a detailed recipe is right this way. (Serve with chilled apricot liqueur.)
The various components fill the table with vivid colors and what seems like effortless sophistication.
Tafelspitz takes time; low and slow is the key. Approach it with this mindset, and turn it into a relaxing vacation morning cooking session, or make it ahead so you can sleep late the day of.
Tafelspitz (for 4)
Tafelspitz of 1.2-1.5 kg (The dish takes its name from the cut of meat, which can be adapted as top round outside German-speaking countries.)
2-3 soup bones with marrow
2 + 2 carrots, peeled and divided
1 big leek, thoroughly washed
2 onions
2 bay leaves
5 allspice berries
5 juniper berries
1 pinch of whole peppercorns
Aromatic herbs (such as savory, sage, thyme, celery leaves)
1. Making the burnt onions: Peel and cut the onions in half lengthwise. Put a square of tinfoil in a flat pan (not your favorite one) and place the onions face down on the foil. Turn the heat to medium and let them get very dark on the bottom surface. Attention: it will smell like something is burning and that's normal. Once you think you have the desired color (dark brown going on black), turn off the heat and put the pan aside. The onions will be easy to remove from the foil in 5 minutes, once they have rested a bit.
2. Using a pot big enough to contain all the ingredients, place the meat and the soup bones at the bottom, add the burnt onions, two of the carrots, the green part of the leek, the juniper and allspice, the pepper and herbs. (You can be creative here and put a branch of celery, a turnip, a piece of celeriac, anything flavorful.) Add enough water to cover, at least 2 inches above the meat. Do not add salt, yet.
3. Bring to a boil on medium-high heat. The meat will change shape slightly as it heats. Add water if needed, for the Tafelspitz to be swimming freely. Skim the foam that will form at the surface; that will help to ensure your broth is clear. Turn down the heat to a soft simmer and cook your Tafelspitz for around two and a half hours. Add a good teaspoon of salt during the last half hour.
Note: You can prepare the sides while the Tafelspitz is cooking, there is more than enough time. Or you can cook the meat, store it in broth overnight, and do the rest the next day.
4. When the Tafelspitz is fully cooked, remove the meat and bones from the broth and lay them on a cutting board. Pass the broth through a fine sieve, season it with salt (taste!) and pour it back into a serving dish/pot. I like to use the remaining carrots and the white part of the leeks cut in small pieces here, simmering them for ten minutes in the broth just before serving. They stay bright in color and lightly crunchy.
5. Return to your Tafelspitz and slice crosswise.
6. It is common to serve a bowl of the broth with vegetables first, then the meat and sides. I personally prefer to serve the broth and the meat in the same shallow bowl, and give everybody a spoon to do as they please.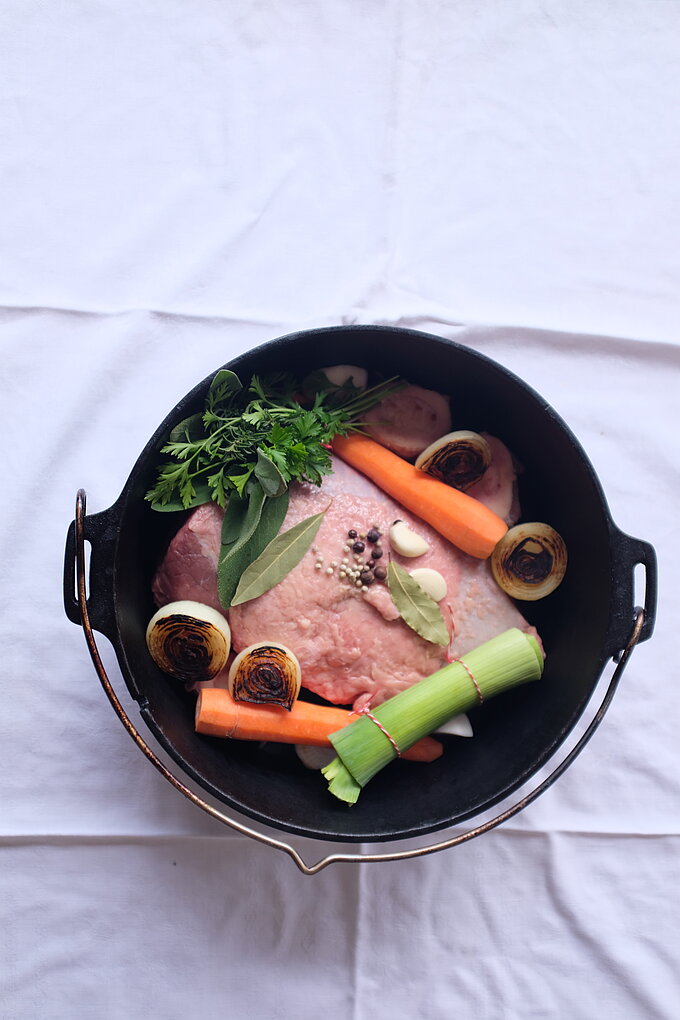 SIDES
Spinach purée: Cook fresh or frozen spinach for 3-4 minutes in salted boiling water, drain and purée in a blender with a lot of butter.
Apple sauce with horseradish: use store-bought or make your own apple sauce, and spike it with freshly grated horseradish. If you can find it, use jarred horseradish, but be careful not to overdo it, as it tends to be more intense.
Chive sauce: Add three tablespoons of unsweetened whipped cream to 200 g of sour cream, and chop a big handful of chives into it. Season well with salt and pepper.
Potatoes: any way you'd like! I made roasted potatoes in duck fat with rosemary, but you could make loads of different things: a rösti would be nice, sautéed or hasselback potatoes, even fries would be great. But then, when are fries not great?
WINES
I have a special place in my heart for themed meals, so why not choose Viennese wine to accompany your Tafelspitz?
Vienna, with its 600 hectares of wines within the city limits, has the highest concentration of urban vines in the world. They form a green belt around the city center, and the capital has its own appellation, the Wiener Gemischter Satz DAC. To classify, wines have to be made from a vineyard co-planted to at least three varieties — any one of which cannot exceed 50% — and the grapes harvested at the same time and co-fermented. The style is very typical of the city; most producers make at least one Gemischter Satz, but you'll find some elsewhere in the country as well.
The wines of Jutta Ambrositch would be a delightful choice. They carry such vibrancy and precision, capturing the soul of the city like a freshly snapped polaroid of the Viennese terroir. In 2004, Jutta made the spontaneous decision to trade a career as an art director for a life spent surrounded by plants. Pleased by her first results with a quarter hectare of Riesling, she expanded her venture. Today, she farms a total of four hectares, with parcels located on both sides of the Danube.
Try the Ringelspiel or the Kosmopolit Gemischter Satz, two options with focus and intense drinkability, a clear representation of her style. In the single-variety department, the Utopie Riesling opens up like the perfect fall day: ripe orchard fruits, dry wheat, a touch of grassiness, all basking in the smell of autumn sunshine.
To complete this lineup, add a few bottles of Rakete, a wine formerly known as a Roter Gemischter Satz. It puzzles the drinker by walking the line between a light red and a dark rosé. Before you can make up your mind, the bottle will be empty.
Good thing you bought more than one. ​