WeinGoutte: A Suitcase Winery Unpacks on New Ground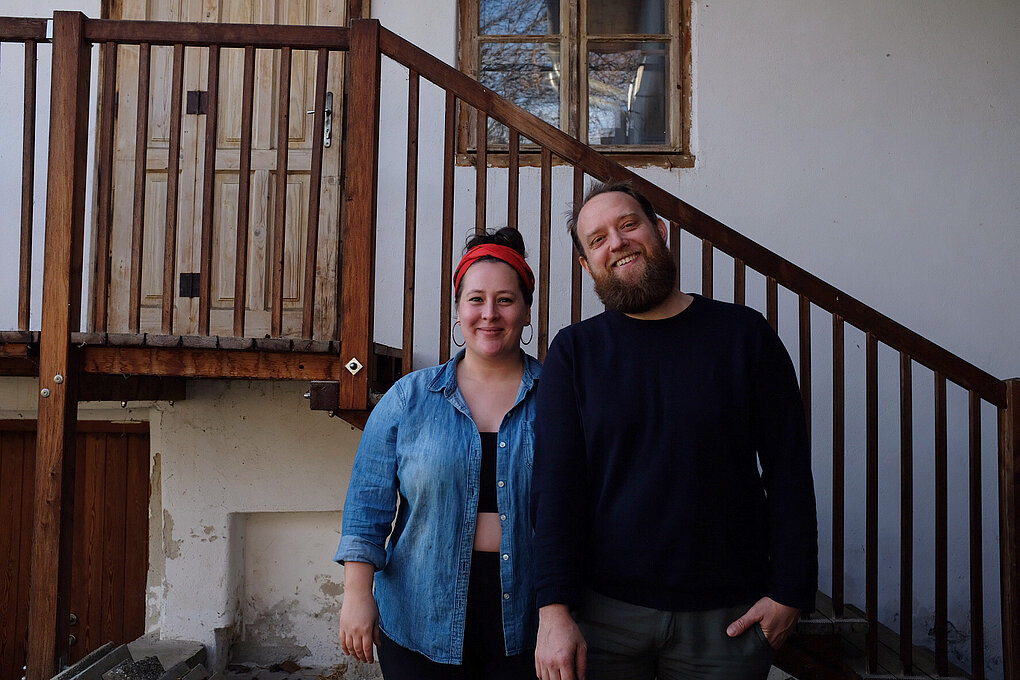 ​
Home is where the vines grow. We've all heard variations on that theme. But just how far can that idea be taken? Wein Goutte offers one answer. This portable micro-estate — whose first vintage sold out in a blink — is the brainchild of husband-and-wife team Christoph Müller and Emily Campeau. The concept goes beyond negociant but stops well short of flying winemaker. And it presents an entirely new model for a footloose generation's interpretation of the relationship between vintner and site.
Campeau, a fierce lover of food and wine (and a vivid writer on both), is originally from Québec. Her experiences in kitchens from Paris to New York and transformative encounters with wine in both cities paved the way to her current role as wine director of Restaurant Candide back in Montreal — a job she has, improbably, maintained from Europe for several years now. The match of mood to moment, dish to glass, is her art. Zero bullshit is her style.
Though more soft-spoken and hermetic, Müller shares this sensibility. A native of Swabia, he also cooked professionally for several years, until he, too, shifted his focus to wine. During and after enology studies at Neustadt, he worked under two towering figures in biodynamic viticulture: Clemens Busch, in the Mosel, and Franz Weninger, on the Austro-Hungarian border. If you've tasted their wines, you've sampled the influences on and of his talent.
The couple met at Weninger's estate during what Campeau calls "the hot harvest of 2018." At the time Austria was nowhere in her plans, she says. "I had just worked a harvest in California, and, as I do every year, made a list of what I needed to learn next and where a good place for this would be." But after meeting Weninger at a wine fair and liking his wines, she dropped the list and went to work for him instead — "a decision," she says, "that's like the flip of a coin but ends up completely changing your life."

Müller, who was by then one of Weninger's cellarmasters, and Campeau, an intern, bonded fast over a shared love of steaming compost piles and vegetable gardening, a proper apéro spread, a great bowl of tomato pasta — and a very particular vision of farming and making wines.
Müller and Campeau bonded over steaming compost piles and gardening, a proper apéro spread, a great bowl of tomato pasta
To their delight, Weninger generously shared with them a bit of his 2019 crop and some cellar space. They started to hatch ideas for a winery that would allow them to stay true to their nomadic natures while, as Campeau puts it, "nourishing our love for emerging or forgotten places." Corners of Germany and Canada were already in what she dubs "the dream box." The golden rule is anywhere they speak one of the official languages: "Doing business in a foreign language is Scheisse."

They hit upon a name that captures Campeau and Müller even better than, well, "Campeau and Müller." They mashed up the German Wein withthe French Goutte (or "drop of"). The result is pronounced like the German word Weingut, or winery. "We thought it was hilarious," Campeau says, "that we would have to answer the question 'Weingut what?' for the rest of eternity."
By September that year, they had started on the wines that would become Wein Goutte's first vintage — and on married life. "We foot stomped the first red grapes of the season on Friday afternoon, went out to get married over the weekend, and came back to press them on Monday," Campeau relates.
A few months later, when the pandemic hit, Campeau was back in Montreal. She rode out the darkest months with a friend in a bottle-stocked cabin in the Québec woods, while Müller watched over their baby wines (and vermouths).
Among them was a dark, spicy, lifted rosé of Pinot Noir and Zweigelt — "Pinot has a lot to take and Zweigelt a lot to give," Campeau laughs — aged nearly a year in small casks that they called Panic on the Boat. Next, the crunchy, juicy, floral Karaté Schlag, a blend of destemmed mash, whole-cluster, and pressed Blaufränkisch — "a bunch of techniques" Campeau says, "blended because they tasted better together than separate" — that spent 11 months in old 500 L barrels. The third was the structured and savory Doux Blues, made from just enough of Weninger's prized Pinot Blanc (whole clusters submerged in juice throughout fermentation) to fill one 225 L barrel.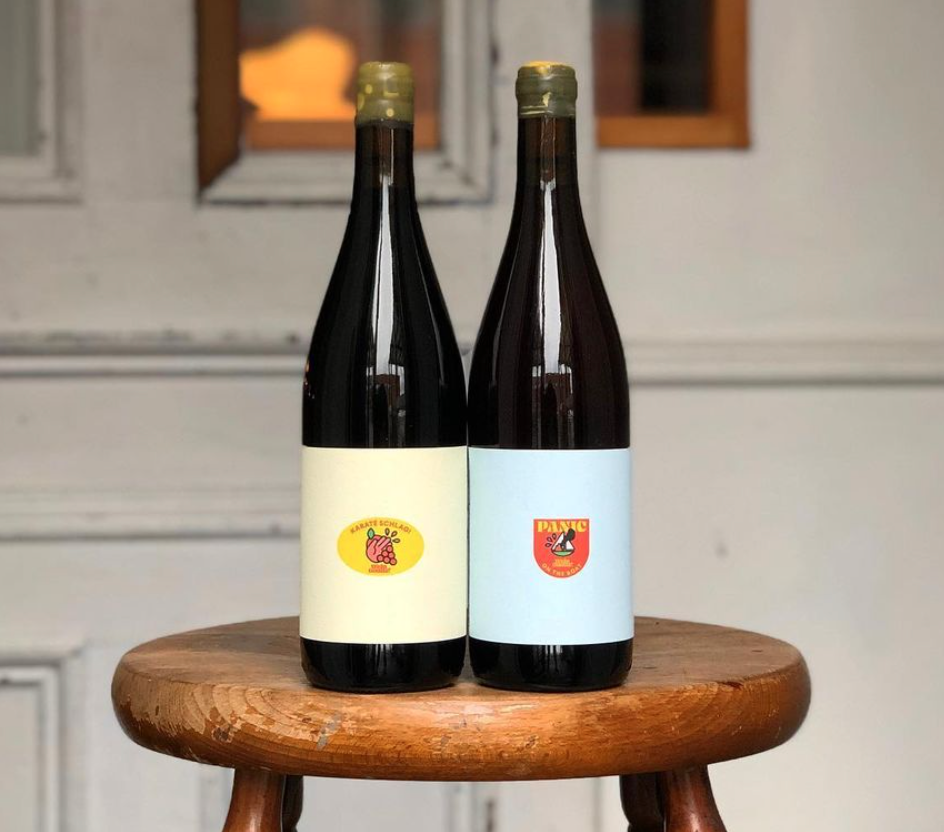 The approach is fashionably minimalistic: spontaneous fermentation, no filtering, and minimal SO2 at bottling. But Müller points out that what might look precious or particular is simply pragmatism. Some decisions, like foot-stomping the Pinot for "Panic," were driven not by romance, but by the far stronger desire to avoid cleaning certain pieces of equipment. "The worst job in a winery is cleaning the destemmer," Campeau says. "It didn't make sense to start this machine for such a small amount of grapes." As in life, "We have all these ideas that are very deliberate. But then they meet reality."
Campeau says she and Müller also have "a not-so-secret plan of turning everybody we meet onto vermouth, which is one of our favorite things to drink and make." Working with what she calls "a garden-clearence-everything-must-go vibe," she and Müller add home-grown herbs and plants to a white wine base fortified to 16% in a quest for racy complexity.
Campeau got back to Europe and her husband just in time to bottle and launch Wein Goutte. Minuscule quantities and the couple's excellent connections ensured that the wines sold out so fast even top critics went begging. While there is little hope of getting their second vintage — which will be even smaller than the first — either, for 2021, things are set to be very different.

Last month, Campeau and Müller packed up their lives on the Austro-Hungarian border and headed west to realize the next stage of their dream.
"Wanted: A house, at least a hectare of vegetables, some vines. All organic."

They had been eyeing parts of southern Germany for a while. There were scouting trips to Württemberg, a flurry of interest in Baden. But it was a few lines they posted on a wine trade ad board last autumn that did the trick. "Wanted: A house, at least a hectare (or at least the possibility of at least a hectare) of vegetables, some vines. All organic." Despite the specificity of their demands, they soon got a call from a couple in Franken — a historic but still lesser-known German wine region. Yes, the couple said, they had all these things. And organic farming? Well, they'd been doing it for 30 years — with certification, something very few others in the region could claim.

Lockdown after lockdown made it impossible for them to visit or meet the owners, Linda and Erhard Haßold. Instead, 2020 style, they hammered out an agreement over phone and Zoom: For the first year, Campeau and Müller would work with the Haßolds and split the grapes fifty-fifty, leaving the future an open space for discussion if the two couples enjoyed working together. Packability is built into the Wein Goutte concept, but Campeau and Müller always want to hold on to the possibility of putting down roots, too.
They gave notice at Weninger and started planning. "Non-negotiable for us," says Campeau, "was making good organic vegetables available to our community, making wine, and trying to make vermouth a thing in Germany." The farming would be, at a minimum, organic with a personal interpretation of biodynamics that reflects their beliefs in natural forces — "both of us are a little witchy," Campeau adds — folded in.
In early March, they rolled up for what Campeau calls their "agricultural blind date."

In early March, they rolled up for what Campeau calls "their agricultural blind date."The quiet village of Hüttenheim, whose features include a former synagogue and a vending machine that dispenses local honey, may not know quite what to make of its new international wine stars. But Campeau and Müller are smitten. They arrived to find knowledgeable, supportive owners; a handsome Italianate house; extensive farmland; a suitable cellar; and a very large, very empty hothouse owned by a friendly neighbor who offered it to them to start their garden season.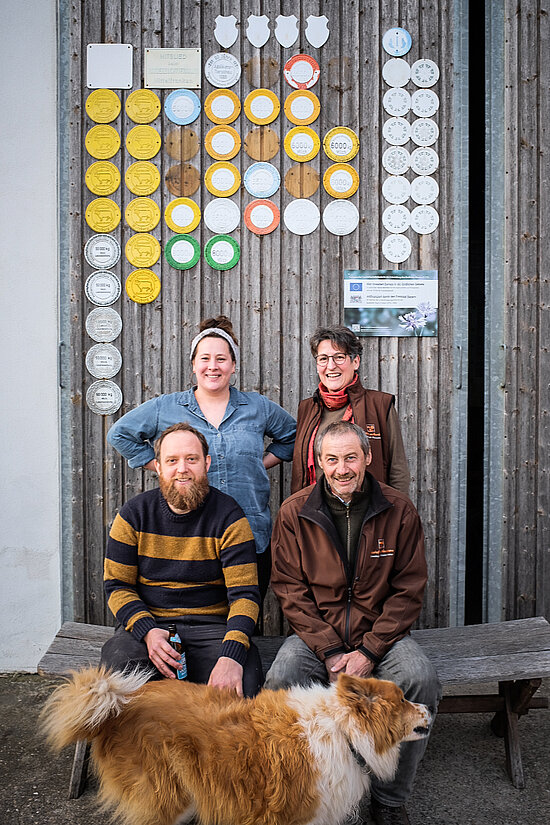 Just beyond the village, on the Tannenberg, are the vineyards. 3.5 hectares of gentle slopes on the southern edge of the cool, forested Steigerwald. Deep Keuper and sandstone soils support Silvaner, Weissburgunder, and Schwarzriesling, as well as crossings like Bacchus and even a few PiWis — "cool stuff that we are very excited to work with," Campeau enthuses.
Early in their relationship, Campeau and Müller discovered a common faith in unsung varieties. "We both said: If either of us ever made a winery," Müller recalls, "it would be with Müller-Thurgau and Trollinger." (There is a bit of Müller-Thurgau on the property and the couple hopes to source some Trollinger from friends in Württemberg.)

As with Wein Goutte's first two vintages, they won't trade on the name of a famous grape, vineyard, or town to sell the wines. "None of these things matter to us," Campeau says. "Everything will be Landwein. What matters to us is that we are happy about what is in the bottle."

Now, in spring's full flush, Franken's newest farmers are busy getting to know the vines and the land, nourishing seedlings and new connections, setting up compost and cellar, and figuring out how these elements will interact in their wines.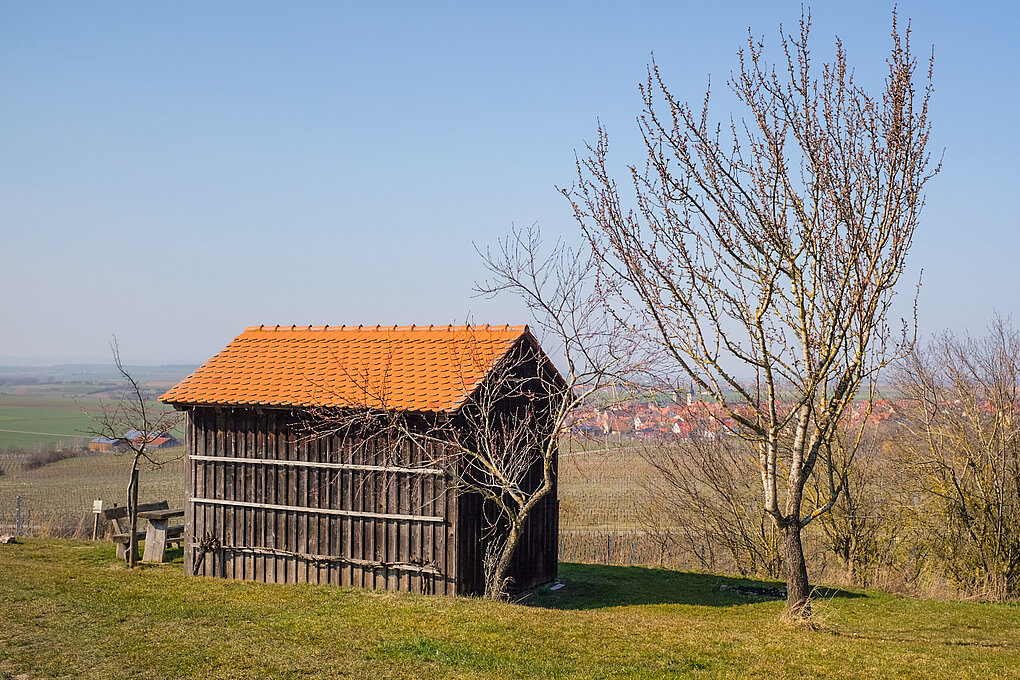 Their new digs include a little terrace café, where the Haßolds serve homemade cakes, wines, and schnapps to locals and guests of their small inn. Wein Goutte's production could double this year, easily filling every guest's glass. But in-the-know drinkers from Lisbon to L.A. are likely to snap up the bottles long before the first café guest thinks to order one. For them, there will be the solace of just-picked tomatoes and fragrant greens.
Some things were never meant to travel. ​