It Takes Two: Heidi Mäkinen and Gernot Kollmann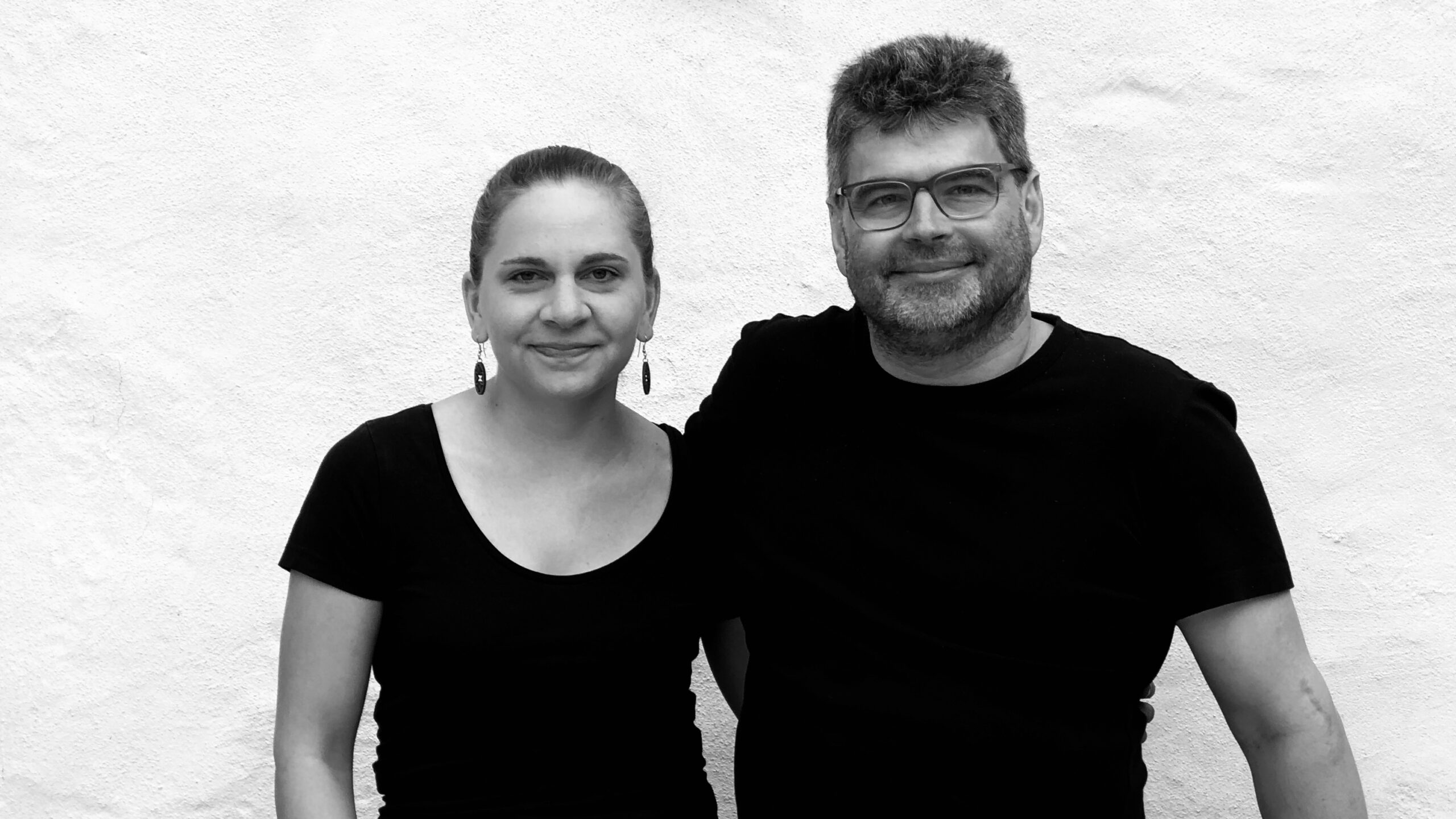 What do one of the Mosel's oldest winemaking estates and a country with a fledgling wine-drinking culture have in common? The answer, as with most things in life, is Riesling.
"German Riesling has become a synonym for white wine in Finland,"" says Heidi Mäkinen MW, Portfolio Manager for Viinitie Oy, one of that country's largest importers of German wine. "Finns like the freshness and fruit, and Riesling is one of those wine words that's incredibly easy to pronounce."
As Viinitie's new portfolio manager, Mäkinen, for whom work and private life has little separation, has kicked off her holidays 2,000 kilometers south of her Helsinki home with a long lineup of Mosel producer appointments. With the sort of unbridled glee normally reserved for a Christmas wishlist, she brandishes a printed schedule of names ranging from old favorites to new discoveries.
"Finland is a really young wine-drinking culture, and we're pretty open-minded when it comes to wine," she says, looking over her steaming Milchkaffee to the fairytale views of the steep middle Mosel vineyards in the background. "Perhaps precisely because Finland is not a traditional wine-producing country," she adds, "we're not restricted to just drinking what we have there."
Once better known as the land of saunas and spirits than vines and vino, Finland has become a trending hotspot, with Mosel Riesling leading the way. According to new statistics released by the German Wine Institute, 2020 saw Norway, Denmark, Sweden and Finland all ranking in the top 10 list of export countries for German wine.
"German Riesling has become a synonym for white wine in Finland."
"Riesling really fits the Nordic style of food, the lake fish, and the fermentation that is quite trendy," Mäkinen says. "And while Austrian Riesling is starting to gain share, I think a lot of people just really connect Riesling with Germany."
With wine making up almost 20% of the alcohol consumption in restaurants, the average Finnish consumer today is receptive to the sommelier's recommendations. "Somms here love acid and consumers seem to love fruit. German wine is really the dream for us," notes Mäkinen, who also happens to be president of the Finnish Sommelier Association. "And Spätburgunders [aka Pinot Noir], which can be very expensive coming from neighbouring France, are starting to get some real attention. Because our market is not yet saturated, there's potential here compared to more mature markets."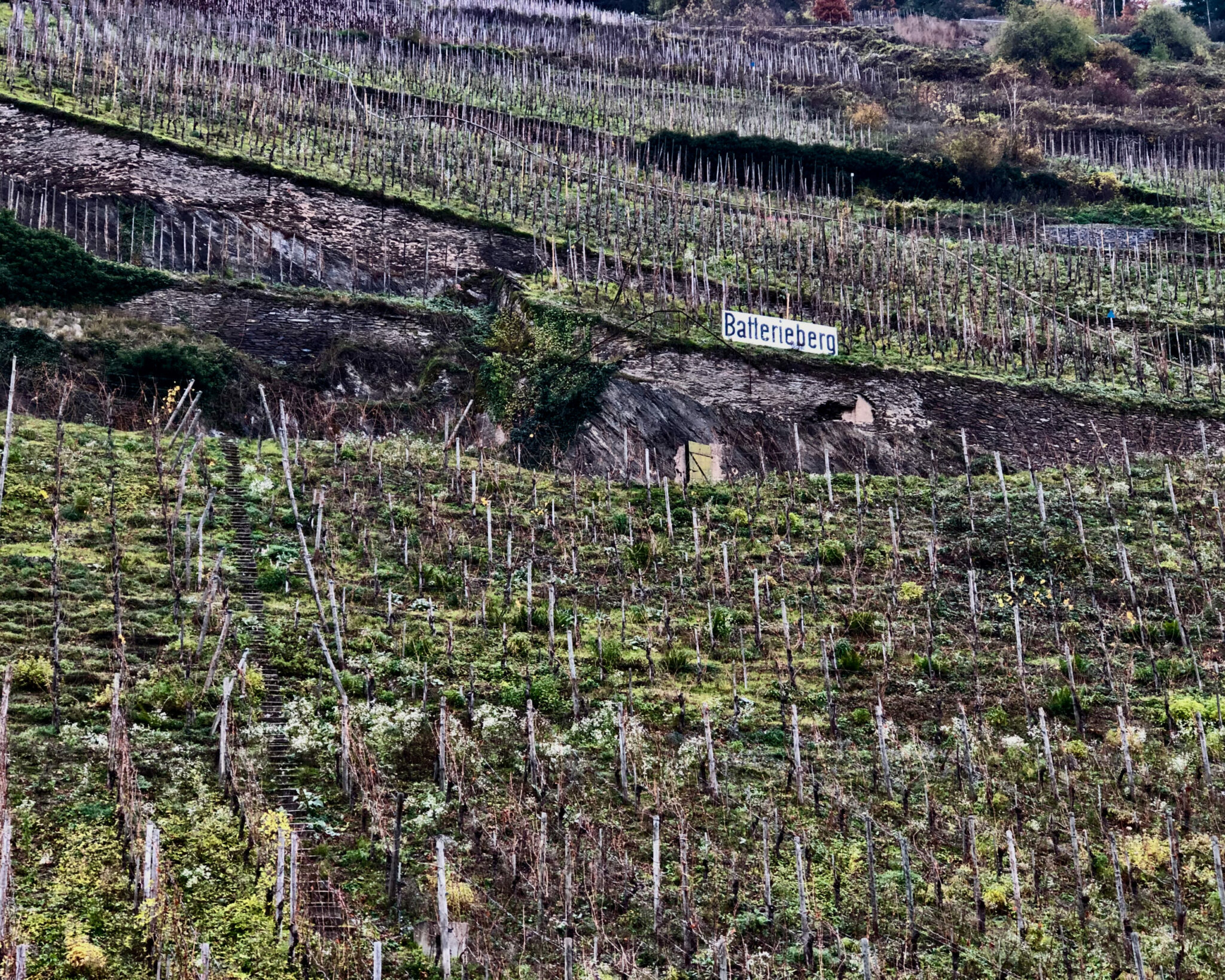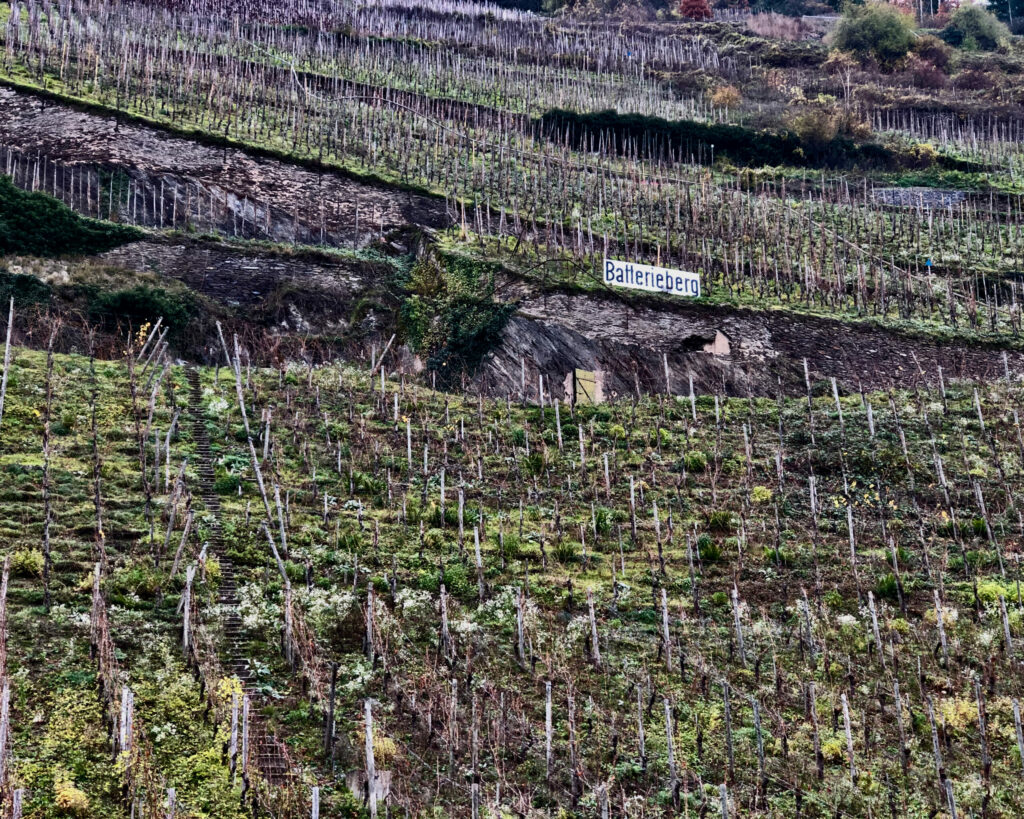 Across the table sits Gernot Kollmann, renowned winemaker and managing director of Mosel producer Immich-Batterieberg. With an impressive winemaking history dating back to 1425, the fabled Enkirch estate today cultivates 13 hectares of ungrafted Riesling vines from some of the region's best vineyards, including the quartzite-laced gray and blue slate Batterieberg, Ellergrub, and Zeppwingert, as well as the south-facing, iron-rich Steffensberg and Ellergrub's steep Trarbach neighbor, Zollturm. Kollmann follows a dedicated lo-fi approach — organic, ambient yeasts, fully fermented and low sulfur — a remarkable challenge given the dizzying and rocky terrain of the middle Mosel. Viinitie has been importing these wines for nearly a decade, meaning that nearly 12% of the estate's exports go to a country the size of California with a population density only slightly less that the entire state of Minnesota.
"In the U.S. market, you have to explain every dry Riesling in the shop," Kollmann says, referring to the fact that the more traditional import countries have long been influenced by historical prädikats, and later the sweet blends of the '70s and '80s. "Both that they exist and that they are fantastic with food. But because Finland is a late addition to the European market, it gravitated almost immediately to the dry wines."
"This was a development of the northern European markets that was really important for the change in the German winegrowing scene," he adds. "We see it throughout Denmark, Norway, Sweden, and Finland — all of Scandinavia really."
"We don't call it Scandinavia," Mäkinen says, "We call it Nordics."
"Eisbärtrinker," Kollmann laughs, referring to Finnish drinkers as 'polar bears.'
The relaxed rapport between the two makes it easy to forget that this is their first extended in-person meeting. The camaraderie: an important philosophical cornerstone between this grower and this importer.

The Human Connection
Over the course of their 10-year importing relationship, Immich-Batterieberg and Viinitie have weathered various trends, fads and economic storms. "The first thing," Kollmann says, "is really the relationship. The whole chain needs to be on board, and that is exactly what happened with Viinitie. Especially in the initial years the team, or part of the team, were routinely here."
"Finland just doesn't work like other markets."
Mäkinen firmly believes the success of a wine in a complicated market can be traced back to doing what it takes to establish that crucial "human connection" — no easy task during the recent Covid-dominated stretch. "Whether it's discussions of place or placement on the market, it's much easier when you're talking person to person, not just business to business," she says.
This forged connection also helps mitigate some of the structural disadvantages of the challenging Finnish market, including a population only half the size of Sweden; one-quarter of the wealth of Norwegians; and the second-highest tax rate in the EU after Ireland. Not to mention a 24% VAT.
"Finland," Mäkinen says, "just doesn't work like other markets."
Finding Balance
With a state-controlled monopoly, it would be easy to focus on volume not variety. And yet, Mäkinen notes, Viinitie has always worked to maintain a diverse portfolio of small-scale producers. "We've always been the importer that brings in the new faces."
This is the (relatively) easy part, agree Mäkinen and Kollmann. Buyers love a new face and new story, whether it's in large volumes for the state-controlled monopoly ALKO or in smaller lots for the thriving restaurant scene.
As in all developing relationships, however, trust is the bedrock upon which all else is built. "If you're not close to your producer, it's hard to explain why we're not buying triple pallets of their GG wines," says Mäkinen. "We need to have their trust in us, that we understand the market, and then be very transparent about what's possible and what's not."
"…when they run out of stories, your wine is ultimately the one that is forgotten.""
Not to say that mistakes won't ever be made, but the test of a good relationship is in working through it. "In the first three years," says Kollmann, "we sold a little too much CAI [a dry Kabinett style Riesling from the estate's steep sites]. You can't bring the same wine to every customer, you have to really play around a little bit. Especially in a place like Helsinki, where there are restaurants every 50 meters. We had to find a better balance."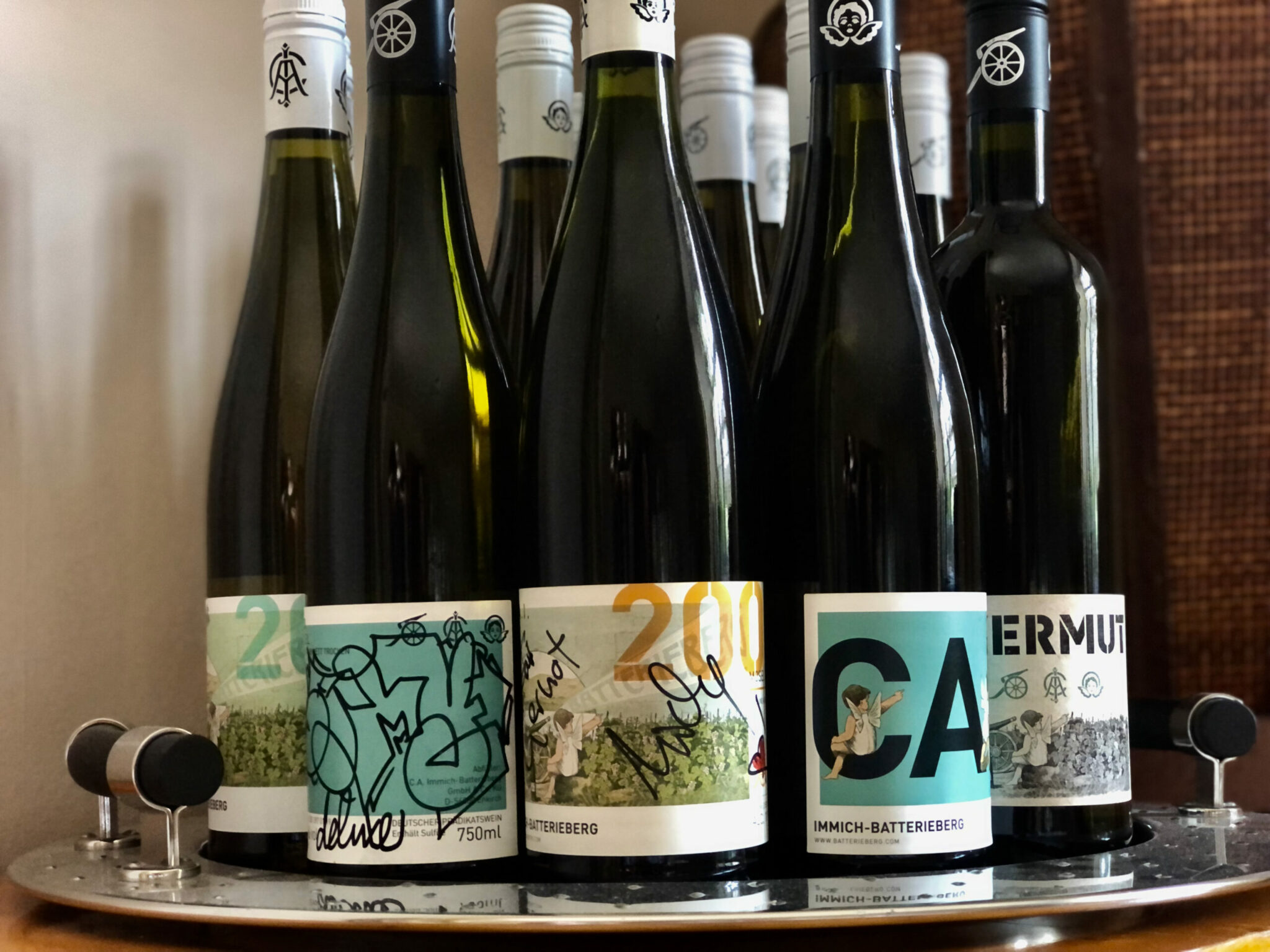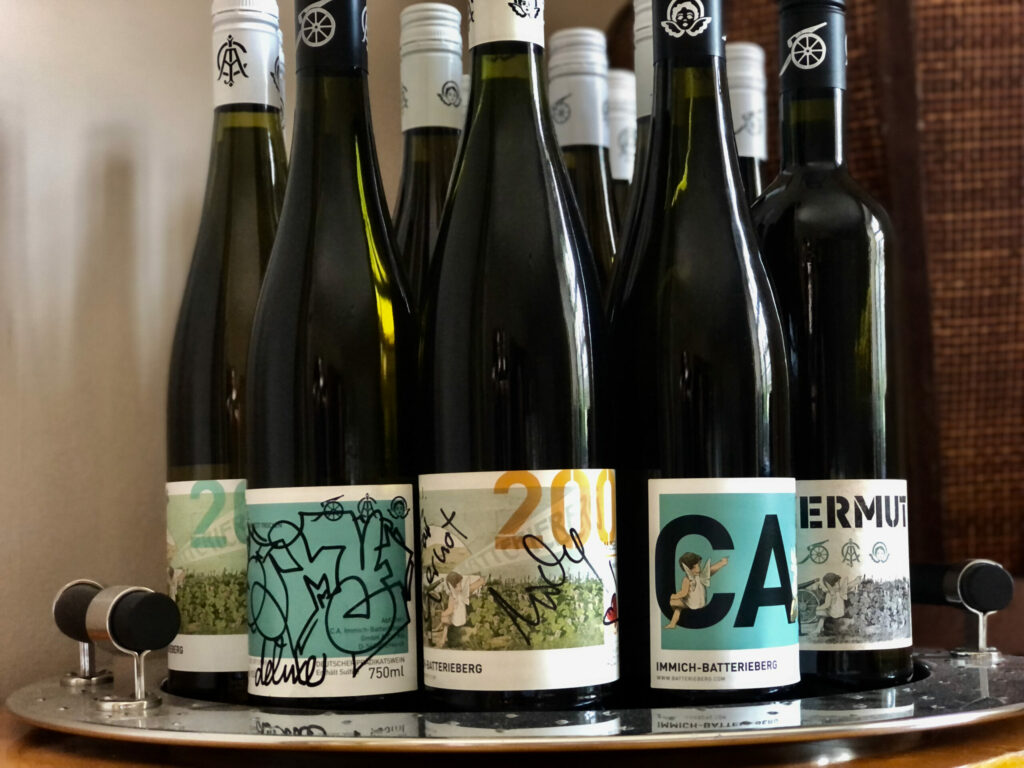 Keeping the Romance Alive
With a portfolio of 20 German growers, however, any one can remain new for only so long. Even the best importers must maintain a dynamic offering, meaning that the most ardent starts inevitably cool, transforming new into everyday. Whether it's a focus on regions, varieties, personalities or stylistic differences, a healthy relationship must find a way to keep the stories fresh, and each producer distinctive.
"With Gernot," Mäkinen says, "it's all about ungrafted vines and really steep slopes. It's very easy to distinguish his wines stylistically from the rest of our Mosel offerings — rich and fruit-driven. And with the old Fuder, the additional oxygen makes them more approachable."
The key, in other words, is taking the time to understand not just the product but the people and place behind it. To learn the stories in order to better appreciate what separates one wine from another, because, Kollmann adds, "when they run out of stories, your wine is ultimately the one that is forgotten."
"Somms here love acid and consumers love fruit. German wine is really the dream for us."
And as any couple who has been together for more than a minute knows, once the bloom of courtship fades, once one runs out of things to talk about, conflicts and challenges inevitably arise and then…
Wait a minute, are we still talking about wine?
A Lasting Pair
"You can really die on a long wine list," says Kollmann. "It's nice that [your] bottle is on it, but if it's not moving, what good does it do?"
The answer, in wine as in love, is equal parts trust and teamwork. Open channels of communication along the entire supply chain must not only be established but also tended to. In pursuit of that perfect pairing, the importer needs to understand both what an individual producer, and an individual bottle has to offer. An understanding that requires constant input as new vintages are added, and older vintages mature.
"In many countries now," Kollmann says, "multi-coursed wine pairing is super important. People just aren't ordering as much from the list. So the sommelier creates a wine pairing. But to get into that pairing, your importer needs to know when a given restaurant is changing the menu. The sales people need to know whether the somm needs a round vintage, or a crisp one. And all this is only possible with a close connection to the restaurant and the producer."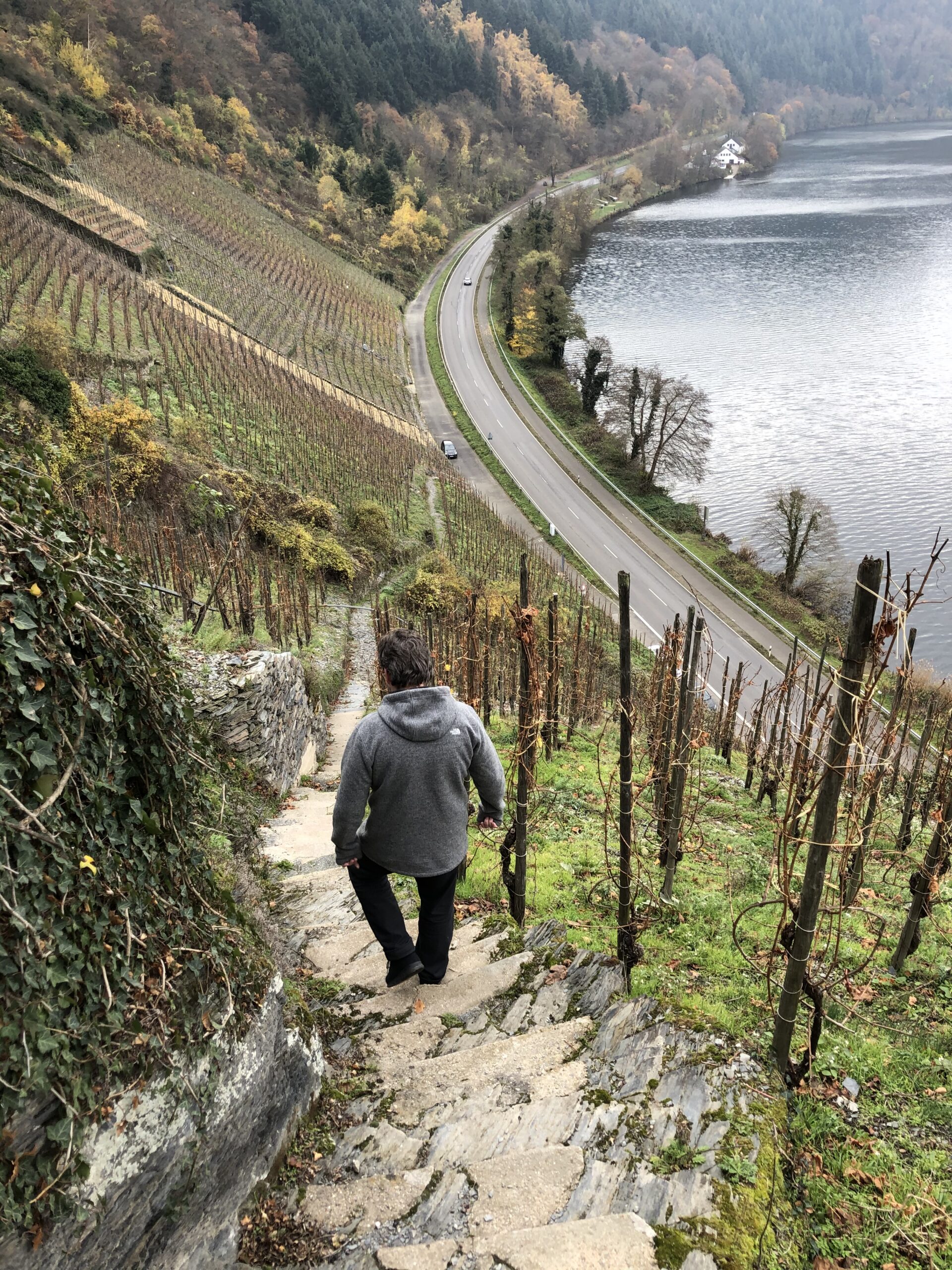 Till Riesling Do Us Part
The sun has now fully crested the vineyard slopes and the coffee mugs are empty. Mäkinen's first tasting appointment is with nearby Clemens Busch. But before each of us goes our own way, Kollmann and Mäkinen want to set a few things straight. Long-term commitment, they agree, is the ultimate goal. "We're not here for the quick wins," says Mäkinen. "We're here to make things last. To work together and find ways to make things meaningful and successful for both parties." 

"Love will keep us together," sang Captain and Tenille in their 1973 hit. Nice sentiment, but business is still business. Every market, like every relationship, is unique unto itself. "But more and more there has been a growing interest in the stories behind the wines, interesting characters, and real people working along the vines and barrels instead of just big brands," Mäkinen says. "Finnish consumers might not yet know that much about the individual subregions or styles, but once they hear the word Riesling they are already convinced."