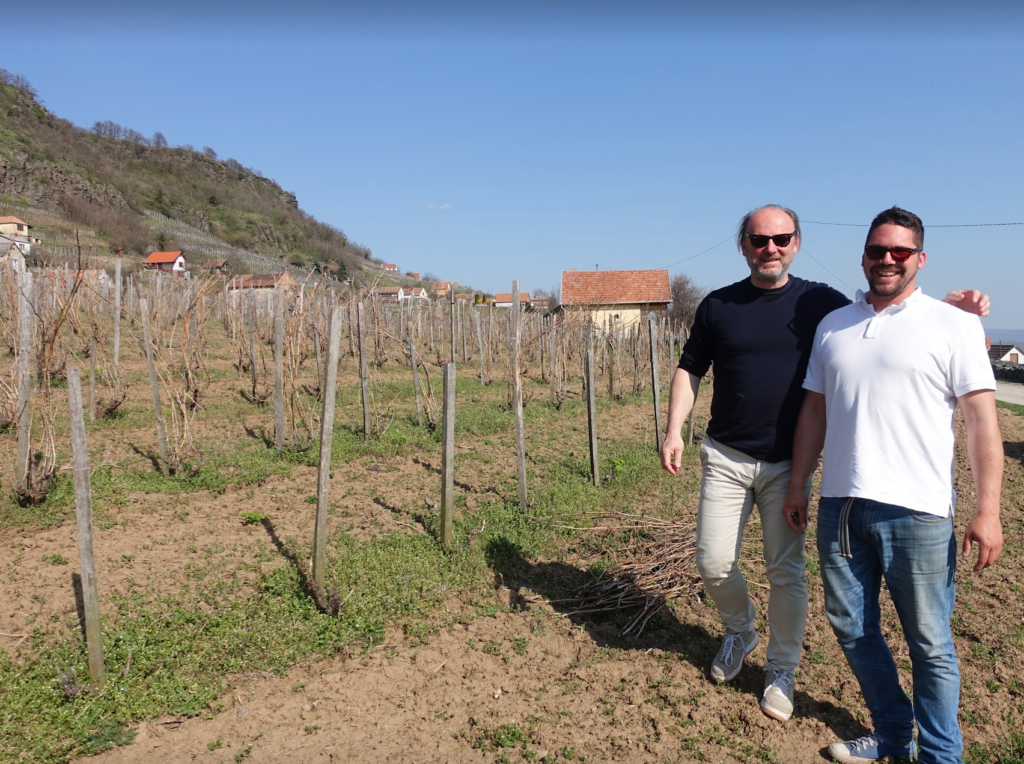 The road to wine was anything but direct for Tamás Kis. But the determination to become a winegrower had him firmly in its grasp. "My family didn't have any connection to wine whatsoever, nor any holdings," he explains. In 2010, as he set out to create his first wines with a mere one-half hectare of vineyards, what he lacked in land, he made up for in passion. Kis, 37, has since risen to be one of the highest-profile representatives of the young generation of winegrowers in Hungary, a group focused on wines of quality and distinction. Kis is also helping to drive a revival of the Pannonian winegrowing region, which faded after the breakup of the Austro-Hungarian Empire in 1918 but had stretched from the Burgenland across the Pannonian lowlands to the Carpathians. "Pannonia is very important for viticulture in Hungary and Austria; we see ourselves as a region in terms of variety, terroir, and climate. And we have a shared history," Kis notes. Today, he cultivates 6.5 hectares of vines in Nagy-Somló, a 540-hectare winegrowing area.
Kis concentrates on four white varieties: Olaszrizling (a.k.a. Welschriesling) — Juhfark, Furmint, and Hárslevelű (a.k.a. Lindenblätriger). These vines, Kis claims, are particularly well suited for the local terroir. Somló is a dormant volcano whose slopes have been planted with wine grapes for centuries. Roughly 30 kilometers away is the Plattensee (Lake Balaton), which millions of years ago lay under an ocean. This special geological constellation brought forth a rare conglomeration of stone. "We have ocean floor with sand and chalk here in connection with volcanic elements such as basalt," explains Kis. The terroir is unique and unmistakable. "The winegrower is secondary in the process and in the end the wines always taste like Somló." To present this expression as authentically as possible, Kis has been successively reducing his use of new oak over the decade-plus he has been making wine. At this point he raises his wine in stainless steel and used Hungarian oak: "In the vineyard and cellar, I try to work as naturally and simply as possible to draw out the power and taste of Somló."
"in the end the wines always taste like Somló"
– Tamás Kis
Kis notes that Hungary was once counted among the world's best-regarded wine countries. Furmint played a major role as an important component of Tokaj, a coveted sweet wine: Starting in the 17th century, it was known as the "king of wines" and was prized far beyond Hungary's borders. But under Socialism in the 20th century, much of the knowledge and quality went missing. Winegrowing was realigned to mass production. "Only after the change of economic systems starting in 1990 did some winegrowers begin again considering the factors that had once made Hungary distinct," Kis says. Dry wines from noteworthy sites are now in focus.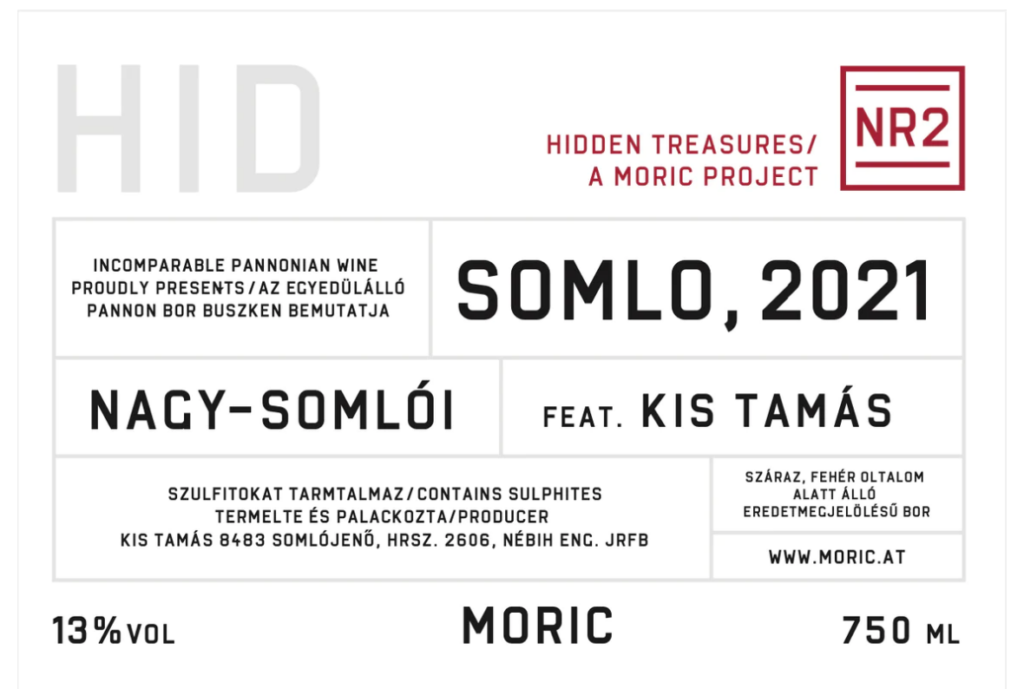 One particularly impactful encounter in 2015 with legendary Austrian winegrower Roland Velich opened Kis's eyes to new and unimagined dimensions. It was only then that he "recognized the grand possibilities for winegrowing in Somló and Hungary." One year later, the pair pressed their first joint wine as part of the "Hidden Treasures" project. Although Velich had been planning for an estate of his own in Hungary as far back as 2006, the bureaucratic hurdles proved too high. Out of this grew the idea of reviving Pannonian wine culture in a different way. For "Hidden Treasures," Velich worked together with talented young winegrowers in Hungary and Burgenland. The duo has since brought in seven harvests, including a joint white wine blend of Háslevelü, Furmint, and Olaszrizling that is adjusted for each respective vintage. "Our tastes in wine are similar, which helps keep our cooperation fertile and exciting," Kis notes. "Vineyards are hard to acquire, and my goal is to keep improving in quality." Furthermore, he sees the market for sweet wines as having collapsed, "whether in Hungary or France." Velich travels regularly to Somló; winegrowers taste the wines together, then exchange experiences. For Kis, Velich is a mentor, a strong and independent-minded character who has helped bring a sense of change on both sides of the border.
Weingut Moric
Roughly 125 kilometers away, Roland Velich relaxes in the sunny back courtyard of his house in Großhöflein, Burgenland. Velich, 60, his Weingut Moric, and his Blaufränkisch wines have been notable players on the international stage for some years now. Blaufränkisch enjoyed scant international recognition before the winegrower began focusing on it. Many Austrian winegrowers tried to make powerful, overly concentrated, and strongly barrel-influenced wines from international varieties such as Cabernet Sauvignon and Merlot. "Very melancholic," in Velich's words. He instead worked with the local native Blaufränkisch, which for him "was the most striking and fascinating variety, with an extreme capacity for representing origin." Velich conducted years of "field research," always intensively exploring the culture that Blaufränkisch had once assumed in Burgenland and in Pannonia. The vintner sniffed out the finest terroir in Burgenland, with old vine stands that had "retained as much cultural information as possible" despite years of industrialized viticulture.
Velich found old vine stands that had "retained as much cultural information as possible" despite years of industrialized viticulture.
His flagship vineyards are in Lutzmannsburg on a 300 m.a.s.l. plateau, not far from the Hungarian border, where loam, sand, clay, and limestone formed as sediment. Many of the vines are over a century old, with the oldest planted in 1908 — gnarled, venerable grapevine Methuselahs. It is here that his emblematic single-site wines grow on Rieds Kirchberg, Schwemmer, and Maissner. Few knew what to do with idiosyncratic Velich in the beginning, as local vintners here had always delivered their grapes to the coops to be blended into anonymous wines. "I take the things I do very seriously," Velich says, "and I quite like to polarize." He tried and wagered on many things along his path to the winegrowing elite, never shying from risk; Velich often stumbled and it took two tries before Weingut Moric succeeded. Before coming to wine, he'd followed a "classic Austrian career as a ski instructor, croupier, and college dropout," Velic notes with a rugged humor that helped him earn a reputation as an enfant terrible of Austrian winemaking.
Roland Velich can be an uncomfortable character, but is also a grand romantic who is well on his way to seeing his dream of Pannonian wine culture coming true. "Pannonia is an ancient winegrowing country," Velich explains, but wars and the Iron Curtain "led to the loss of a tremendous amount of cultural continuity." He has never been interested in political, let alone nationalistic, ideas, and stoutly rejects any attempt to yoke or instrumentalize him for these concepts: "Pannonia has no political connotation, that's very important for me." Velich is interested in reestablishing an ideal identity for Pannonia: Pannonia is a Utopian fabric to be rewoven from long-unraveled threads. "The most valuable wines in the world once existed between Burgenland and Tokaj, including Blaufränkisch. That all disappeared," Velich says.
Hidden Treasures
The trailblazing mission Velich began at Weingut Moric continues with "Hidden Treasures." The project bridges borders, with the intention of binding the regions together. Beyond Tamás Kis, Villa Tolnay on the Balaton and Gergö Filep from Tokaj are also cooperating with Velich. "Hidden Treasures Nr. 3" from Villa Tolnay features the varieties Furmint and Riesling, while "Hidden Treasures Nr. 1" with Gergö Filep puts Furmint front and center. In Burgenland, Velich is working with Austrian producers such as Christoph Wachter of Weingut Wachter-Wiesler in Deutsch-Schützen, Lichtenberger-González on the Leithaberg, Stefan Wellanschitz in Neckenmarkt, and Hannes Schuster in Sankt Margarethen, exploring Blaufränkisch from different areas and terroirs.
Produced only in small volumes, "Hidden Treasures" are surprising, enigmatic, and venture into unknown dimensions. The project is also an attempt to restore to prominence an ancient wine culture, one that successfully led the world for centuries. Velich is not seeking to re-invent the history of Pannonian wines, but rather to give this historic winegrowing region and culture a "new and contemporary narrative" — a modern recounting that provides orientation.
Velich is not seeking to re-invent the history of Pannonian wines, but rather to give this historic winegrowing region and culture a "new and contemporary narrative" — a modern recounting that provides orientation.
Velich is not seeking to re-invent the history of Pannonian wines, but rather to give this historic winegrowing region and culture a modern recounting that provides orientation.
Velich and his fellow winegrowers are also linked by their trust in the traditional methods of wine production, a maximally natural cultivation of the vineyards, and the greatest degree of restraint in the cellar — all without dogmatism.
When working with Velich, the Burgenland and Hungarian vintners primarily focus on Blaufränkisch and Furmint. Velich views the varieties as suited to offer a "narrative for Pannonia." He sees in them "a strong frame, present from start to finish [that can] trace a striking vein through this country." Furmint is often compared to Riesling, as the variety can ideally express its site and terroir and does its best work on mineral soils. Some refer to Blaufränkisch as the Pinot Noir of the East and Furmint as the Riesling of the East, "but the comparisons don't quite work," Velich finds. For him, Furmint is more of a "parallel model to Riesling," with distinctive acidity that represents a commonality as well as "a strong talent at expressing origin." In cooler climates, Furmint gains "quite a lovely agility; it is aromatic, with unparalleled tension, concentration, and depth. Furmint can be counted among the best wines in the world."
Other Austrian winegrowing estates have also rediscovered the strengths of the still-underestimated variety, such as Herrenhof Lamprecht in Markt Hartmannsdorf, led by vintner Gottfried Lamprecht, who cultivates Furmint on sandstone in the Buchertberg site. Michael Wenzel's vines in Rust stand in quartzite, while Günter and Regina Triebaumer, also in Rust, raise it in weathered slate. In Hungary, winegrowers like Péter Wetzer in Sopron, the former capital of Austria's Burgenland, are setting accents with their portfolios. Wetzer worked for several years in the winegrowing industry before recognizing that modern cellar technology was masking the authentic, natural character of the wines. In 2007, he purchased five small vineyards in and around Sopron and began producing his own wine, including from Kékfrankos, as Blaufränkisch is known in Hungary, and Furmint.
For Roland Velich, Pannonia is nothing less than an undiscovered paradise: he is fascinated by the view across the volcanic cone, the last peaks of the eastern Alps, the backlighting of the steppe on the Pannonian lowlands, which shimmers like a mirage in the hot summer air. "I am crazy about this land and the way it offers space between two worlds," Velich says. It often makes him want to travel to distant destinations: "From here you can see almost all the way to Mongolia." Velich is tirelessly on the go. "Hidden Treasures" is never far from his mind, and movement and freedom are "more important than possessions and status." The project, he feels, "also had a strong influence on the young generation of winegrowers in Hungary."
"I am crazy about this land and the way it offers space between two worlds."
– Roland Velich
The mastermind and foremost treasure hunter in Pannonia is planning future collaborations with young winegrowers in Slovakia, the Czech Republic, and Slovenia, since Blaufränkisch and Furmint "are also shaping viticulture there. We want to generate experience and impressions about where the journey might potentially be headed." Pannonia is, for him, "so unique and grand because it is different from all other winegrowing regions." He wants to bring back its highly specific geological and climatic structures" back to the forefront through "Hidden Treasures": "Terroir and grape varieties know no borders."
Slowly, a map of vanished Pannonian wine culture is beginning to reemerge. Velich has rediscovered a Pannonia that was long little more than a fantasy: "I can now create an even closer, ever clearer, focus. It's my duty to do this, it's an uninvestigated space." But more, much more, is possible: "We're just at the beginning. The chance to produce Pannonian wines with an individual, clear, and unmistakable profile is at our fingertips. It's a historical opportunity we have to seize."
Translated by weinstory.de