German and Israeli Wineries Join Forces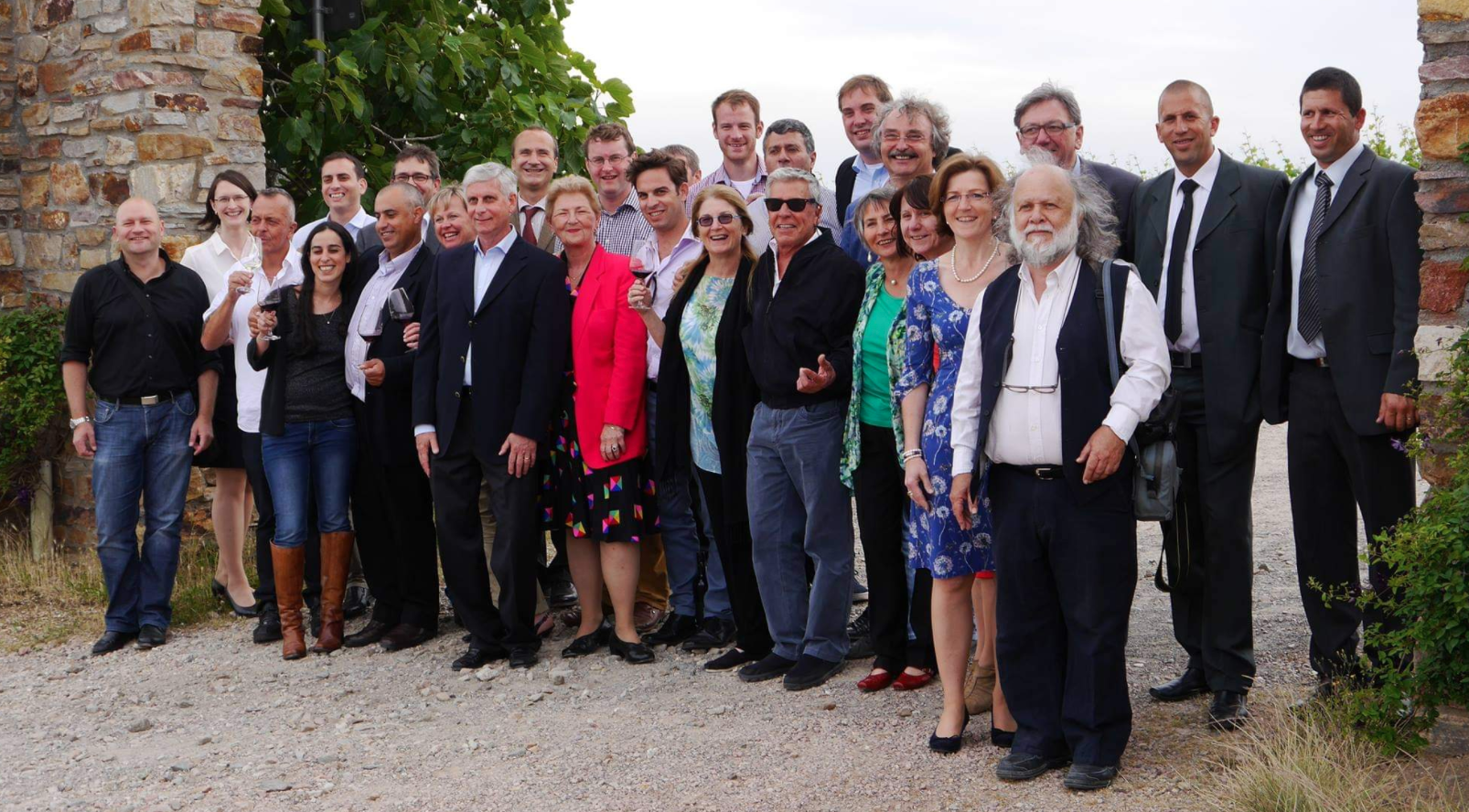 The Jewish State was proclaimed in 1948; the Federal Republic of Germany founded a year later. There was a pregnant pause when many wondered if West Germany would acknowledge the past. In 1951, Chancellor Konrad Adenauer acknowledged Germany's "unspeakable crimes toward Jewish people." The spell of silence was broken, and Israeli Prime Minister David Ben-Gurion and Adenauer began the long, painful, still unfinished journey toward healing.
In the decades since, the people of Germany and Israel have followed their lead, with financial and cultural exchanges that each serve as a profound demonstration of human transcendence. It's clear we have much to learn from the examples of individuals who take the first step, no matter how small.
Evidence of Germany's ongoing work to atone for the murderous caste system put in place by the National Socialists appears everywhere. Just last year, Germany agreed to pay $662 million in aid to 240,000 Holocaust survivors around the world struggling with medical issues amid the pandemic. Since World War II, Germany has distributed some $91.9 billion in today's dollars to victims.
Beyond compensation, many would argue Germany has also fostered a culture that encourages self-reflection and concrete actions to improve on disastrous mistakes of the past. Germans have also worked, sometimes in subtle ways, to bridge the cultural and economic gap between the descendants of perpetrators and victims.
Germans have worked to bridge the gap between the descendants of perpetrators and victims.
In recent years, several German and Israeli winemakers have joined an effort to pave the way to a more profound understanding and celebration of Jewish and German identity and culture. In Israel, winemakers have embraced this quiet, intercultural exchange of ideas and friendship — dubbed the Twin Wineries movement — with enthusiasm.
Gilad Flam, founder and owner of Flam Winery in Eshtaol, Israel, says his intention in getting involved was to "promote intercultural dialogue between winemakers in Israel and Germany." He teamed up with Mosel producer Nik Weis St. Urbans-Hof.
Flam says he is focused on the personal and professional aspect of their exchange. "The biggest advantage is the honor of getting to work with Nik and his wife, Daniela," Flam says. "We found true friends in these incredible people. We did not approach [the relationship] with sales in mind, our focus was on getting to know our peers from a different country and learning from their experience. Our friendship has helped our businesses develop also in a way of us becoming the importers of their wine in Israel, but this was an outcome, not a cause."
For Weis, winemaker at the eponymous winery, the relationship has been rewarding — and healing.
"In Germany, the horrors of World War II are openly discussed," says Weis. "Growing up in the '70s and '80s, we learned a great deal about it in school and it's omnipresent in the media and public life. Even though you may not be personally guilty for the crimes, you still are taught to carry the responsibility of making sure it never happens again."
A second-generation winemaker, Weis was named after his grandfather, who is remembered for getting into fistfights with Hitler Youth as a young man, encouraging members of Jewish families he was close with to escape, and getting elected to State Parliament after the war. Although he died in 1971, a few months before Weis was born, family stories recount how his entire career was dedicated to combating extremist ideology and making amends for the past.
Weis's curiosity about Jewish religion and culture was encouraged by his family. That interest, and a sense of obligation to the Jewish people, was strengthened by a visit to San Francisco in his early 20s, when he met one of the women his grandfather had helped to escape.
"It was very moving," Weis says. "There are so many memories from childhood that have shaped my perspective. We had other Jewish families with ties to my grandfather return and visit us, and I remember seeing their number tattoos. I never forgot that."
Birth of the Twins
Around 2010, a conversation with a Jewish wine-lover made Weis wonder if he should make a kosher wine. The notion felt at once practical and culturally symbolic to him. He teamed up with Max von Kunow of Weingut von Hovel in the Saar and Andrea Wirsching of Weingut Hans Wirsching in Franken on a range of kosher German wines called Gefen Hashalom, which translates to "vines of peace."
For the most part, making kosher wine was identical to making other wines, Weis found. As a gentile, he was not permitted to perform every step in the process, and the wine had to be blessed by a rabbi. "But there was no difference in terms of how the grapes were treated and the taste is the same," he explains.
Through his exploration of Israeli wine and culture, he discovered Twin Wineries.
Quietly founded in 2008, this is an exchange that focuses far more on the hope that can be found in present-day relations between Germany and Israel than in the past. Its goal is to encourage understanding and learning between the two countries and cultures, to promote educational exchange, and to build friendships and working relationships.
Founder Renée Salzman was born in 1953, has lived all over Europe and Israel, and speaks six languages, including German and Hebrew. A genuine love of and talent for facilitating cultural exchange has defined her life and work. When she moved to Israel with her husband, the one thing she was nervous about was the wine.
"I love wine, but the wines I'd tried from Israel in the 1970s were not the most impressive," she recalls. "Yet when we moved, my husband and I began exploring the local wineries and were blown away by the quality."
She knew these wineries would succeed on the world stage if someone got them out there. Salzman decided to be that stage manager, but quickly realized that many Israeli winemakers wanted nothing to do with Germany — and vice versa. "Israeli winemakers didn't want to go to Germany because of the history and German winemakers were afraid even to come to Israel because they were afraid they'd be spit on." Salzman says. "I thought, 'My God! We must do something about this.'"
She reached out to an old acquaintance whose wines she and her husband had enjoyed for decades. Reinhard Löwenstein, founder and then winemaker at Heymann-Löwenstein in the Mosel, agreed that initiating a dialogue, and trade of wine and ideas, was as much a moral duty as it was an economic opportunity. Together, they came up with the concept and introduced it at ProWein in 2008.
Salzman and Löwenstein agreed that a trade of wine and ideas was as much a moral duty as it was an economic opportunity.
"Normal is a big word, so I won't say that I hope Israeli and German relations will be normal — how could that be considering the heritage and history?" Löwenstein asks. "But I saw the project as an opportunity to bring together two different cultures that have such distinct, historic, and unique terroirs, to slowly make the future better than the past — together."
Salzman recruited Eva Raps, former head of Germany's prestigious VDP and current owner, with her husband, of Weingut Urban Kaufmann, to the project. Now they work one-on-one with wineries to facilitate the exchange of ideas and wine. The beginning was slow, but Salzman was determined.
As with old-fashioned matchmakers, Salzman first approaches each winery, gets their approval to connect them to their potential match, then introduces them via email. "I would find a winemaker in Israel who was open to the idea of finding a counterpart in Germany, and then I'd look for a winemaker in Germany with commonalities," she says. "It could be anything."
When Nik Weis decided to move beyond making kosher wine and seek out a "twin," his match ended up being Flam Winery in Eshtaol. "Both are family-oriented, with everyone involved in the business," says Salzman. "The two wineries are so close, they visit each other a lot. I also connected two of the oldest wineries in each country, and wineries committed to sustainability, or interested in tech. Whatever their passion is, however they define themselves, I try to find another maker with the same interest."
If interest and affinity are sparked, the winemakers meet. "They must visit each other and spend time with each other, otherwise it won't work," she says. "The goal is to find ways to exchange friendship and knowledge, but also commerce."
The exchange has been an eye-opener about Israel, Löwenstein says. "The food is absolutely fantastic, the wine is wonderful. People aren't talking politics. They're living their lives."
Salzman says that the Twins initiative has created entirely new markets for winemakers; many agree to sell each other's wines at their respective wineries and introduce each other to restaurants and retailers in their home countries. They also have exchanged interns, and hope to encourage wine-focused universities to exchange professors.
The Twins initiative has created entirely new markets for winemakers.
"It's an extremely exciting project," says wine critic Stuart Pigott, who was a consultant for Gut Hermannsberg in the Nahe when it twinned with Sphera Winery in Givat Yeshayahu. The two estates found more than just a personal and financial connection. "The climate is changing rapidly in Germany, and the winemakers exchanged a lot of information about irrigation," Pigott says. "In Israel they imitate nature with their irrigation practices, watering in great bursts infrequently. As the climate continues to heat up," he emphasizes, "this exchange of information will be even more important."
For Eran Pick, winemaker and general manager of Tzora Vineyards in the Judean Hills, the Twin Wineries movement represents "the future."
"I'm 47, and I want to make the world a better place. Our relationship with Johannes and Barbara Selbach has been an incredible gift," he says of the couple who lead Selbach Oster, a flagship Mosel estate. "We take care of each other and support each other. It has been fascinating to visit each other and exchange ideas. The contrast of the terroir couldn't be starker; the varietals and styles are different, too. We learn from each other, and it has been a good lesson and reminder that no matter where you are in the world, if you share a true love of wine, you share a lot."