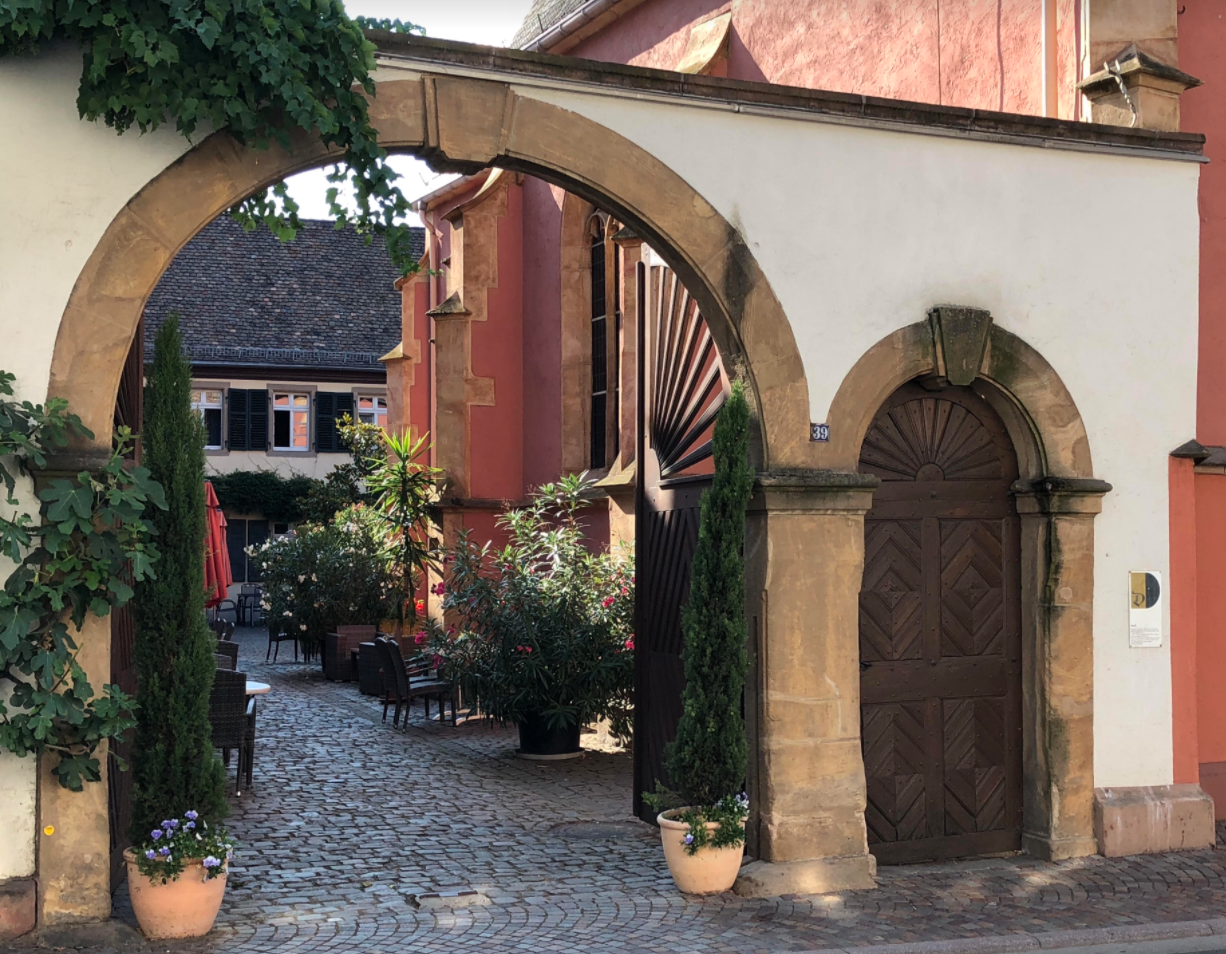 The Pfalz is Germany's second-largest wine region (by volume) — and perhaps its biggest surprise. The south-of-the-Alps feel of abundance and harmony stems from geographic confluence, where the sheltering Haardt mountains meet Rhine river plain. With Rheinhessen to its north and Alsace due south, it's a wholly unexpected idyll of fig, lemon, and almond trees, pastel villas, and gentle vine-wrapped slopes as far as the eye can see. Amid this beauty, the Pfälzer live with French-inflected savoir-faire. This amplitude is all there in the wines.
Within a compact 85-km north-south span, 130 villages and seemingly countless vineyards are tightly packed north to south along a single Weinstrasse (wine road) inviting successive exploration from the sun-soaked southernmost tip at Schweigen all the way north to the cool, lime-slaked sites of Kallstadt and Bockenheim.
The region is riddled with iconic crus — and a lingering reputation for inexpensive wines easily gleaned from fertile, flat, tractor-harvestable fields. In the late 20th century, the Pfalz's distinctive profile — of diverse microclimates and soils that lend themselves to cultivating many different varieties in many different styles — was flattened by a combination of factors: a long tradition of hobby growers and cooperatives, Flurbereinigung-driven replanting, a too-ready embrace of international varieties, and a stylistic trend toward Rieslings and Pinots of breadth and extraction rather than tension and focus.
Today the Pfalz is a giant in German wine production, with every third bottle of German wine purchased domestically coming from the region. More than 100 million vines and close to 3,000 winegrowers are at home here. The Pfalz has 13 coops, long responsible for churning out the region's value wines to send abroad and to fill German supermarket shelves. Much of it goes into the typical dimpled Pfalz pint glasses that are used to hold spritzers known here as Schoppenschorle — "like mother's milk for us Pfälzer!," pioneering producer Stefanie Weegmüller points out.

But generational and climate changes have given the region its wake-up call. As one astute observer of the scene notes: "The Pfalz has always had the push," — to volume, richness — "but rarely the restraint." And that shift may signal the single biggest change in the Pfalz: mindset. A reigning in, a drilling down, a look to the margins, along with a new openness to the influences of the wider world. A way of being more "Pfalz" by being more in the world, if you will.
Biodynamic Mindset
This new mentality encourages nuance, detail, and freshness. Moreover, an early and emphatic focus on biodynamics at many of the region's flagship estates has set the stage for a now flourishing viticultural revival. In fact, the Pfalz now boasts the highest number of biodynamically farmed wineries in Germany. All this is aided by the reduced disease pressures that come from its ever-drier climate. Long-term concerns about heat and drought are being tackled head-on by a growing number of estates as they increasingly farm for resilience.
Mindset may be the single biggest shift. A way of being more "Pfalz" by being more in the world, if you will.
Over the last five years, a cast of individualists, radically committed to personal expressions of land and variety, has stepped to the fore, from Andreas Durst to
Collective Z.
Lay of the land
The Pfalz famously shares many traits with Alsace, starting with the Haardt range, an extension of the Vosges, and continuing to its warm, dry, climate and kaleidoscope of soils and varieties. Look closely at a good wine atlas and you'll see the Pfalz wine region technically extends just over the French border, the result of a century of eternally vacillating political borders and long-held vineyard ownership rights. Producers such as Friedrich Becker have parcels that actually stradle national lines.
The Pfalz does have its own peculiar geologic history, stemming from the ancient collapse of the Rhine river basin, which disrupted geologic layers and accounts for the array of colored sandstones and marls, limestones, loam-loess, and even volcanic basalt.
Elevation tends to be one constant in the Pfalz, with most sites hovering between 100 and 200 meters above sea level. One linguistic indicator of the lay of this land is that the Pfälzer refer to their vineyards not as Weinbergen (wine mountains) but Weingärten (wine gardens).
In recent vintages, however, the Pfalz's historic warmth and dryness are tending to make vice out of virtue. Extreme heat and drought have growers scrambling for viticultural solutions, from exploring higher sites to more intensive work with compost and biodynamic preparations to changing the varieties they work with altogether.
History
The name Pfalz (Palatinate in English) comes from the Latin Palatinus, a title given to secular princes of the Holy Roman Empire who ruled this politically powerful area for a millennium. But wine was grown and made here far earlier. A vast Roman estate, including all the tools of winemaking, once sprawled where the modern-day Pfalz village of Ungstein now sits, the ruins testifying to the very long arc of viticulture here.
Over the centuries, the Pfalz's location at the heart of western Europe put it at a dangerous crossroads. Colossally destructive religious and political battles, most notably the Thirty Years War and its scorched aftermath, left the region in ruins. Napoleon held the Pfalz under his rule long enough to leave a French imprint felt to this day in the region's foods and wines.
A few early visionaries, mostly 17th- and 18th-century immigrants from France, laid the groundwork for future excellence, "professionalizing" the more piecemeal approach of previous generations. By 1815, the Pfalz was back in German hands, this time under a Bavarian thumb. A now referential tax classification map charted the most valued vineyards, vaulting sites in Deidesheim and Forst, among others, to international prominence and prestige. The late-19th century was a golden age for Pfalz Riesling that might have stretched into the 20th if not for the two calamitous world wars Germany instigated.
All this set the stage for the path the Pfalz would follow in the post-war period. During the (in vinous terms) bleak decades of the 1950s, '60s, and '70s, the Pfalz sloshed out a sea of cheap, sweet, mass-produced wines as the region struggled for recovery.
By the '80 and '90s, visionaries such as Hans-Günther Schwarz, long-time cellar master at Müller-Catoir in Neustadt, Bettina Bürklin-von Guradze at Dr. Bürklin Wolf in Wachenheim, and Bernd Phillipi of Koehler-Ruprecht had set their sights on returning the marquee vineyards of the Pfalz to their historic greatness.
Villages, Vineyards and Vines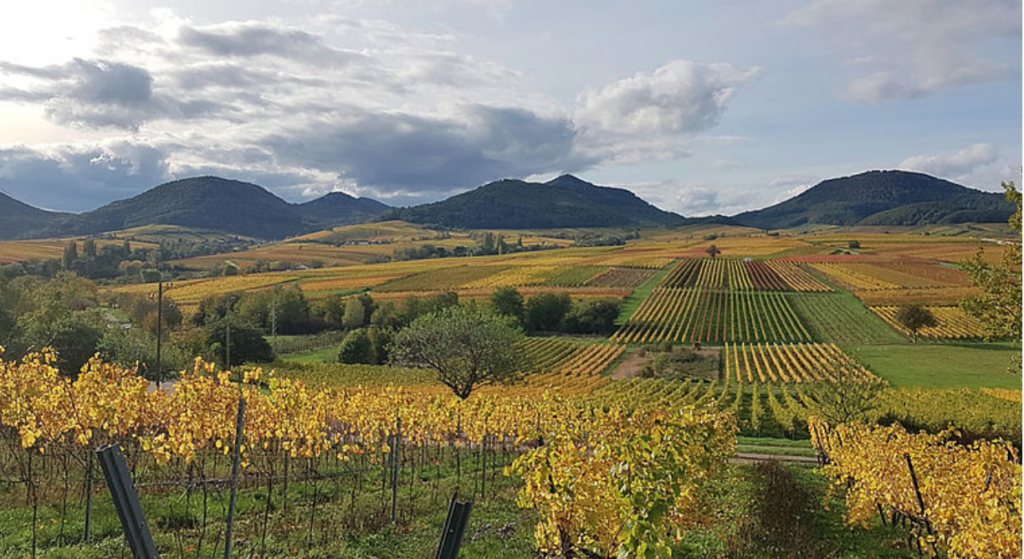 Today, the Pfalz's 23,684 hectares are peaceably divided into two sweeping Bereiche (subzones): Mittelhaardt-Deutsche Weinstrasse and Südliche Weinstraße. Mittelhardt has historically claimed greater fame for the sheltered vineyards of Forst, Deidesheim, Ruppertsberg, and Wachenheim. However, in recent decades the Südpfalz has carved out its own identity as a source of generous but defined Rieslings and Pinots. Meanwhile, some Pfalz Winzer are uncovering cooler, higher sites, tucked close to the forest edge and thus better suited to leaner, fresher styles. Mark the village names Bockenheim, Leistadt, and Ilbesheim: You will surely be hearing more about them.
Mark the village names Bockenheim, Leistadt, and Ilbesheim.
Pfalz Riesling — benefitting from abundant warmth and sun, especially pre-climate change when these things were in far shorter supply in Germany — is justifiably celebrated. Anne Krebiehl MW captures the essence of top Pfalz Rieslings, pointing to "their innate symmetry" as "a kind of vinous golden triangle between body, texture, substance, freshness, and fruit."
Pfalz producers were also early to recognize the region's suitability for dry Riesling and already had considerable experience with it when the Trockenwelle (dry wine wave) first swept through Germany more than four decades ago. Now they have brought it to perfection with taut, herbaceous expressions.
Beyond Riesling, other white varieties that shine here are Weiss- und Grauburgunder (aka Pinots Blanc and Gris), Sauvignon Blanc, Muskateller, Rieslaner, Silvaner, and Scheurebe.
Of course, the Pfalz's sunny warmth makes it an obvious candidate as a red wine region, and indeed it is Germany's largest producer of red wines. Spätburgunder (aka Pinot Noir) has long shone in the Südpfalz, but in recent years producers have learned to dial back ripeness and the use of oak to find finesse and elegance in the variety. Portugieser (an ancient variety from neighboring Austria) and Dornfelder (a midcentury German cross) have deep roots here as well, lately joined by Bordeaux and Rhone varieties that ripen surprisingly well here.
The Pfalz's playground of soil types and microclimates also makes it an ideal place to test out the terroir transparency of Riesling and Spätburgunder.
The Pfalz's playground of soil types and microclimates also makes it an ideal place to test out the terroir transparency of both Riesling and Spätburgunder: whether from colored sandstone, basalt, or limestone, you will find variously earthy, savory, or fruit-driven but nearly always dry, fuller-bodied expressions here.
Lately, a deeper understanding of spontaneous fermentation, extended maceration, cellar minimalism, and a return to neutral wood elevage is developing fresh facets of character and terroir expression. Germany's recent boom in high-quality Rieslingsekt is also playing out in fascinating ways. From Weingut Reichsrat Von Buhl to Christmann & Kauffmann to Frank John, producers are planting a flag for Pfalz methode champenoise through an impressive commitment to biodynamic farming, hand harvests, and an emphasis on dramatically protracted lees aging, with remarkable structure, depth, and terroir expression the happy result.
Select Grand Crus
Birkweiler Kastanienbusch
Deidesheim Hohenmorgen
Ungstein Herrenberg
Gimmeldingen Mandelgarten
Haardt "Breumel in den Mauern"
Forst Jesuitengarten, Pechstein, Kirchenstück, Ungeheuer, Musenhang
Kallstadt Saumagen
Königsbach Idig
Siebeldingen Im Sonnenschein
Pfalz Must-Taste Modernists
This 40-hectare, certified biodynamic estate in the Mittelhaardt village of Bad Dürkheim is where the highly individualistic wines of grower Alexander Pflüger come to life. Pflüger is deeply committed to the sort of farming that is becoming a Pfalz hallmark: two decades ago he converted to organic farming and in 2008 adopted biodynamics, with his work now certified by EcoVin and Demeter. He has holdings in some of the region's most notable sites, foremost the Ungsteiner Herrenberg. These sites cover a typical Pfalz pastiche of soils and microclimates, and Pflüger says working out their various characters is his top aim. Working minimalistically in the cellar, his maxim is "calm, quiet, and time." His single-vineyard Riesling and Pinots Blanc and Noir are hand harvested at very low yields, see judicious maceration, are gently pressed, spontaneously fermented in tank and cask, and given long lees aging for strikingly original wines that don't obscure their origins or cost a fortune.
With the fresh perspective of a newer estate, winemaker Markus Schneider fears nothing and grows everything. From Shiraz to Merlot to Cab Franc in bold, colorful cuvees to single-varietal Rieslings, Sauvignon, and Pinot Blanc. There's a serious focus on historic Pfalz grapes like Portugieser, planted more than 80 years ago in one of Ellerstadt's oldest vineyards. Schneider studied at Geisenheim, took over the family estate from his parents (whose grapes had fed the local co-op), and started making his own wines, from his own ideas and ideals of vitality and vibrance. He's been described in the local press as "less a breath of fresh air than a hurricane." From his 90-hectare estate in Ellerstadt in the less-explored eastern Mittelhaardt, which stretches to holdings in Herrenberg and Kallstadt, Schneider's polished wines and direct, eye-catching labelling have earned him a name in markets around the world. Those who find their way to the Pfalz will enjoy one of Germany's most stylish tasting rooms to boot.
A newcomer on the Pfalz scene, and the project of Jürgen Krebs of Freinsheim, just north of Kallstadt. Krebs has farmed his 20 hectares organically since 2018, developing a growing reputation for deft handling of the wines in typical Pfalz Halbstück cask and for his budget-friendly, accessible wines especially his Viognier, Riesling, and family of Pinots. One to watch.
Pfalz Need-To-Know Traditionalists
Every region needs both its vanguard and its guardians of tradition. The Pfalz is extraordinarily rich in both. Koehler-Rupprecht exemplifies the latter like few others. In the 1990s, then cellar master Bernd Philippi began to realize a vision for his Rieslings that encompassed extraordinarily long aging, including a now-legendary late-release program of wines that reveal entirely new facets of the Pfalz. These are routinely cited as being among the best, most moving Rieslings in the world. The estate is synonymous with the Saumagen, a 40-hectare vineyard of which it holds a 4-hectare filet parcel. Today, the dynamic duo of Dominik Sona and Franziska Schmitt carry the mantle, eschewing VDP membership and the attendant "GG" prestige its members enjoy, instead holding tight to Prädikate labeling for their wines. Tradition here means going back to a time when all fermentations were spontaneous, all aging was in large, neutral Stück (1200L) and Halbstück (600L) cask. Their range extends to unmissable Pinots Blanc and Noir, as well as revelatory Chardonnay and Scheurebe.
Dr. Bürklin-Wolf has a history spanning four centuries and yet is rightly regarded as a true pioneer in biodynamic viticulture at scale — in the Pfalz and around the world. Bettina Bürklin-von Guradze took over the estate in 1990 and quickly set about transforming viticulture on their envy-inspiring collection of holdings across 85 hectares of iconic Deidesheim, Forst, Ruppertsberg, and Wachenheim vineyards, including the Gaisböhl monopole. Such treasures "require careful handling," Bürklin-von Guradze says with significant understatement. In 2005, the estate converted to biodynamics. Young, internationally trained winemaker Nicola Libelli came on board in 2011. The focus here is firmly on dry terroir wines of exceptional freshness as well as agability, following a Burgundian model in every sense. Hand harvest and whole-bunch pressing, allowing oxidation of the must, and spontaneous fermentation and elevage on the fine lees in traditional old oak cask raise the bar for Pfalz wines to new heights at this VDP member estate.
With storied holdings in and around the Südpfalz villages of Siebeldingen and Birkweiler, including such legends in the book of Riesling as the Kastanienbusch and Im Sonnenschein vineyards, the Rebholz family has been writing the history of Pfalz wine for 400 years. Hansjörg Rebholz and sons Valentin and Hans are turning the page to a vibrant new chapter. Organic farming has been a guiding principle at the 25-hectare estate since 2005, where biodiversity and integrated ecosystems are now the bywords. Wines of extraordinary vibrancy, freshness, and restraint from sites of shell limestone, colored marl and sandstones and iron-rich Rotliegendes are the Rebholz hallmark. The focus at this VDP member estate is squarely on Rieslings that range from a suite of GGs to Prädikate and nobly sweet wines, as well as Pinots, and a handful of Pfalz-typical white varieties, coiled with tension and energy calibrated to unfurl in the glass and over time.
*Exported by P.J. Valckenberg, which provided support for this education feature.